August 15th, 1914 - the Panama Canal officially opened, forever altering global markets, trading patterns, and product flows. Now, almost 102 years later, another transformation is set to take place with the completion of a third set of locks that will accommodate vessels significantly larger than those previously navigating the canal.
So what does this mean for shipping? Well, the answer isn't quite so easy as the question. In order to determine winners and losers, we will have to look at a variety of factors for each segment. Let's take them one by one to get a better picture.
Container Shipping
The containerized shipping segment makes up a large part of current Panama Canal traffic. This is due to finished products supplied by China and East Asia destined for the Eastern USA.
Currently, the Panama Canal can only handle vessels at about 5k TEU. The expansion will almost triple that capacity and should be able to accommodate vessels up to 14k TEU.
To look at it another way, the percentage of the global container ship fleet able to navigate the Panama Canal has now moved from approximately 35% to 85%.
This would mean that the 6k-14k TEU classes could see new demand emerge for those East to West routes at the expense of the sub 5k TEU class, based on a simple economy of scale argument regarding transport cost.
But it doesn't stop there. Look for East Coast ports to see an increase in traffic at the expense of the West Coast. Some estimates show a 10% shift in traffic based simply on this expansion.
Over the past decade, East Coast ports have been preparing for this day. The Journal Of Commerce reports that:
New York-New Jersey, Baltimore and Miami have deepened their channels to 50 feet, joining Virginia as East Coast ports with channels deep enough for fully loaded neo-Panamax vessels. Savannah is deepening its channel to 47 feet, and Charleston is on track to have 52-foot depth within five years. Houston's container terminals now have 45-foot depths. At Gulfport, Mississippi, the state-owned port authority has sunk $30 million into three new cranes that can span 18 rows of containers, even though the port's current users don't even operate 13-across Panamax ships and the port's channel is only 36 feet deep."
Furthermore, this means that rail and truck traffic that once shuttled these goods will see a loss in transported tonnage. This is just one example of how this expected trade shift can play out through the network. Remember, there are supporting and complementary industries based on this current trade flow; everything from logistic planning to equipment maintenance.
Dry Bulk
Prior to the expansion, about 55% of the world dry bulk fleet could cross the canal. That number has moved to approximately 85% with new routes possible for aptly named Post-Panamax or New Panamax vessels which were built specifically with this expansion in mind.
Shipments of iron ore (two-thirds of which is headed to China), which traditionally use Capesize and larger vessels should see minimal impact as they are still too large for the expanded locks.
However, agricultural commodities, which use smaller vessels and are more regional in nature, could see increasing demand brought on by shorter transit time and consequently reduced costs. Let's take soy for example.
The gCaptain reports: The U.S. Soy Transportation Coalition, which represents soybean farmers, said moving to ships carrying up to 100,000 deadweight tonnes (dwt) of beans on the canal from the current 76,000 tonne limit would add up to $8 million in value per vessel.

"A customer of U.S. soybeans in Asia could save 35 cents per bushel simply due to greater transportation efficiency," said Mike Steenhoek, the Coalition executive director.

The United States is the second-largest exporter of soybeans to China, accounting for 30 percent of China's 81.5 million tonnes of imports last year, according to China customs figures. Brazil accounted for 54 percent.
China has seen steadily increasing soy imports over the past years. Cost reductions and shorter transit time should provide a tailwind to this trend.
Brief Side Note:
One main danger for rates in a scenario like this is that the resulting increase in demand isn't enough to offset the reduction in ton mile demand brought about through shorter transit times.
Passing through the canal can take roughly 16 days off a voyage. On a large scale, this can result in thousands of newly available days on the supply side. If demand were to remain constant, this supply side shift (if large enough) would result in lower rates.
It will vary from market to market, but ideally one would like to see these canal expansion inspired cost efficiencies passed on to the demand side, which would lead to greater consumption of those goods/commodities. This would offset the ton mile reductions. In theory, that sounds good, but the reality is that shippers are bracing for a potential supply side shift that won't work in their favor in this regard.
If the shipping community is right about this potentially bearish development, they need to prepare for a hit on two fronts; lower rates and lower utilization. That's because a shorter transit time will create both a supply increase, which will pressure rates, but also more available days, meaning if demand stays constant, lower utilization.
Tankers
Historically, only about 5% of Panama Canal traffic has been composed of tankers and that doesn't look to change much following the expansion.
In fact, of all the segments, tankers will probably see the smallest impact. The newly expanded locks remain too small to accommodate the crude oil supertankers. Smaller classes that can now fit may benefit slightly from regional trade flows out of Colombia, Ecuador, and Brazil, but most likely not to any significant extent.
Product tankers could see a bit of action as LR1s and some LR2s are able to now navigate the canal. In the USA, an abundance of domestic feedstock coupled with ample refinery capacity could mean that trips to the hungry East Asian markets might see a bit of a bump.
For those wondering about product export potential to the west coast of South America, it looks as though port restrictions will continue to favor the MR class. Remember, the MRs were able to cross prior to the expansion.
LNG/LPG
The second biggest winner with the expansion behind container vessels should be the LNG/LPG segments. Ideally, East Asian markets should benefit from easier access to significantly cheaper natural gas (and NGLs derived from nat gas feedstock) supplied by the USA.
In the past, only about 35% of LPG carriers were able to cross the canal. That number now stands at 100%. LNG carriers are significantly larger and in the past only 8% of the LNG fleet was able to navigate the canal. Going forward, approximately 85% of the LNG fleet will now be able to cross.
This change could dramatically shift current trading patterns. Let's just take LNG for example. The illustration below shows current trading patterns for LNG. Notice that most flows are directed toward East Asia which composes approximately three-quarters of overall global demand.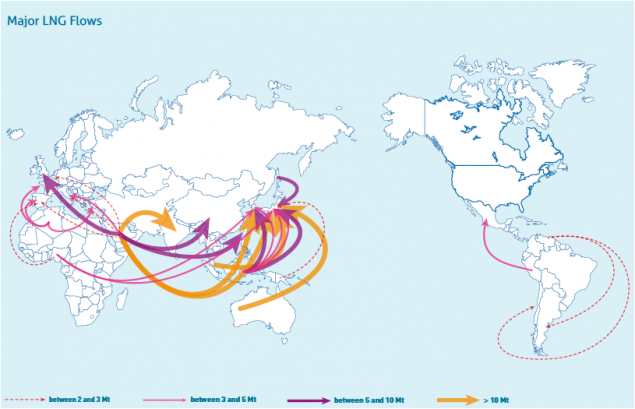 Source: GIIGNL
LNG vessels are some of the most costly to operate and charter. The shorter voyage through the canal (16 days less) coupled with price savings out of the USA (courtesy of the Henry Hub's efficient market) could be the catalysts needed to promote a shift in flows.
Landed prices for LNG are listed below.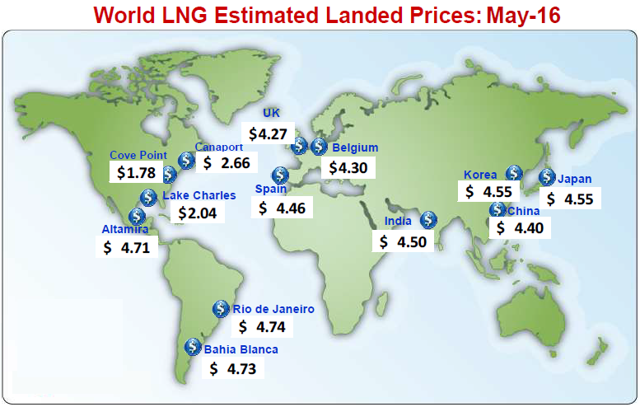 Source: FERC
Landed price is just a fancy way of saying price received at the terminal. Notice the significantly lower prices for US Gulf ports vs. that of everywhere else.
In is noteworthy that oilprice.com reports that "by 2020, when liquefaction projects are completed, the United States will have the third largest LNG export capacity in the world, behind Qatar and Australia."
X-Factors
A few of these X-factors have already been introduced. But let's review and throw in a couple more.
Ton Miles - Shorter voyages reduce the amount of time on the water to deliver a given cargo. The expansion will play into this trend. Given constant demand but increasing use of the Canal, these shorter voyages could actually create downward pressure on rates. This could play out first and foremost in the container segment.
Trade shifts - The LNG segment could provide a perfect example going forward. With US natural gas being cheaper than competitors a shift can be made even if longer voyages are involved, provided the reduced costs of the cargo outweigh the increasing costs of sailing further.
Competition - As noted earlier, West Coast ports that receive container ships could see a hit. But they can mitigate the damage by reducing fees and perhaps coordinating with Western rail operators to ensure that products destined for the East Coast can still be imported on the West Coast and transported to their end destinations at competitive prices.
Additionally, the Journal Of Commerce reports:
To counter increased competition from Panama, Suez Canal officials are offering increased rebates to encourage container ships that now use the Cape of Good Hope in order to avoid Suez tolls and take advantage of low fuel costs on backhaul routes to Asia. Transit time for a direct voyage from Hong Kong to New York is the same, although actual times depend on port coverage and intermediate stops. Panama has an advantage for origin points north of Hong Kong."
Environment - Maritime trade moves goods the most efficient way with regard to emissions. 90% of the world's goods are moved through maritime trade. Any sort of reduction in transportation distance would obviously play into reduced emissions. Secretary-General Kitack Lim of the International Maritime Organization (IMO) recently stated that the expansion "will contribute to the reduction of climate change issues and CO2 emissions." He added that "in every sense, we will all benefit from the successful Expansion of the Panama Canal."
Conclusion
So the logical question at this point that any investor should ask is 'how do I put this to use?'
Fleet profile and charter structure play an important part when selecting a company based on macro shifts. In the container segment, the sub 5k class will still play an important role with two locks able to support those vessels. Nevertheless, larger vessels will see the greatest increase in demand from this shift. Many analysts see the 8k-10k TEU classes being the main winners from this expansion.
However, with regard to charter structure, the catch is that the container segment is characterized by long-term contracts which means that companies, while relatively insulated from downturns are also not likely to benefit greatly from upturns. For more on how to use charter structure in investment/trading strategy, see my recent 101 on the subject.
The LNG/LPG segment has some companies that actually are tied to the spot market. Of course, spot charters are voyage specific and rates are set by the current market. Typically, when goods are made less expensive demand moves up. Therefore, as low cost natural gas is introduced into the East Asian markets, we could see demand respond accordingly. If that demand shift is significant enough, this should provide some support to charter rates in the LNG/LPG space.
Also of note is that ton mile demand can factor into the equation in a major way here. Qatar's port of Ras Laffan is approximately 6,640 nautical miles from the Japanese port of Niigata (situated roughly in the center of the nation on the Sea of Japan side). This example is used as they represent the world's largest exporter and importer, respectively. From the USA Gulf Coast to Japan, it is approximately 9,200 nautical miles. Around the Cape of Good Hope, the voyage jumps 15,600 nautical miles. In terms of days, these voyages take 46.5, 65, and 100, respectively, for a round trip. As noted, cheaper cargo can give way to a longer trip if the economics justify the shift. With a 35% reduction in travel time, using the new expansion as opposed to the Cape, I would expect East Asian markets to examine this shift especially considering that charter rates for gas carriers are at multi-year lows.
So while the container shipping segment could see the most increased action from the expansion, it just might be the LNG/LPG segments that see the biggest benefits in terms of new customers and possibly increased rates.
I welcome all questions/comments and invite you to follow me on Seeking Alpha as I continue to cover all aspects of maritime trade. Thank you for reading.
Note: Value Investor's Edge subscribers receive a 48-72 hour advantage on all macro reports and trade ideas from James Catlin as well as exclusive research by J. Mintzmyer.
Disclosure: I/we have no positions in any stocks mentioned, and no plans to initiate any positions within the next 72 hours.
I wrote this article myself, and it expresses my own opinions. I am not receiving compensation for it (other than from Seeking Alpha). I have no business relationship with any company whose stock is mentioned in this article.