Introduction
Recently I have come into two stocks that I would not buy because they are overvalued. The only thing is that I am not interested in buying because I already own them. So the question that is always out there is what do you do with a stock that is overvalued that you own. Do you hold or sell and redeploy?
Stock 1: Hershey (HSY)
Who loves chocolate? It turns out both Mini-Me and Mondelez (NASDAQ:MDLZ) love chocolate! One of them made a buyout offer a few days ago and the stock went off to the races. I own this in an IRA, which was set to deliver income to me for the long term. I bought back in June 2015 for around $88 per share. I would consider the fair value to be somewhere around $93. That 5.5% plus by 2.5% in dividend make a pretty good 8% return. That was going great until the buyout offer comes in and the stock currently trades for $108.83 or 16% above my fair value.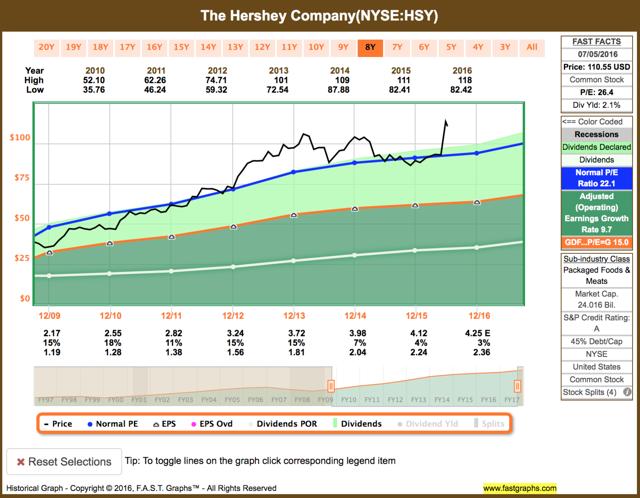 Some considerations that I have are as follows:
1. The dividend was 2.6% when I purchased the stock.
2. I had expectations that it would grow around 10% per year
3. They are set to raise in August so I have yet to get my first raise from them.
4. At 10% growth of the dividend, it would take 4 years of dividends to make up the difference between my fair value and the market price.
5. I like HSY for its earnings growth over the past 20 years.
6. It did not grow the dividend in 2009, but it has grown the dividend at 8% over the past 20 years (according to Fast Graphs).
7. Slow and stable growth with a good dividend.
Part of the consideration would be what the alternative is for the money. Can I get better than 2.1% yield with a good growth rate? To avoid focusing on the replacement stock, I won't add it here. Lets just say, I have an alternative that pays 2.4% yield, fairly valued and has a relatively good dividend growth rate. So, should I take the money and run or stick around?
Stock 2: Johnson & Johnson (JNJ)
The first stock was overvalued based on a one-time event. The second stock is based on management domination and the flee to safety in this market. I bought shares in JNJ back in Feb 2015 for around $100 per share. I would put fair value right there today. It currently trades for $122 or 22% above my fair value. This is not event driven, but driven by the company performing well, being conservative and just all around domination of its business. That domination won't create a 22% increase in earnings. It will most likely just keep plugging along at 8% like JNJ does.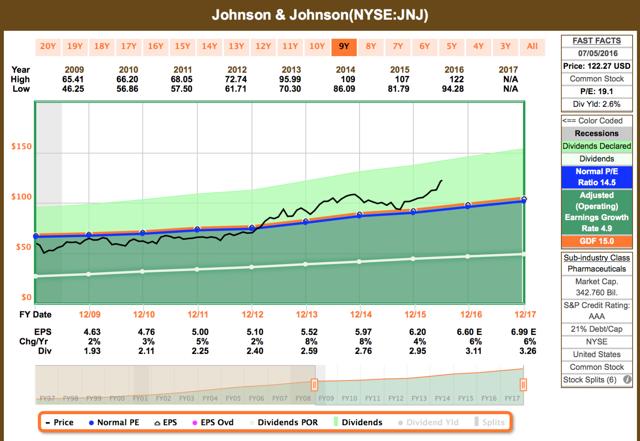 Some considerations that I have are as follows:
1. JNJ has a 2.6% yield now. That makes it a little harder to replace than HSY.
2. JNJ is a stable company that I consider a foundational stock in the portfolio. I would not replace it with just any stock.
3. I expect JNJ to keep up the track record for a long time to come. Earnings wont catch up with value for a few years though.
4. I expect JNJ's price to come down to align with my fair value estimate. In the past 15 years it has run a cycle where P/E goes up and down. It traditionally trades for 15-16 PE.
I don't have a good replacement for this stock. One option is that I could sell it and sit on the cash until JNJ comes down in price. Others might suggest doing the same with options (just as a side note - I do not trade options.) The hard thing for me is that JNJ still meets the goals of the portfolio. Share price is not part of the goals. Doing something based on share price seems counter intuitive. That being said, if someone wanted to give me 20% over the fair value for my car I would sell as soon as I could!
Conclusion
I have presented two stocks that are currently overvalued as well as a subset of information on each. I am not sure if I should sell or just keep holding. JNJ seems to me to be the less likely of the two that I would sell. It has a stable foundation, good earnings growth and is trading within its historic range. HSY is high valued, event driven and replaceable within the goals of my portfolio. I always struggle in this space. Should I sell or just let the dividend machine keep on compounding?
Disclosure: I am/we are long HSY, JNJ.
I wrote this article myself, and it expresses my own opinions. I am not receiving compensation for it (other than from Seeking Alpha). I have no business relationship with any company whose stock is mentioned in this article.