REITs have enjoyed a strong rally this year, thanks to the hunger for high dividend yields. Interest rates have plunged to record lows, with the yield on the 10-year U.S. Treasury Bond recently falling to 1.36%. The rally has been particularly strong for data center REITs like Digital Realty (NYSE:DLR), which has absolutely been on fire.
Based on its July 6 closing price of $112.10 per share, the stock has delivered a 51% total return year-to-date.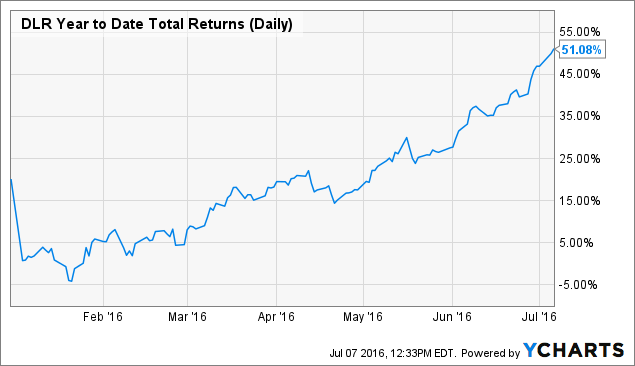 As a value investor, I get nervous about my holdings when the price rallies in a relatively short period of time based mostly on future expectations. Digital Realty has benefited from growth in data centers, but while it has grown its cash flow and dividends in the time I've owned the stock, the performance of the company doesn't seem to be matching the stock price rally.
The major driver of its stock price rally has been expansion of the valuation multiple. At its current price, I don't think the company will be able to meet the high expectations underpinning the rally. Based on valuation concerns, I recently decided to cut my Digital Realty position in half. I've redirected the proceeds into two stocks that offer much higher dividend yields and more attractive valuations.
Income Investors at a Disadvantage
REITs are required to distribute at least 90% of their taxable income to shareholders as dividends. This is why REITs typically exhibit above-average yields. However, in a climate of record-low Treasury yields, investors are scrambling for yield anywhere they can find it. Interest-sensitive stocks like REITs and utilities have been among the market's best performers. But their valuations look too high, given their modest growth.
The decision to buy Digital Realty was based heavily on its dividend yield and cheap valuation. A side effect of the huge rally is that the dividend yield has plunged to very low levels for a REIT. Digital Realty now yields just 3.2%. When I purchased, the stock was yielding more than 5%.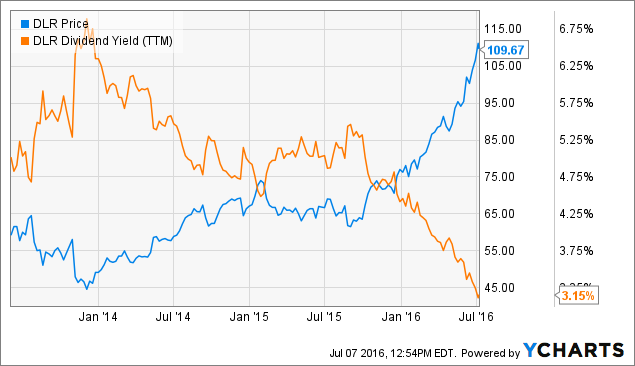 In addition, Digital Realty's valuation has expanded considerably. Digital Realty grew core FFO by 6% last year, and expects another 6% growth in 2016, at the midpoint of management's forecast. These are decent enough growth rates, but Digital Realty stock now trades for 20 times 2016 FFO estimates. Investors are pricing in pretty significant growth for Digital Realty, but investors are paying a high price and getting a far lower dividend yield than historical averages.
This multiple expansion has been great for shareholders. I bought shares of Digital Realty twice in 2013, for $59.72 and $55.14. Including reinvested dividends, my total return was over 120%. I've decided to take the profits off the table, especially since interest rates are likely to rise sooner or later.
Opportunities for Reinvestment
Based on Digital Realty's high valuation and low dividend yield, I sold half my position on July 7 for $110 per share. (As a side note, this was all done in a Roth IRA, so taxes are not a factor). Of course, the decision to sell a stock is only half the equation. The other half is where to reallocate the proceeds. I consider myself an income investor, so it's important to devote the funds to stocks that pay similar or higher dividend yields. Two stocks I found in my own portfolio that I believe are significantly undervalued, and offer much higher dividend yields, are Ford (NYSE:F) and GameStop (NYSE:GME).
Ford and GameStop are dirt cheap, both trading for forward P/E ratios of 6. Their valuations have remained extremely compressed, as the market is very negative on both companies' outlooks. In turn, they both have elevated dividend yields-I added to Ford and GameStop at dividend yields of 4.8% and 5.5%, respectively.
In Ford's case, investors are highly negative because of fears that the growth in auto sales is about to come to an end. Indeed, the company has enjoyed the benefit of low gas prices and low interest rates, but Ford continues to generate great results. I last wrote about Ford in this January article, and the company has kept on trucking to start 2016.
Ford generated record first-quarter pre-tax profit of $3.8 billion. Adjusted earnings per share more than doubled last quarter, as the company generated record automotive profit margins in North America. Ford is also doing well abroad-first half sales in China rose 6% from the same period last year. Ford currently yields 4.8%, and keep in mind, it will also reward shareholders with the occasional special dividend. The company paid a $0.40 per share special dividend this year, and has indicated its willingness to continue paying special dividends when conditions warrant.
When it comes to GameStop, investors are very bearish on physical retailers as well as video game hardware. The fear is that digital video game downloads will replace physical discs, which threatens not only GameStop's new software sales, but also its bread-and-butter trade-in business. I've written previously about why I believe these fears are unfounded. Instead of rehashing all of the reasons, the article is linked here.
GameStop yields 5.5% and the $1.48 annual dividend is more than covered by earnings. I believe GameStop can grow earnings next year, due to new Xbox and PlayStation console releases, as well as growth from new businesses like collectibles and its Technology Brands. Also, virtual reality is an exciting catalyst, judging from the success of the recently-released Sony (NYSE:SNE) PlayStation VR units.
Key Takeaways
This is just one example; the broader takeaway is that when a dividend stock rallies based on multiple expansion more so than earnings growth, income investors can use it to their advantage by harvesting some of the gains and re-deploying in stocks with cheaper valuations and higher dividend yields. The current yield of a stock is the reinvestment yield that must be obtained to not lose income. By selling Digital Realty at a 3.2% yield, and adding to my position in Ford and GameStop at an average yield above 5%, I increased my income and invested in stocks that I believe are much better value opportunities as well.
I still have half my position in Digital Realty, but in general I believe this is a good time to lighten up on defensive dividend-oriented sectors like utilities and REITs. Investors have an opportunity to lock in some very nice gains in these sectors, but it could be time to shift into cheaper, higher-yield stocks that won't be as harshly punished by rising interest rates.
Disclaimer: This article represents the opinion of the author, who is not a licensed financial advisor. This article is intended for informational and educational purposes only, and should not be construed as investment advice to any particular individual. Readers should perform their own due diligence before making any investment decisions.
Disclosure: I am/we are long DLR, F, GME.
I wrote this article myself, and it expresses my own opinions. I am not receiving compensation for it (other than from Seeking Alpha). I have no business relationship with any company whose stock is mentioned in this article.