There's something unsettling going on in the UK and I'm not talking about Brexit.
Well, actually I am talking about Brexit - indirectly.
Despite the fact that CNBC seems to think the most critical thing for investors to grasp this week is the thought process behind FBI Director James Comey's recommendation that the presumed Democratic presidential nominee not be thrown in jail for maybe lying about what was on a server in her basement, what's happening with UK property funds is the narrative you should be watching. That, and the Italian bank fiasco.
If you haven't been following what's going on, you should know that the "gates of hell" are going up in London. And don't say you didn't get a Heisenberg heads up two days ago.
As of Thursday, more than a half dozen property funds in the UK had suspended redemptions. Here's Bloomberg with the brief rundown:
U.K. property funds with about 18 billion pounds ($23.4 billion) of assets froze withdrawals as investors sought to dump real estate holdings in the aftermath of Britain's vote to leave the European Union.

Investors are pulling money from U.K. property funds as analysts warn that London office values could fall by as much as 20 percent within three years of the country leaving the EU.

Wednesday's moves brings the number of U.K. firms curbing redemptions to seven since the June 23 vote.
This should sound familiar. Let's do a not-so-brief history lesson.
In June of 2007, Bear Stearns famously suspended redemptions in funds tied to subprime CDOs. As Bloomberg noted at the time, one of the funds "got off to a good start, posting a cumulative 4.44% return over its first four months." Here's what happened next:
The fund's performance began to suffer as the market for subprime mortgages began to implode. Coming into April, the fund was down 4% for the year.

Then things really fell apart. In April, the hedge fund posted an 18.97% decline, according to the June 7 letter obtained by BusinessWeek. But even more shocking than that big loss: only weeks earlier, the company had said it lost just 6.5% for April, according to a May 15 letter the firm sent fund investors. It's not clear what happened in those intervening weeks to force Bear Stearns to significantly revise upward its estimated April losses.
Then, on August 9, BNP Paribas froze three of its asset backed security funds. Investors in the Parvest Dynamic ABS, BNP Paribas ABS Euribor, and BNP Paribas ABS Eonia funds would be unable to invest more money and, perhaps more frighteningly, unable to access the money they had already invested until further notice. In a statement, the bank blamed "the complete evaporation of liquidity in the US securitization market" for its inability to publish what it deemed to be fair net asset values. Collectively, the market value of the funds had fallen by some 400 million euros from July 27 to August 7, an alarming decline in such a short period. BNP Paribas' head of asset management and services, Alain Papiasse blamed the sudden deterioration in value on an investor exodus that was apparently gathering momentum. "For some of the securities there are just no prices," Papiasse said flatly. "As there are no prices, we can't calculate the value of the funds."
As their names imply, the three funds invested primarily in asset-backed securities and collectively held around 35% of assets under management in securities linked to the US subprime mortgage market which, at the time, was beginning to collapse.
In March of 2007, Moody's published a research note entitled "Challenging Times For The U.S. Subprime Mortgage Market," in which the ratings agency warned that subprime loans originated in 2006 were experiencing delinquency rates and default rates well in excess of those exhibited by loans originated in previous years.
The trade in mortgage bonds and CDOs is thin, meaning that ratings are particularly important for investors in terms of valuing their portfolios as computer models take ratings and past performance into account when valuing underlying collateral. Investors can also look to the market and derive best guesses for their holdings based on the prices fetched for similar securities. By August of 2007, the market for securities backed by subprime loans had dried up entirely, leaving firms like BNP with no reference points to look to when pricing the assets that constituted their ABS funds. This in turn made it impossible to calculate the value of the funds.
Just two days before BNP's announcement, WestLB Asset Management (a joint venture between Düsseldorf-based WestLB and Bank of New York Mellon) suspended redemptions in the WestLB Mellon Compass Fund: ABS, which at the time had around $295 million in assets. As of March 2007, the fund was 80% invested in mortgage-backed securities. By the end of July, market conditions had deteriorated to the point that determining the fund's net asset value was well nigh impossible. There's "rising uncertainty among investors," said Uwe Fuiten, the firm's head of investment management. Fuiten was quick to distance WestLB Mellon from the most toxic segment of the U.S. housing market. "We are not at all invested in U.S. subprime," he said. Nevertheless, the Financial Times noted that as of June 2007, the fund had 22.2% of its assets invested in collateralized debt obligations backed by "high-yield bonds or leveraged loans [and] a further 7.2% [of its cash] invested in CDOs of unspecified structured credit instruments."
In a similar move, Germany-based BHF-Bank's investment fund company Frankfurt Trust froze redemptions in the $221 million FT ABS-Plus Fund on August 3 after investors pulled out 20% of their cash in the space of a week. The fund was exposed to the U.S. subprime market and clients apparently weren't interested in sticking around to see how things played out. "The situation for the asset-backed securities and CDOs market has gotten much worse in the last few days because of the U.S. real estate crisis," the company said.
Exactly 13 months later, the financial universe fell completely apart.
What you should be thinking to yourself here is this: "hmm, I wonder if there are any parallels between what happened in the summer of 2007, what's happening in the UK now, and anything that's in my portfolio."
Spoiler alert: "yes."
There's a lot of confusion about the danger posed by bond funds. I've endeavored to cut through the fog for the benefit of humanity on more occasions than I can count. I've even written a "bit" in these very pages on the subject (here and here, for instance). Today, I ran across three good accounts from Bloomberg which together do a nice job of putting the pieces together.
First, here's Bloomberg with a second history lesson (Nice word play there, sir. Why thank you, sir.):
It's summer, political uncertainty is in the air, asset prices are plummeting, and concerns about the ability of open-ended funds to withstand a wave of redemptions are rising. Only it's also the summer of 1962, John F. Kennedy is the U.S. president, and the S&P 500 is seesawing between 69.55 and 54.75.

The 1962 Kennedy Slide, when the S&P 500 fell by more than a fifth, is ill-remembered today but offers parallels to the current situation. Back then, market participants fretted about the behavior of an unknown entity in financial markets - open-ended mutual funds that allow big and small investors to pool their money into larger portfolios that offer daily liquidity. Practically unheard of in 1929, during the last big U.S. stock market crash, such funds had raised $23 billion in assets by the spring of 1962.

As stock prices seesawed, the worry was that mom and pop would pull their money out, requiring funds to raise cash by liquidating their portfolios at the worst possible time.

While mutual funds counted $23 billion worth of assets in 1962, today they are worth trillions and have, like much of the financial world, expanded their repertoire to encompass less liquid assets including commercial property and, of course, corporate debt.
And here's a bit more from a separate piece:
Several big names in British investment have told investors they can't liquidate their holdings for the time being. It brings back uncomfortable memories of the financial crisis, when some hedge funds introduced similar-looking curbs on withdrawals.

The funds that Standard Life, Aviva, M&G, Henderson and others have "gated" invest in commercial property. The underlying assets -- offices, business parks, and shopping centers -- are inherently illiquid. In other words, they take time to find the right buyer even when things are going well.

The funds set aside some cash to meet the usually limited demand for redemptions by investors in ordinary times. That cushion lets the fund manager meet a withdrawal request without having to immediately sell off an asset at a discount price. Things are fine so long as not too many investors want to redeem. This happened in the last crisis, and the problem went beyond property funds. Some firms imposed gates because the trading in credit securities that had been liquid suddenly dried up overnight. Or they did so because a sudden dash for redemptions exposed the fundamentally illiquid nature of securities that investors wrongly believed to be readily tradeable.
Finally, here's Bloomberg's Richard Breslow with a characteristically colorful take:
The gating of $12B in commercial real estate funds by three U.K. institutional money managers has quite properly roiled markets. It's not because of the absolute size of the funds or because it will take some time for investors to get their cash out.

Rather, because it has exposed the manifold flaws continuing to drive investment psychology and practice. Flaws reminiscent of some of the most obtuse assumptions that led to the financial crisis and have been the cornerstone of extraordinary monetary policies since then.

These funds exist because of the desperate search for any sort of yield. Can't make any money from sovereign bonds? Just substitute into your portfolio a slice of a retail warehouse in Northampton.

A naive sense of liquidity in long-term investments with no ready market was built on the belief that prices could only go up. That you'd always be selling on the offer. After all, these funds are backed by household names, no need to read the fine print in the redemptions section.
For once, I'll say "I couldn't have put it better myself" and actually mean it.
The implication in all of this is that fixed income funds could run into the same type of liquidity problems in a pinch. Especially high yield funds (NYSEARCA:HYG). BofAML is out with some amusingly blunt commentary on the current HY environment (the note is called "A Nightmare Dressed As A Daydream):
We hear frequently that the US is not in a recession, but that low growth and low inflation is good for high yield (it keeps the Fed accommodative, but does not signal an increase in defaults) - but we question the wisdom in adding risk aggressively in an illiquid asset class with the prospects of poor growth ahead of us.

There is no doubt that yield is at a premium today. And with an anemic calendar in the high yield space, a low non-commodity default rate at present, and a market that generates nearly $100bn in re-investable income a year, we understand the lure of the asset class - in fact, in spirit, these are many of the same factors that led us to a bullish disposition in the beginning of 2014. But for those that see a market that has returned 9.8% so far this year, we think it is important to note the dangers of going long based on technicals when the fundamentals picture is deteriorating all around us.

Despite our bearishness, however, we cannot sit back and ignore the giant elephant in the room: until things get really awful, investors are likely to continue to seek out high yield as a place to generate income. To this point, we are frequently asked when we will change our total return forecast. The answer is simply we are not going to.
There you go. Here's a fresh look at default rates: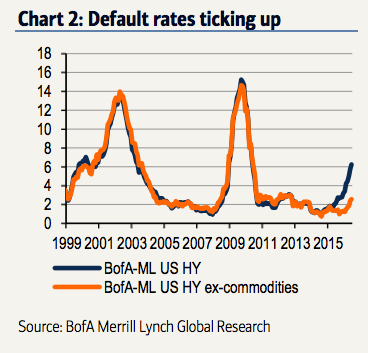 (Chart: BofAML)
So draw your own conclusions, but you ignore the parallels between the subprime funds ca. 2007, UK property funds post-Brexit, and IG/HY bond funds at your own peril. Remember, only about half of IG even trades: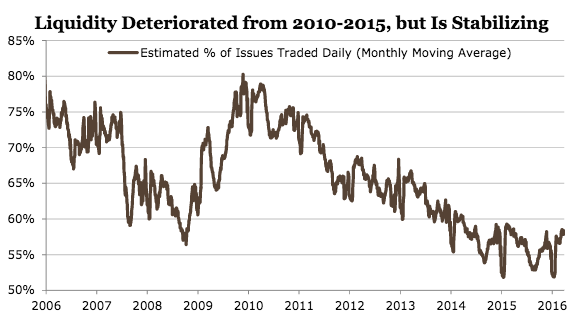 (Chart: Wells Fargo)
As for the fate of the poor souls who just got gated in London, best of luck to you.
I'll close with a quote from Bill Gross:
It's reminiscent of Bear Stearns' subprime funds before the Lehman debacle. The system doesn't allow liquidity to flow into the proper places. If these property funds are just one indication, perhaps there will be others to follow. I think it's something to worry about.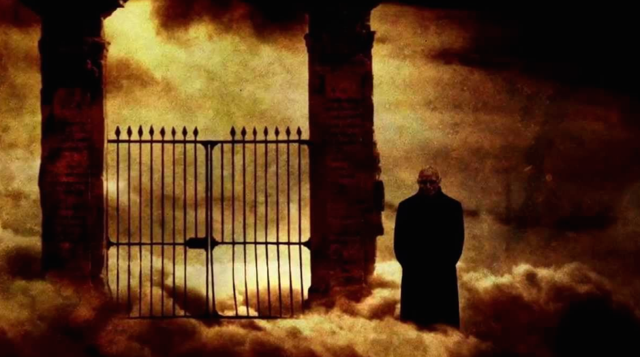 Disclosure: I/we have no positions in any stocks mentioned, and no plans to initiate any positions within the next 72 hours.
I wrote this article myself, and it expresses my own opinions. I am not receiving compensation for it (other than from Seeking Alpha). I have no business relationship with any company whose stock is mentioned in this article.