(An emphasis on disclosure: I do not have a position in LEDS, nor have I had a position since December, when I closed a short I'd had for much of the year. I detailed the logic behind that decision in an article published shortly after here on Seeking Alpha. My position that the stock would go to zero has been long-held and repeated on this site for basically four years now. But I don't have the risk tolerance to jump in the current frenzy - though I do retain the right to watch with interest from the sidelines.)
Wow: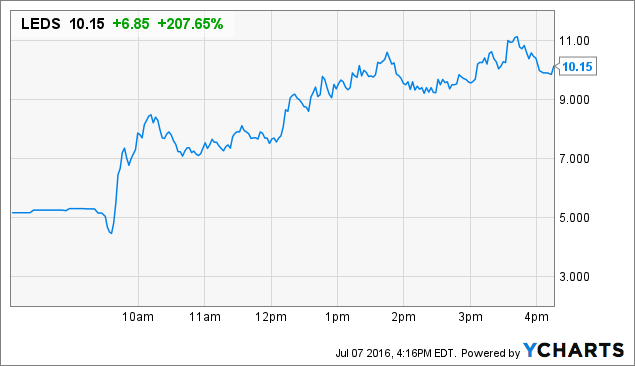 LEDS Price data by YCharts
And double wow:

Source: finviz.com
And triple wow: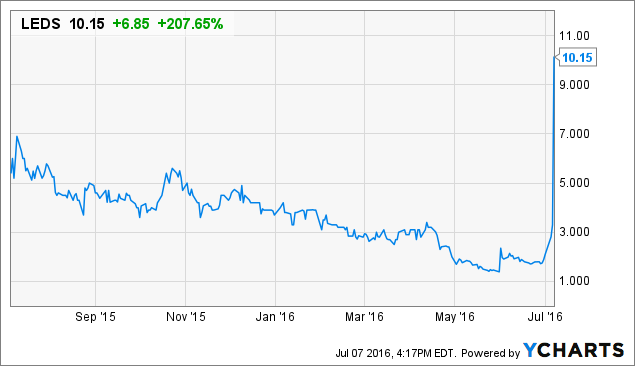 To be clear: this almost certainly is some type of pump. Volume is well over 300 times the trailing 30-day average. Twitter is lit up with comments about the stock. There was one piece of news, which we will get to shortly, but beyond that, this simply is a trader's playground - and it seems highly likely the gains are going to reverse very quickly for a number of reasons:
1. We've been here before (kind of).
After the close on Wednesday, SemiLEDs (NASDAQ:LEDS) issued an 8-K announcing an equity investment by one Dr. Peter Chiou, who agreed to purchase 577,000 shares of stock at $5 per share (a total infusion of $2.885 million) and to give the company a $1.615 million convertible note at 0% interest, convertible at $3.40 (or the 5-day average price heading into the September 2017 maturity date, whichever is lower).
The deal is strange for a number of reasons. First, LEDS closed Wednesday at $3.30, meaning Dr. Chiou paid an over 50% premium for his shares. That is hedged somewhat by the note - which can be converted into at least 475,000 shares - but the weighted average protection in the note simply means that worst-case downside isn't quite as bad. Just above $2 is the mark where Chiou's deal would post less losses than buying the equity at the market. At any price above that, he'd be better off owning the equity at Wednesday's close.
Obviously, trying to buy ~1 million shares in the market would move the price, given a ~2.9 million share float after the company's 1-for-10 reverse split in April. But SemiLEDs also is desperate for cash, and the stock traded below $2 on Friday, putting the market cap below $6 million. Shares wound up gaining 75% (on elevated volume) in three sessions even before the announcement, a somewhat odd move in a quiet market with no news. In short, Chiou agreed to pay about a 150% premium to where the stock traded just last week, and to the range where LEDS has traded since the reverse split almost three months ago.
The second oddity of the agreement is that Chiou is sending his money in three installments: $1 million has been wired already, a second installment ($1.885 million) is due August 15, and the final $1.615 million is due on September 29. Why Chiou needs two-plus months to hand over the money isn't clear. LEDS wrote in the 8-K that there "is no assurance that the Company can successfully close the financing or if Dr. Chiou is able to meet the funding requirements of the purchase agreement."
No one knows that better than SemiLEDs itself, which made a very similar deal in December 2014, which similarly drove gains in the stock (albeit to nowhere near the magnitude of today's run). Then, a Chinese businessman offered to buy 5 million shares (~15% of the company) at $1 per share - more than double the $0.46 trading price on the day of the offer. (Neither figure is split-adjusted.) SemiLEDs received only $261,000 of the funds, and the deal was never executed.
It's not clear that will happen again in this case: Chiou already has wired over 20% of what is owed. But this isn't a done deal, and I wouldn't take SemiLEDs' "no assurance" statement as a simple disclaimer given the difficulty in moving capital in that part of the world. SemiLEDs gave no information on Chiou himself. The name does match that of a former executive with Newport Digital Technologies, a now-defunct company (and former OTC penny stock) that made some attempts in the LED space, who also worked for the government of Taiwan.
Certainly, the deal may have been announced in good faith, and SemiLEDs' financial position leaves it little room to negotiate the terms of the transaction. But it's still an unanswered question as to why Chiou wouldn't just raise the funds and sign the deal in September, when the odds of shares being over $4 (his average cost basis is about $4.28) still seemed relatively slim last week. And it's worth pointing out that LEDS gave back its (much smaller) gains following the December 2014 deal within just a few months.
2. Twitter
All I'll say is do a Twitter search for $LEDS, and look at the volume; volume today was 337x higher than average. A narrative very obviously took hold among a certain segment of traders that LEDS was a short squeeze waiting to happen, though I'm not sure if that actually was true: NASDAQ short interest figures seem not to have incorporated the reverse split, and imply interest was over 100% even if they had (I'm not sure if the numbers didn't go the wrong way, moving interest up 10x for the reverse split when it should have fallen 10x).
Meanwhile, Interactive Brokers only showed very limited availability to short this morning, and none this afternoon - very few shorts could have provided kindling to the fire, particularly given that the entire float changed hands four times over!
Regardless, a story took hold, and a frenzy clearly began. LEDS appears to have been on occasional target over the past few months, and Thursday looks like the culmination of that interest for certain market participants.
3. The company still isn't, you know, any good.
At the close of $10.15, LEDS now has about a $40 million market cap (given that Chiou will receive 1.052 million shares in the equity offering and through convertible exposure, in addition to 2.91 million shares held before the deal). The company pro forma would have about $10 million in cash coming out of fiscal Q2 (which ended February). Given cash burn of about $1 million per quarter through the first half, that figure is probably in the $9 million range.
I covered the problems at length coming out of Q2, but the short version works rather fine as well: GAAP gross margin was negative (-27% in Q2). Operating margin improved year over year, but to -95%, and revenue continues to fall. A plan to outsource production appears to have completely stalled out. The one product line that drove any hope (UV cosmetics for cosmetic manufacturer, apparently with one major deal scored in CY2015) saw sales plummet in the quarter. All more cash seems to do for SemiLEDs is drag out the inevitable. That aside, the stock now is trading for something like 2.3x revenue in a tough space (see the charts for Cree (NASDAQ:CREE) and Veeco Instruments (NASDAQ:VECO), among others).
This isn't a fundamental move, it's a trading move. A stunning one, at that, I admit, and kind of fun to watch. But I have a pretty strong feeling that the traders will move on relatively quickly, and LEDS' spike won't last. There's not much fundamental justification for any material move based on the equity deal - even if it closes. Certainly, a 400% gain isn't supported by the fundamentals - but then again, it seems pretty clear that's not what this is about.
Disclosure: I am/we are long VECO.
I wrote this article myself, and it expresses my own opinions. I am not receiving compensation for it (other than from Seeking Alpha). I have no business relationship with any company whose stock is mentioned in this article.
Editor's Note: This article covers one or more stocks trading at less than $1 per share and/or with less than a $100 million market cap. Please be aware of the risks associated with these stocks.