My last discussion about Phillips 66 (NYSE:PSX) and the consequences of the falling crack spread was quite timely, as Morgan Stanley downgraded the stock the following day citing the exact same reason.
It's been less than a month, but reality is already setting in. The stock has fallen by 6.5% since mid June, lagging behind energy sector's return of 0.86% over the same period of time.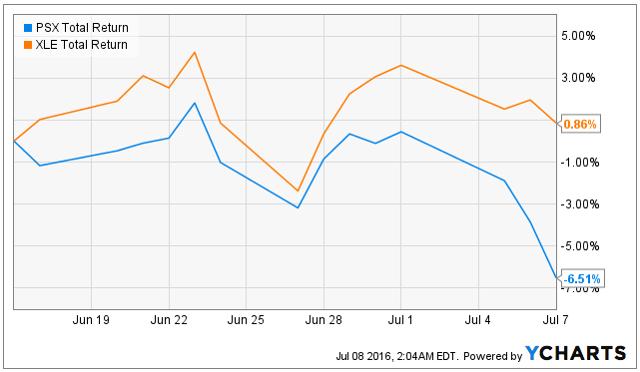 The major cause was of course the falling crack spread. I've warned investors about this downward trend that began in 2012, but the rapidly appreciating share price made it tough for many to accept this claim. The divergence between fundamentals (crack spread) and the stock price is not the result of the market going haywire; instead, it is reflective of the fact that the stock was very cheap to begin with (i.e. immediately after the spinoff form ConocoPhillips (NYSE:COP)). A more detailed explanation can be found in the previous article.
It's Getting Worse
Crack spreads have continued to deteriorate. The chart below shows how they have changed over the past few weeks: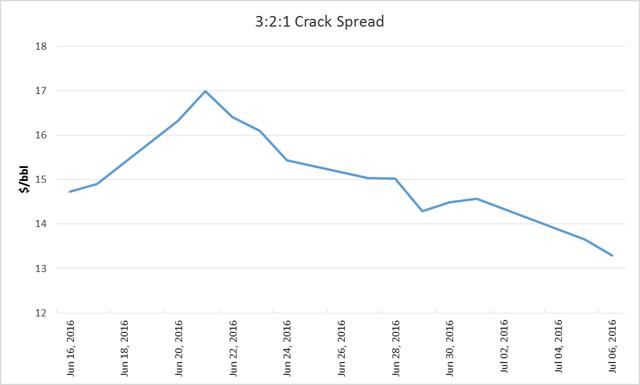 A $1 to $2 fall may not look like much, but a one dollar shrinkage of the refining margin will decrease operating profit by$790 million per year based on the refinery production rate of 2,165 Mbbl/day. Much like its upstream peers, these are all cash losses as it doesn't cost Phillips 66 a single penny to sell at a higher price.
Taking a more long-term approach, we haven't quite reached the bottom yet if history provides any guidance:

Granted, Q2's refining margin should be a lot better than that of Q1. The average crack spread in Q1 was $14.53/bbl, this number increased to $17.02/bbl in Q2. So Phillips 66 should see profit explode in the second quarter. Analysts think so too. The average adjusted EPS estimate of $1.42 for Q2 is more than double Q1's adjusted EPS of $0.67. Unfortunately, the market is forward looking. The fact that oil was at $100/bbl has no meaning when oil is at $50/bbl. Similarly, Phillips 66 shareholders must accept that the company will be making a lot less money under the current commodity environment.
Things Can Change
The macro environment can shift in an instant, which is why it's important for commodity investors to be informed about current developments. You may have heard that there is currently a "gasoline glut," meaning that we are in an oversupply situation, so it is unlikely that the low crack spread will go away any time soon.
There could be a saving grace however. If you've read my oil (NYSEARCA:USO) related articles, you may know that I am bearish on the price of crude (read Oil Can't Go Higher). While higher demand for crude coupled with slowing domestic production is unlikely to cause a sudden drop in oil price during the summer, with more rigs being added every week, producers could be setting themselves up for another 2015. Phillips 66 did very well in 2015 because crude declined quickly while the inelastic demand for products caused product prices to decline much slower, which widened the crack spread. History could repeat itself if producers are quick to increase supply.
Conclusion
Like I said in my previous article, buying Phillips 66 is a gamble on the crack spread, and investors are losing. While macro factors will likely prevent the crack spread from widening in the short-term, the fact that oil may come under pressure in a couple of months could be beneficial for Phillips 66. Note that a positive outcome hinges on the continuation of rig additions and the rise in total crude supply.
Unfortunately, no one knows for sure how the world will be in a few months. Will OPEC cut production? Will Venezuela keep pumping? These are key questions that could affect the price of crude, and by extension, the crack spread. At this point in time, I believe that investors should hold off from buying Phillips 66, lest more positive developments surface.
Click the "Follow" button beside my name on the top of the page to be updated with my latest insights. To learn more about the V20 Portfolio, whose goal is to compound capital at 20% over the long term, I encourage you to read the introduction to my investment process. Premium subscribers get full access to the V20 Portfolio.
Disclosure: I/we have no positions in any stocks mentioned, and no plans to initiate any positions within the next 72 hours.
I wrote this article myself, and it expresses my own opinions. I am not receiving compensation for it (other than from Seeking Alpha). I have no business relationship with any company whose stock is mentioned in this article.