Notwithstanding near-term speculation about the direction of net interest margins and provisioning costs that invariably blitz any dialogue on bank investing, the banking industry's central competitive advantage, a governing driver behind its ability to create long-term value, is its ability to attract and retain retail checking accounts. This is partly because retail deposits are an incomparably cheap source of funding that drives unit lending margins, but also, critically, because they represent the pivotal relationship a bank leverages to sell financial products.[1] At Wells Fargo (NYSE:WFC),[2] primary checking customers purchase 30% more products and are more than twice as profitable as their non-primary checking counterparts.[3] For consumers, the primary checking account is like oxygen: it goes unrecognized amidst our daily transactional monotony until it isn't there for us when we need it. But where we choose to need it, and how we engage with banks that provide it, has changed dramatically in recent years.
When I was a kid in the late-80s, I'd sometimes accompany my parents to the drive thru bank teller, where - from a distance several car-widths away - they'd place a paper check inside a translucent capsule perched at the terminal end of a complex web of pipes, where it would pneumatically swoosh its way to the teller, who would volley it back filled with cash.[4] In those days, convenience was simply derived from the number of physical bank branches available to deposit checks and withdraw funds. And so banks freckled the map in dense clusters, leveraging local scale economies and offering fleeting promotional rates to lure primary checking account relationships, which, once created, were theirs to lose.
Indubitably, certain transactions historically conducted through tellers at branches - check-cashing, withdrawals and deposits - are in irredeemable decline, a trend widely acknowledged by even the largest incumbents. About 90% of Wells Fargo's customers' interactions with the bank are now self-service.[5] From there, it seems reasonable to superimpose the decay pattern of other brick and mortar retail concepts onto the traditional banking complex. Isomorphic to broader technological advances, the boundaries of the banking experience have expanded to include online transfers, personalized ATMs, mobile banking/authentication/payments; and if all you had to go on was the whole gestalt of fintech innovation, you'd think that branched banking was in rapid senescence. But the reality is more nuanced (as it always is).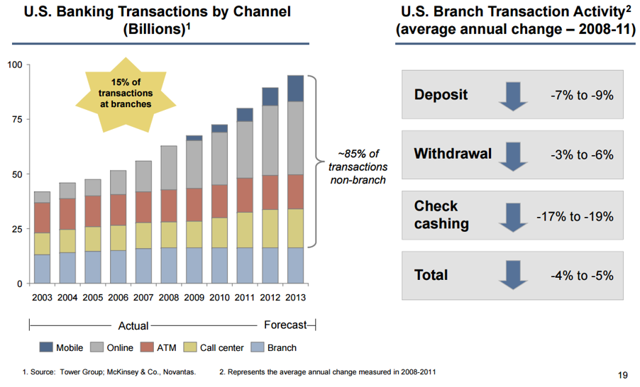 (Bank of the Internet Investor Presentation (NASDAQ:BOFI); May 2016)
Regardless of what US consumers self-report in fluffy "would you ever consider…." surveys, based on the frequency with which they still visit branches - even if the first derivative is negative - US consumers still value the on-premise experience, with the vast majority of them banking across digital and physical channels.
Half of Wells Fargo's deposit customers bank through three or more channels (among a subset of [digital, contact centers, ATMs, and branches]) in a six-month period, and around 85% of all sales or referrals are sourced through in-store interactions. Two-thirds of all US consumers open an account in person,[6] three-quarters of Wells Fargo customers visit a store twice a year and a large majority of their 18-34 year-old customers, despite banking vastly more through mobile compared to other demographic cohorts, still visit a store about as frequently as those 35 years and older. JP Morgan's customers exhibit similar on-site engagement.

(Wells Fargo Investor Day Presentation; 5/24/2016)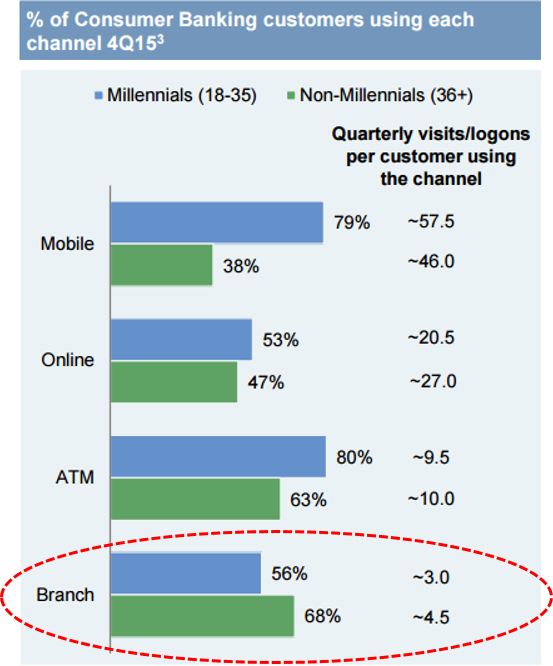 (JP Morgan Investor Day Presentation; 2/23/2016)
Nor have digital bank interactions monotonically replaced ones that occur at branches. Globally, only 16 branch interactions are lost for every 100 mobile ones,[7] with the trade-off far less pronounced at Wells Fargo, where over the last several years, a 42% spike in digital has been accompanied by flat-ish growth in physical channel, suggesting that, rather than cannibalizing traffic from traditional channels, digital has delivered significant incremental customer engagements.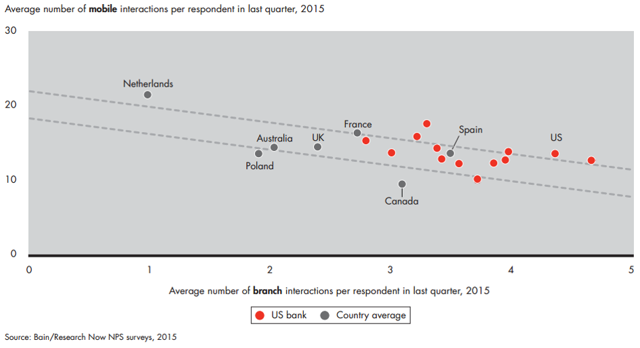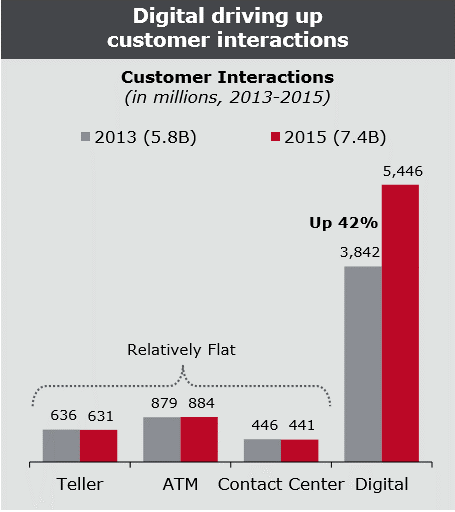 (Wells Fargo Investor Day Presentation; 5/24/2016)
Which matters for WF because high intensity customers (i.e., those who transact more and use multiple channels) exhibit better retention, purchase far more financial products, and are all around more profitable versus their low-intensity peers….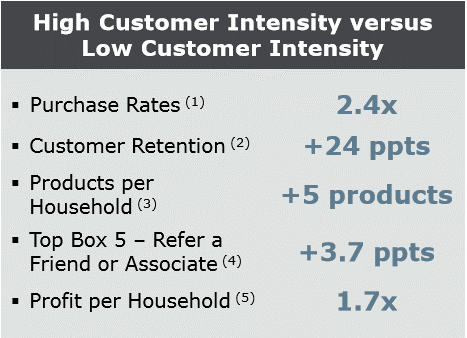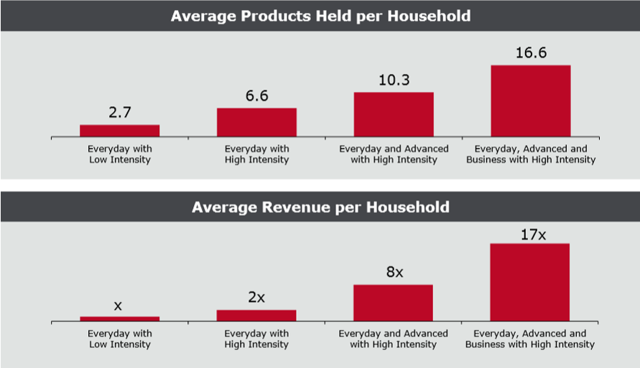 (Wells Fargo Investor Day Presentation; 5/24/2016)
(Everyday: checking, savings and debt and credit cards; Advanced: lines and loans, investments, mortgage)
….an observation that holds true for US banks as a whole: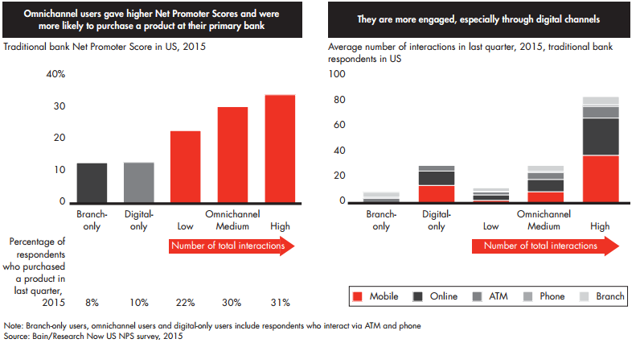 Omnichannel engagement can be particularly effective in financial services because, at their best, banks braid channel interactions to enable seamless transitions from one part of a personalized financial ecosystem to another, across time. For instance, to partly borrow an example from Wells Fargo: a customer sees an ad about the long-term merits of preparing for retirement and because she's already a primary checking customer with Wells Fargo, with a few clicks on her WF mobile app, establishes a savings account. She sees a link nudging her to set up a personal consultation and, still in-app, finds a local branch and an appointment time or clicks-to-call a representative who encourages her to open an IRA, I'll teach you why and oh, by the way, did you know you that based on your transaction activity and average account balances, this credit card offering with its attractive cash-back rewards would be just right for you as you establish the credit history you'll need when applying for a mortgage, which we can also pre-approve you for (thought bubble: 90% of the time, whoever provides the pre-approval wins the mortgage customer) when the time comes? And once a few accounts are consolidated onto one platform that can be easily managed through a single mobile app with service on 24/7 standby, the customer relationship is very sticky and can be more easily sold into.
The value consumers assign branched institutions that can offer omnichannel interactions is laid starkly bare when comparing the deposit funding base of traditional brick and mortar banks with that of their branchless peers, who must aggressively compete to attract mercenary deposits.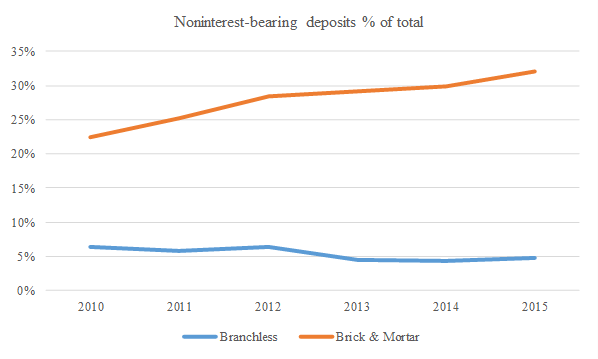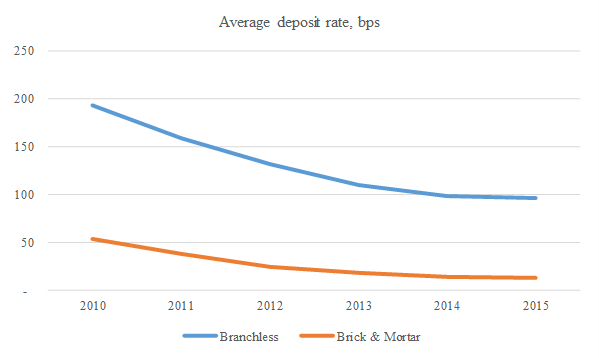 [Rate on average balance of interest-bearing and non-interest bearing checking accounts. Branchless: Ally Financial (ALLY), Bank of the Internet (BOFI), EverBank Financial (EVER), and First Internet Bancorp (INBK); Brick & Mortar: Bank of America (BAC), BB&T (BBT), PNC Financial (PNC), US Bancorp (USB), and Wells Fargo (WFC)]
(Non-interest bearing retail deposits abide by a special antimony in which they can be drawn on demand at any time from customers and still, assuming perceptions of safety and soundness are properly cultivated, represent the most stable form of funding).
Of course, mobile/online supplanting physical as the primary interface has prompted some self-reflection about the role bank branches play in the overall customer experience, with on-premise purpose rapidly transitioning from transaction services to sales-driven financial consultation. The top five US banks by branches, together constituting around 20% of the total domestic physical footprint, are closing 1%-2% of their branches/year, emphasizing automated in-store self-service/assisted service options that can process double the number of routine transactions at lower operating costs, and re-mixing their overall staff from tellers to sales personnel. At Bank of America, sales-dedicated employees, who once made up just 5% of the total staff, have increased to 30% this year, trending toward 40% next year.[8] Wells Fargo has boosted its in-store specialty bankers by 15% from 2013-2015 and reduced its tellers by a comparable proportion. The leading US banks have increased their collective mix of customer-facing FTEs from 69% in 2012 to 85% in 1Q14.[9]
Still, it's tempting to deem digital transaction capabilities orthogonal to the corporate cultures of financial incumbents given their historical ties to increasingly outdated forms of banking, but you might be surprised by the teeming roil of innovation beneath the atavistic horse-drawn wagon / pre-industrial font of the Wells Fargo ensign (and taking shape at other large financial institutions): incubating a vibrant start-up accelerator that's accepted over 1,000 applications and funded 11 companies over the last few years, with forays into biometric authentication and artificial intelligence;[10] partnering with fintech start-ups/incubators and fostering internal innovation labs testing emerging technology (some pictures of bank innovation labs I've seen online - replete with expansive, deliberately spontaneous "makeshift" work spaces, bean bags, foosball tables, etc. - are cloyingly mimetic); cooperating with other incumbents in a peer-to-peer payments network (ClearXchange); rolling out a proprietary mobile wallet - not Wells Fargo bank cards inside Apple Pay (although they have that too), but an in-app Android-compatible wallet that exclusively houses WF credit/debit cards; testing behavioral analytics - traditionally employed in fraud detection - for personalized, predictive banking. For instance, through its investment in Context360 (an analytics company that sells into mobile game publishers), Wells is exploring the interpretation of data received from smart phone sensors to predict, real-time, when consumers might be most receptive to product offers or susceptible to fraud.
The point of all of this, particularly given the swarm of digital payment alternatives, is to own the customer experience - to not be one of several bank cards inside an Apple Wallet but to be the wallet, and all of its cards, totally; to be the top-of-mind app when a consumer pays a bill, transfers petty funds to a friend, applies for a mortgage or credit card, etc. These are all reactive catch-up investments to be sure, but a crucial incumbent advantage that carries over into the digital realm - assuming a large financial institution is authentically receptive to change and innovation (hardly a given) - is mammoth scale. Research, testing, and implementation of secure and seamless digital solutions are high fixed cost propositions in which absolute consumer reach matters. Local economies of scale engendered by regional branch density was a relevant value driver when physical sites were the predominant form of service, but dwindles in significance as consumers assign greater weight to mobile and online channels in the convenience composite. Wells Fargo can introduce online, mobile and ATM enhancements across 21mn checking account households simultaneously with a flip of a switch and deliver a RO-digital-I that small regional banks simply cannot match. Though I have zilch to back it up, I'd bet that some of the NPS gap closure between national banks and peers can be partly tied to relative digital channel enhancements.
(Direct banks = branchless banks)
Several Silicon Valley behemoths with gargantuan scale represent insidious long-term threats, but delineating the process by which disruption occurs needs to be done with a little more dignity. The articles I've read about the possibility of an [AAPL/AMZN/GOOGL] bank either 1) conflate payments facilitation (intermediating between two transacting parties) with banking (collecting deposits, taking loans, assuming credit risk), 2) wax inchoately about the great user experience and resplendent "brand value" (whatever that means), and/or 3) assume that just because a company can do something, that it probably will, ignoring the deliberate strategic trade-offs that companies must make to excel. Particularly ordurous are articles replete with well-trodden "Could [X] become the next [Y]?" non-predictions that, when they perchance materialize, grant the author disingenuous claims to prescience in a later article (I'll do my best to avoid the latter).
One hypothesis is that Americans continue to segregate their financial and social digital lives; SIFI branched banks enhance their mobile banking experiences while rationalizing their physical footprints - taking share from smaller regional banks who don't have the scale to invest - and effectively retain customer relationships because, in Wells Fargo's view, it's easier to replicate the sleek user interface of a start-up fintech than for the latter to reverse engineer the know-how needed to manage credit and regulatory risk through business cycles. In my opinion, the latter view aptly reflects the difference between starting with the user experience and building out (social networks), versus beginning with a business model and forging relationships as a necessary consequence (banks). As data become increasingly important to offering relevant and predictive financial services, having an ensconced and actively engaged user base proliferating a rich dataset across multiple activity silos is far more important and scarce than owning historical underwriting algorithms founded on a more primitive, less granular one.
To trace how seemingly innocuous payments facilitation might seriously undermine banking incumbents, it's instructive to observe how digital payments have evolved in Asia, where mobile messaging apps have largely disintermediated their host OSs. WeChat, with over 600mn daily active users and 200mn active users with payment functionality, began as a popular voice/photo/text messaging app but has flourished over the last 5 years to treat a vast array of every-day tasks - delivering news, hailing taxis, ordering food, checking-in for flights, playing mobile games, paying the bills, checking bank statements, transferring money to friends and family - through millions of mini-apps, including banking apps, that reside within.[11] Now Line and KakaoTalk are two other messaging platforms based in South Korea that offer payment services. The P2P-payments Trojan Horse has gifted merchant transactions and increasingly, traditional bank functions like lending, wealth management, and even deposit taking. Late last year, Kakao announced the launch of South Korea's first internet-only bank that will use data from social media and purchase transactions to develop refined underwriting criteria, following the lead of Tencent (WeChat), Alibaba, and Baidu, who offer a full range of financial services through affiliated internet banks.
Unlike the BATs in China, for whom ecommerce plays an explicit and central role in the business model, most fintech efforts by established tech giants in the US are, for now, ostensibly conceived to drive user engagement of extant services - Apple Pay to promote ecosystem lock-in; Facebook (NASDAQ:FB) P2P payments to lubricate peer-to-peer engagement; PayPal Credit to stoke payment transaction volume and inflate basket size; Google/Lending Club (NYSE:LC) small business loans to resellers/integrators to drive enterprise applications adoption (interestingly, Google is using its own capital to originate loans to vendors). Still, you can anticipate the faint echo of disintermediation crescendo'ing to something bearing existential tones.
In the US, mobile apps still tile the touchscreen as separate enclaves with disparate functionality, but as in Asia, mobile ubiquity has forced service providers - from taxi cabs to restaurants to banks - to meet their customers on their own terms.[12] If the smartphone is the digital house and apps are the rooms, then just as the current phase of digitally-catered financial services follows the customer home, the next one may meet the consumer with even more behavioral precision, in the very room she spends most of her time.[13] As the social world fuses with the financial one (P2P payments is the natural nexus), a mounting cascade of disparate merchants and services will be lassoed into a digital ecosystem bound to where the consumer already lives….and that place is not a banking app/site she visits 7 times / month,[14] but a social one where she occupies a half-hour or more of her every day. Financial services traditionally offered as tailored bundles to a sticky checking account are now being unbundled by a host of fintech start-ups - P2P payments/ loans, robo-advisors - on their way to being re-bundled on a few mobile platforms.
As messaging has surpassed social networks on mobile, several tech companies are bolstering their messaging services into broad-based captive platforms that extend well beyond the boundaries of textual communication. In late-2014, SnapChat - with 100mn daily active users and nearly 70% share of 18-24 year old US smart phone users - partnered with Square Cash to offer peer-to-peer payments. Last year - in the wake of its WhatsApp acquisition - Facebook poached PayPal's president to run Messenger, introduced free peer-to-peer payments, and it seems just a matter of time before interactive chatbots within Messenger allow direct third-party payments (maybe FB begins marking up interchange charges for merchant payments to monetize engagement, as Venmo has recently done),[15] automate simple banking requests, and even offer personal financial advice.
In isolation, payment transfers represent a trivial share of bank profitability, but as users gradually accommodate financial behavior into their social lives, you might imagine the company tiptoeing into peer-to-peer lending, hosting competitive offers for robo-advice/personal and small business lending, and maybe, as its burgeoning transactional database is fused with and correlated against social graphs across 200mn MAUs[16] - to canvas comprehensive, nuanced profiles for constructing underwriting models, managing risk and cross-selling product - originating personal loans, gathering deposits, etc. Incumbent banks will be piecemeal robbed of their customer relationships in a disruptive process that begins on the fringes with a marginally profitable service ignored by financial incumbents (payments) and filters down to a more profitable core (personal loans and small business loans).
To the extent this is long-term inevitable, the heady digital investments being made by large banking institutions have a rearranging-deckchairs-on-the-Titanic feel to them. When you hear stodgy bank executives euphuistically speak of fintech as an "opportunity" in that familiarly lame corporate-PR way, it's hard not to roll your eyes and flash back to newspaper companies who touted the internet as an incremental monetization channel. But of course, the truth is that when a new paradigm simultaneously narrows an existing moat while presenting new opportunities, the impact of the former almost always wins out.
So, that's one narrative. Another, more likely one in my opinion, recognizes that the starting conditions in China - where mobile adoption far exceeded banking penetration - were unique; that the US financial apparatus is encumbered by a panoply of impediments - obtaining banking licenses in each state you operate in, managing onerous capital and liquidity requirements under restrictive SIFI regulations, undergoing solvency tests and recurring Federal Reserve audits - that make it unattractive for a corporate culture seeped in innovation to breach a heavily regulated, capital-intensive industry with modest returns; and that consequently, broad-based technology platforms will continue to act mostly as facilitators, white-labeling the balance sheet capacity of large banks, who function as deposit and loan repositories. But this scenario, of course, still modularizes financial products on a captive platform that taxes suppliers (through fees or increased competition) and compromises the captive one-to-one engagement banks have traditionally held with checking account customers. And maybe the evolutionary end-point halts there before the next paradigm arrives.
In either case, if you accept that a bank's competitive advantage resides in its ability to leverage sticky, low cost deposit relationships - itself a function of the bank's ability to delight (or at least not repel) customers with service and convenience - then as consumers acquaint themselves with socially-integrated financial channels, those traditional ties are rendered largely effete, ablating incumbent deposit franchise value.
It's tempting to extrapolate the torpid pace at which Americans have abandoned traditional modes of banking, but to quote Hemingway, I suspect that desertion will occur - as some nebulous tipping point is breached - gradually, then suddenly.
CONCLUSION
Of course, the path along which banking eventually trods, the speed with which it does so, the extent to which it's already baked into incumbent bank valuation, your personal time horizon and a host of other insights you have into the rate environment, the bank's culture and underwriting discipline, etc. all matter to varying degrees when investing in a bank, and I neither recommend nor eschew an investment in any company mentioned in this post. The familiar bull case for SIFI banks - that penance for irresponsible pre-crisis lending practices has been paid, liquidity is ample, capital ratios are robust, NIM is artificially compressed, assets are clean, and valuation reflects fatigue - while valid, also blithely ignores systemic horizontal long-term threats, hence this post. Bank investors should be alert to acclerated peer-to-peer payment adoption by users on tech platforms with broad reach and untoward forays into lending.
ADDENDUM
US bank branch contraction that has taken place since 2009 is hardly an isolated occurrence, with huge rationalizations - between 1935 and 1945, 1989 and 1995 - succeeding major contemporaneous financial calamities. Meanwhile, prolonged periods of branch expansion have mirrored migration trends and regulatory changes that lifted restrictions on inter-state branch expansion.[17]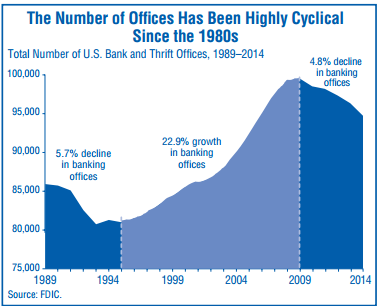 The percentage decline in bank charters has vastly exceeded that of physical branches with the total number of bank branches higher today than in 1987. Only a small proportion of branch closings from 2008-2014 were linked to consolidations or failures; the substantial majority of branches continue to operate after the FDIC-insured institutions that operated them fail or are acquired.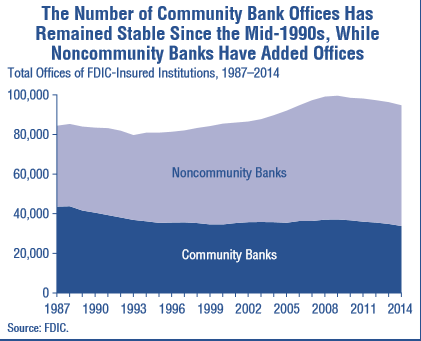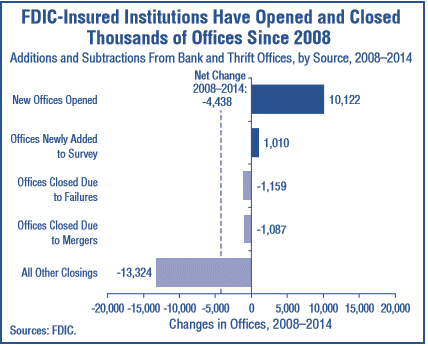 Also branch density, while exhibiting similar cyclicality to the absolute number of branches, has remained relatively stable despite the broader diversity of banking options - ATMs and telephone banking during the 70s, online banking in the 90s, mobile banking today - that might intuitively correlate to a reduction in brick and mortar presence, diluting activity at physical branch locations and prompting network rationalization. But perhaps surprisingly, branch density has been rather stable over the year:

(Source: WorldBank; Citi Research)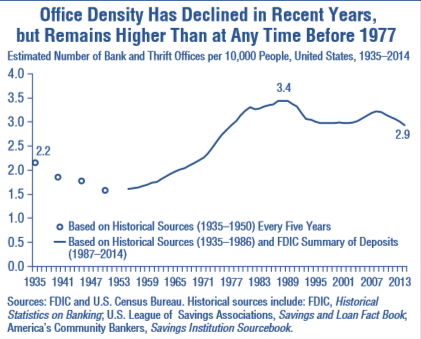 Though, disaggregating bank density by county type, we see a sustained declivity in the metropolitan cohort that constitutes nearly 80% of all bank branches. The majority of deposits in US rural and micro counties continues to be held by small community banks, whose over-indexation on physical branches and relative inadequacy in digital offerings are more aligned with a population less prone to technological adoption (that latter point I speculate from the perch of an out-of-touch urban dweller).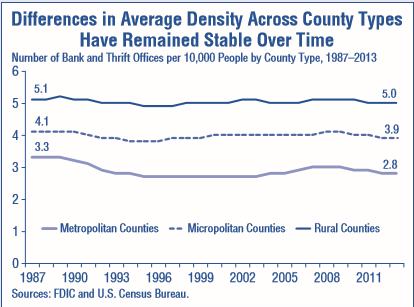 ---
[1] 2/3s of Wells Fargo's consumer customers began their relationship with the bank by opening a checking or savings account.
[2] I'm going to be mostly referencing Wells Fargo's data from its 2016 Investor Day in this post, mostly because of its relevance and availability versus but also partly to show how a thoughtful, well-run, but quintessentially "antiquated" branched bank, responds to the funereal expectations of those who perceive fintech threats on a classic bricks and mortar banking institution to be insuperable. I recommend carving out the 8 hours needed to plow through the Investor Day presentation - its purview is several notches ahead of what several other financial institutions have published.
[3] Wells Fargo defines a primary checking customer as one who actively uses her checking account for debit card purchases, online bill payments, and direct deposits.
[4] At the teller's side of the window, so I learned later, a growing mound of deposit slips would be harvested by a bagman at day's end and relayed to a nearby processing center, where it would be further scanned and processed.
[5] Wells Fargo has reduced its community banking footprint by over 3mn square feet over the last 4 years and expects to close 60-70 stores / year going forward (about 1% of the current store base).
[6] Source: Forrester, Citi Research
[7] Du Toit, Gerard and Maureen Burns. Bain and Company. "Customer Behavior and Loyalty in Retail Banking." (n.d.): 9. Web.
[8] Morgan Stanley Financials Conference; 6/14/2016
[9] BCG, Operational Excellence in Retail Banking 2015, Four Trending Practices of the Leading Banks; Q1 = top quartile
[10] Including Zumigo (mobile ID technology); EyeVerify (ocular authentication); Kasisto (artificial intelligence / chat botting); Context360 (predictive analytics used by mobile game publishers; so, for instance, interpreting data from smart phone sensors to predict when a user is about to quit a game)
[11] I've heard that the cluttered digital experience in Asia purposefully maps the frantic day-to-day of space-constrained urban Asia.
[12] The real pressure point for customer loyalty in banking now comes from digital engagement. A survey result from Bain and Company shows that mobile phone interaction does a significantly better job engendering customer loyalty than branch usage, with customers who use branches frequently nearly 3x more likely to switch banks.
[13] In China, you might say smartphones are the neighborhood, apps are the houses, and the apps-within-apps are the rooms.
[14] Accenture, Banking Customer 2020, Rising Expectations Point to the Everyday Bank, 2015
[15] Venmo (owned by PayPal) allows free peer-to-peer payments but recently, with a critical mass of users sending money through the app several times / week, has recently started charging customers for merchant transactions.
[16] Facebook monthly active users in the US and Canada
[17] "Brick-and-Mortar Banking Remains Prevalent in an Increasingly Virtual World." FDIC Quarterly 9.1 (2015): 40-41. Web.
Disclosure: I/we have no positions in any stocks mentioned, and no plans to initiate any positions within the next 72 hours.
I wrote this article myself, and it expresses my own opinions. I am not receiving compensation for it. I have no business relationship with any company whose stock is mentioned in this article.