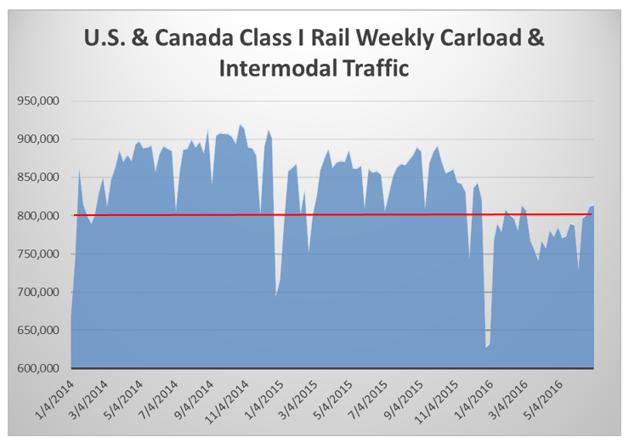 Source: Class I websites and personal database
Class I rail traffic has remained weak through the midpoint of 2016; this trend was the same through June, as year-over-year, YOY performance declined 6.7 percent versus the 8.1 percent decline during May. The key measure to keep an eye on continues to be the weekly 800,000 rail traffic level, which has been breached for three consecutive weeks for the first time this year.
If further improvement can be sustained, this could bode well for second half performance during 2016. With Class I rail traffic down 7.5 percent at midyear, investors should be keying in on how the next few months shape up as an early indication for performance. Over the six months, we will hopefully have a better idea as to when expectations for traffic growth could occur during 2017.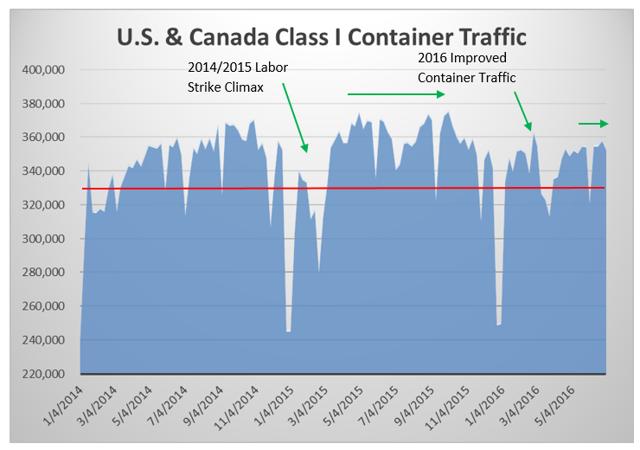 Source: Class I websites and personal database
For Class I container traffic YOY, June performance declined 3.4 percent versus the 1.9 percent decline during May. Based upon the strong correlation between seaport container twenty-foot equivalent units, TEU declines and container traffic performance during June, slowing global trade has impacted Class I rail container traffic.
Trailer traffic declined 31.6 percent YOY during June reflecting the fourth consecutive month with a decline greater than 30 percent. The havoc wreaked by the Triple Crown service restructuring has allowed the trucking industry to compete for lost business. Investors should pay attention to the splits between international and domestic container business during the second quarter earnings reports. Class I's with weak international and domestic container growth could be losing share to truck carriers.

Source: Class I websites and personal database
The 3.4 percent decline in June was felt across all Class I rail operators with the exceptions being Norfolk Southern (NYSE:NSC) and Kansas City Southern (NYSE:KSU). Norfolk Southern witnessed a 0.7 improvement YOY during June, while Kansas City Southern experienced a 0.2 percent improvement. Both Class I's witnessed 5.3 and 0.9 percent performance YOY during May.
Clearly, container traffic performance was the largest factor leading declines as Union Pacific (NYSE:UNP) witnessed a 5.6 percent decline, Canadian National (NYSE:CNI) witnessed a 5.5 percent decline, Canadian Pacific (NYSE:CP) witnessed a 5.1 percent declined, CSX (NYSE:CSX) witnessed a 4.5 percent decline and BNSF (NYSE:BRK.B) witnessed a 4.1 percent decline, in June YOY. Excluding Canadian Class I's, all the three remaining peers witnessed deteriorated performance from May.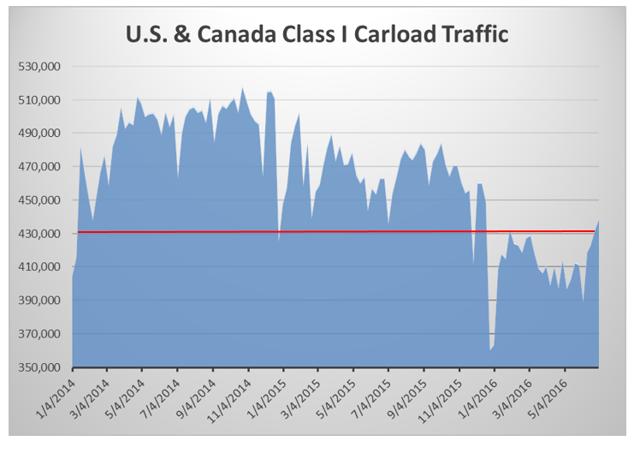 Source: Class I websites and personal database
U.S. and Canada Class I carload traffic had its best performing month during June with YOY declines of 7.5 percent, compared to May's 11.4 percent decline. This marks the second time this year that YOY performance has been below double-digit declines. Week 26 recorded the highest carload traffic for 2016 at nearly 440,000 carloads.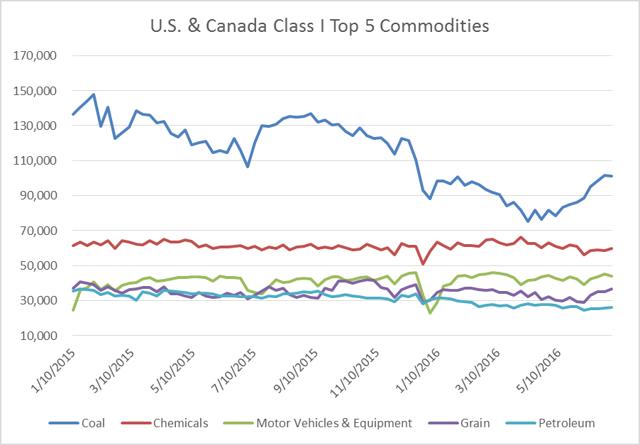 Source: Class I websites and personal database
For Class I carload top five commodities, coal continued to show improvement as June performance declined 15.7 percent versus the 30 percent decline during May. Class I's were mixed as Kansas City Southern and Canadian Pacific witnessed improved traffic at 30 and 1 percent YOY. Union Pacific, Norfolk Southern, BNSF and Canadian National all witnessed improvements with declines during June, while CSX was the only Class I to further deteriorate.
Chemicals performance declined 3.8 percent during June versus the 0.6 percent decline during May. Performance continued to be led by BNSF, which witnessed improved traffic by 9.5 percent YOY in June. All other Class I peers witnessed negative performance YOY, led by the Canadian rails with the exception being Kansas City Southern down marginally by 0.7 percent.
Motor vehicle and equipment performance improved 2.3 percent during June versus the 0.4 percent decline during May. Similar to chemicals, performance continued to be led by BNSF, which witnessed improved traffic by 21.9 percent YOY in June, marking the fifth consecutive month with performance at or above 18 percent YOY. Both Canadian rails witnessed positive growth YOY improving from May, CSX improved to 4.5 percent growth, while Norfolk Southern was flat. The outliers included Kansas City Southern with improved traffic above 20 percent YOY after five consecutive months of declines, and Union Pacific witnessing a nearly 9 percent decline YOY, for the fourth consecutive month.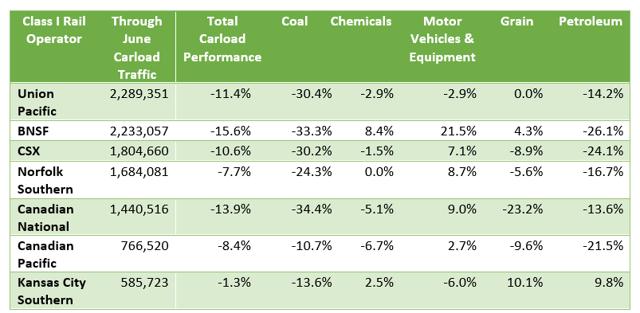 Source: Class I websites and personal database
Grain performance was up 1.9 percent during June versus the 7.5 percent decline during May. During June, BNSF and Union Pacific led the way for grain traffic with growth of 30.6 and 11.2 percent YOY. For Union Pacific, this represented the second consecutive month of double-digit gains. The Canadian rails witnessed the worst performance with Canadian National and Canadian Pacific down 33.2 and 14.2 percent YOY. CSX was down double digits and Kansas City Southern was down mid-single digits, while Norfolk Southern was flat.
Petroleum performance declined 21.7 percent during June versus the 21.6 percent decline during May. Through June, Kansas City Southern has led the way for petroleum traffic, performance was flat during June YOY. Investors should note that Mexico traffic has substantially offset U.S. declines. All other Class I's have witnessed consistent negative performance, with the worst performers including Canadian Pacific, BNSF and CSX.
Canadian Pacific witnessed its second consecutive YOY monthly performance of negative 40 percent or greater, BNSF witnessed its sixth consecutive month of negative YOY performance of 22 percent or greater and CSX witnessed its third consecutive month of negative YOY performance of 26 percent or greater.
Based on the performance by individual Class I's, clearly, coal and grain have led the improvement for carload traffic performance. This has mostly benefited BNSF and Union Pacific. Investors should continue to monitor these top five commodity trends as they reflected nearly 62 percent of carload traffic.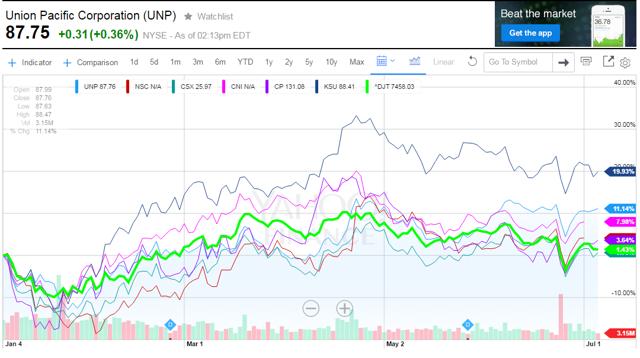 Source: Yahoo! Finance
Class I stock prices like most other industries have recovered from the Brexit results. However, not all companies have recovered to pre-Brexit levels. Norfolk Southern improved from negative territory last month to positive during June. CSX lost around half of its performance from May to being up just below 1.5 percent for the year.
Based upon the current rail traffic performance at midyear, investors who have held since 2015 should feel fortunate to be up regardless of Class I. Kansas City Southern's 20 percent return to date as well as Union Pacific and Canadian National's performance could be a little ahead of other peers, but the market seems to be looking for the uptrend in advance.
Pricing continues to be down mostly for door-to-door domestic intermodal pricing as the IDS West to East average rate is down over 4 percent as of the end of June. End of June pricing is up over 2 percent from the last week. As we approach the fall and winter quarters, investors should understand that intermodal pricing will be more dependent upon previous weekly and monthly performance versus year over year, YOY due to the spike incurred during the West Coast labor strikes. Pricing for other major commodities has also been impacted by traffic declines throughout the year.
Investors should continue to monitor these trends over the next six to nine months. These monthly reports will attempt to continue to provide context. Over the long term, Class I railroads will not witness substantial increases in rail traffic and/or capacity, with intermodal being the main exception. Steady traffic growth and moderate increases in pricing will continue to be the balance leading to shareholder gains.
Disclosure: I am/we are long CNI.
I wrote this article myself, and it expresses my own opinions. I am not receiving compensation for it (other than from Seeking Alpha). I have no business relationship with any company whose stock is mentioned in this article.