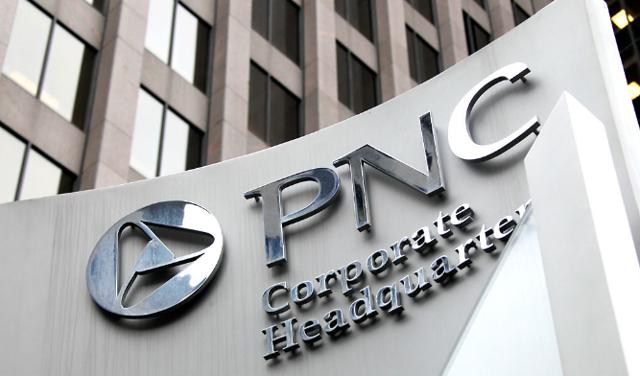 I've been somewhat critical of regional bank PNC (NYSE:PNC) in the past for a couple of reasons. First, PNC is very average in terms of its operating metrics and second, it has traded at times at valuations that were befitting of an excellent bank, not a standard one. The CCAR each year provides the largest of our nation's banks the chance to showcase their capital bases and their returns to shareholders and for PNC, it was a bit of a mixed picture this time around.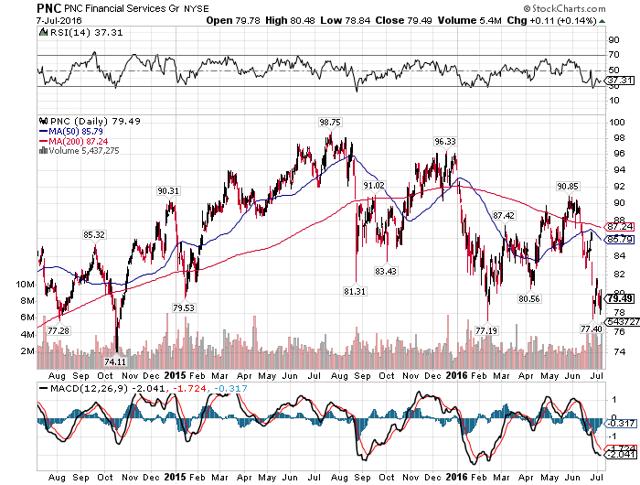 PNC has been crushed of late just like every other large bank so it is certainly cheaper than it normally is. However, that's true for the whole group so on a relative basis, little progress has been made towards remedying what I see as PNC's main problem; that it gets too much credit from investors for its profitability.
But the CCAR is a chance for each bank to differentiate itself with its capital returns and this year, PNC did a fairly nice job. It received the coveted non-objection to its capital plan which includes an 8% dividend hike to 55 cents a share and a $2 billion buyback, good for 5% of the float at current prices. PNC's new dividend would give the stock a 2.8% yield, meaning the buyback would bring the total yield of the stock for this CCAR cycle to about 7.8%. That's decent and around the average for the large banks, although some have done much more. Still, PNC is further along in rebuilding its capital returns than others and as I said, its stock trades at a relative premium. Thus, expecting a 9% or higher total yield is unrealistic simply because the numbers would have to be prohibitively huge to achieve such a result. And that brings us to our larger point, which has to deal with PNC's capital base as it relates to the future of its capital distributions.
Banks that are still in the process of rebuilding their capital returns like BAC and C have lots of upside potential from current levels. That means that investors looking for growth can turn to those names as they haven't yet fully recovered from the beatings they took during the crisis. PNC certainly took a beating as well but it never fell as far and has recovered more quickly, meaning that its future capital returns from here will be more muted; they have to be. And that removes a potential upside catalyst for PNC relative to its peer group. It isn't as though PNC wouldn't be able to return capital, it's just that it will have a nearly impossible time trying to match some of its peers that still have lots of growth ahead of them.
PNC's yield on its new dividend puts it near the top of bank yields at this point. While there are higher yields available, 2.8% is certainly above average and could be enough to entice buyers. I was a little surprised PNC didn't go higher with its dividend increase considering it could have reached 3% or at least gotten close this time around, but it will do. Where PNC is lacking is in its buyback as that came in at just 5% of the float, roughly average in terms of its peer group. The problem is that PNC's relatively low capital level means that it will have a hard time increasing these distributions going forward.
PNC's starting CET1 level for this year's CCAR was just 10.6%, near the bottom of its peers in the LISCC and large and complex BHCs segment of the test. That low starting level relative to its peers means that under the severely adverse scenario, PNC's CET1 level fell to just 6.1%, tied with the lowest in the entire group with Wells Fargo. That certainly was noticed by the Fed and indeed, PNC management as they were attempting to craft a distribution plan that would be accepted by the regulator. The problem this causes is that banks with huge buffers on their capital bases have the freedom to continue to bump distribution amounts going forward; PNC does not have that luxury because doing so would risk falling near the minimum required capital levels in future tests.
As we saw with M&T Bank earlier, if you get too close, you are made to revise your distribution plan, an embarrassment no management team wants. PNC isn't there but it could be if it has a rough year generating capital and/or gets too aggressive with its distributions. That removes the capital return plan upside catalyst for PNC and that's not good for the stock relative to its peers.
At 11.1 times this year's earnings, PNC is cheaper than it normally is, but relative to its peer group, it still isn't. And as I've articulated in the past, that's the problem with PNC; there's nothing wrong with the bank itself, it's just too expensive. Being average isn't a problem if the multiple the stock receives is commensurate with the company's performance but for PNC, the disconnect is skewed the wrong way. And with its inability to meaningfully outperform its peers on the capital return front, PNC stands to remain average at best but with an expensive multiple.
Disclosure: I/we have no positions in any stocks mentioned, and no plans to initiate any positions within the next 72 hours.
I wrote this article myself, and it expresses my own opinions. I am not receiving compensation for it (other than from Seeking Alpha). I have no business relationship with any company whose stock is mentioned in this article.