By Parke Shall
While the entire market has worked itself up into a hissy fit about the potential of a crisis in Europe and the potential for a financing bubble in the automotive sector, Ford (NYSE:F) continues to keep its head down and execute.
New information out on Thursday morning of this week gives us a excellent cross-section into a company whose business is still humming both here in the United States and overseas in Asia.
The company announced excellent operating results from China,
Ford Motor Company first half sales in China total 577,097 vehicles, up 6 percent
Changan Ford Automobile first half sales total 434,645 vehicles, up 10 percent; 64,377 vehicles sold in June, up 4 percent
Jiangling Motor Corporation first half sales total 121,514 vehicles, down 7 percent; 19,351 vehicles sold in June, up 5 percent
Lincoln first half sales in China total 12,450 vehicles, an almost three-fold increase and exceeding 2015 full-year sales
In a separate release, the company commented on the momentum behind its Lincoln brand, a catalyst that we predicted months ago would have a marked positive effect on Ford sales both domestically, but more importantly, overseas,
"Lincoln will continue to attract China's new generation of luxury customers as we consistently deliver the customized services of the Lincoln Way even as we expand our dealership network," said Amy Marentic, President of Lincoln China. "In addition, with two new sedans launching this year, we are confident that we have the elegant, dynamic and progressive Lincoln vehicle to fit the desires of our customers."
We had predicted that the rebirth of the Lincoln brand would be a tremendous positive catalyst for Ford just months ago, noting that overseas markets were seeking out American luxury vehicles amongst other American luxury products in high demand. In our article "Ford: Can a Lincoln Rebirth Throw Sales into Overdrive?" we stated,
[Lincoln] allows high margin access to overseas markets, specifically China. Luxury items sell well in China, just ask Apple (NASDAQ:AAPL) or Burberry (OTCPK:BURBY). With a Chinese eye on American luxury, Lincoln should help the company roll out its plans of continued growth overseas in China, and places like India, where the company recently broke ground setting up a production facility. What model is better to do this than the classic American continental.
More recently, as the commentary has been focused on whether or not Ford is a good buy after the market has pulled back, we noted that we thought Ford should be bought on the dips just days ago.
Interestingly enough, our argument at the time was that despite fears and despite rhetoric, Ford somehow continues to still post fantastic operational numbers. Until those numbers start to disintegrate, we are not going to be discounting the business as much as the market has here. Yes, the stock market is a forward-looking indicator but no, we do not think that a multiple of between 5X and 6X is prudent for Ford.
We continue to pound the table that Ford's yield will keep a floor under the stock and that its current valuation is bordering on pricing in total catastrophe.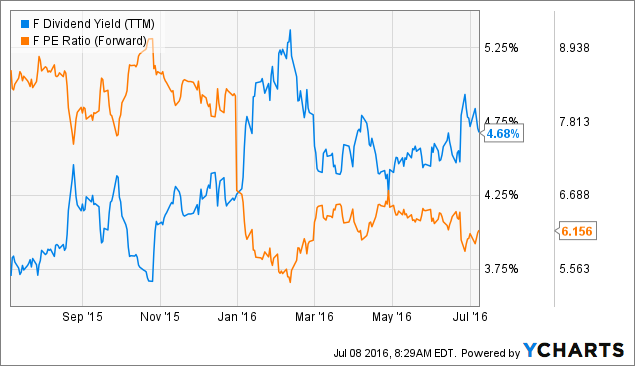 F Dividend Yield (TTM) data by YCharts
The market does not want to assign a serious multiple to the stock because of its worries about the auto financing bubble. Our suggestion was to go long Ford, taking advantage of the company's nearly 5% yield and short CACC or another company with credit exposure to the automobile credit markets, as a hedge.
This great news out of China continues to be representative of the return on investment that Ford is receiving for investing in itself. When the company came out of the 2008 financial crisis, it clearly made a commitment to invest in itself globally that is paying off. General Motors implemented a large buyback, but we think Ford was more savvy with its capital, which is why we prefer it out of the two major U.S. automakers.
The company continues to have a storied history of performing well in the United States. The domestic backbone of sales that the company has created led by SUVs and trucks here in the United States is a firm foundation for Ford shareholders. The fact that the average age of the vehicle on the road remains at all time highs near 12 years is another positive for Ford shareholders. Finally, and most importantly, the company's international expansion is going to be the key to unlocking value in the company stock price.
Given the results we received yesterday, it looks like the company remains on the right track, especially in the crucial Asian region.
Disclosure: I am/we are long F.
I wrote this article myself, and it expresses my own opinions. I am not receiving compensation for it (other than from Seeking Alpha). I have no business relationship with any company whose stock is mentioned in this article.