Business Overview:
Cardinal Health, Inc. (NYSE: CAH) is a healthcare services company providing medical and pharmaceutical products along with related services that assist hospitals, surgical centers, doctor's offices, and healthcare providers.
The company operates through two segments: Medical (10% of sales) and Pharmaceutical (90% of sales). The medical segment distributes a variety of medical, surgical, and laboratory products. This segment also manufactures its own private brand of medical and surgical products. The pharmaceutical segment distributes both generic and brand name pharmaceuticals. It also operates nuclear pharmacies and cyclotron facilities which manufacture radiopharmaceuticals.
Cardinal Health was founded by Robert Walter in 1971 and is headquartered in Dublin, Ohio.
Business Analysis:
Cardinal Health has been a steady performer, growing at a CAGR of 2% for the past ten years to reach FY2015 sales of ~$102 billion. Cardinal's sales and EBITDA growth have been substantially higher than industry peers, largely attributed to higher margins in the pharmaceutical segment. Efficiency in supply chain management, acquisitions, value added services, and generic drug price inflations have been major factors in profitability. Cardinal is also moving towards smaller accounts with higher margins rather than focusing on low margin high volume accounts.
(Click to enlarge)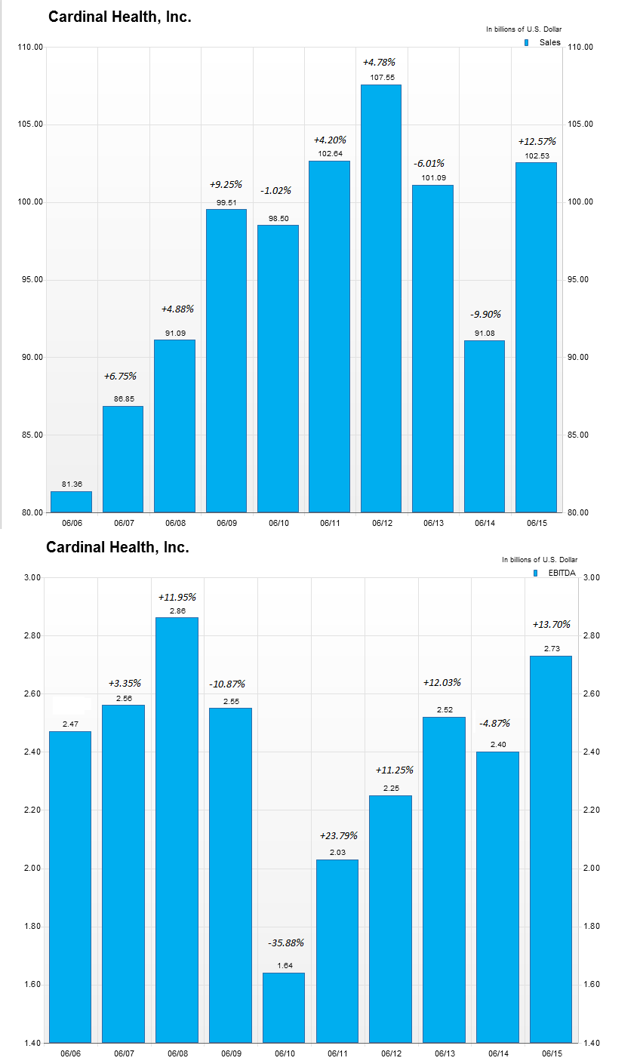 Source: Factset
While a substantial majority of Cardinal's revenue and profitability comes from its pharmaceutical segment (~90% sales), I do not think this is a cause for fear. Cardinal is firmly positioned as one of the top pharmaceutical distributors in the U.S., with plans for growth. While currently ranked third and with a ~19% market share, Cardinal is not only focusing its efforts to gain market share in the U.S., but abroad as well. Cardinal is currently the only U.S. drug wholesaler doing business in China. Cardinal China's growth has exploded in the recent years, through acquisitions of local companies and organic growth. Its business has grown by over $2 billion in the past five years as of FY2015 and should see future double digit growth. Healthcare spending continues to grow in the Chinese market as an expanding upper and middle class find the need for more pharmaceuticals. Public health concerns in China should also be great for business, as fear of disease continues to be a key driver in pharmaceutical growth.
According to Bloomberg, Chinese healthcare spending is expected to hit $1 trillion by 2020, making it the largest market in the world. The Chinese Government is continually modernizing its society, and a significant part of that modernization is an increase in spending largely in the healthcare industry.
Cardinal's medical segment is only 10% of their revenue, but is a key part of their growth strategy. Cardinal is the second largest medical distributor (Owens & Minor (NYSE:OMI) is #1) in the US. Cardinal Health is actively driving growth in this segment by pushing Cardinal branded products and penetrating into the home healthcare market with the acquisition of AssuraMed in March 2013. Operating margin for Cardinal's medical segment is also higher than its pharmaceutical segment, mainly because of Cardinals private label brands. Cardinal sources and manufacturers its own products, making it cheap to produce and bring to market.
The aging population continues to play a role in the success of companies such as Cardinal. Almost one in seven Americans is 65 or older, and Cardinal is prepared to cash in. Healthcare expenditures per capita have been steadily increasing from the 1990's as shown in the chart below. Cardinal's ability to provide much needed pharmaceutical and medical supplies at an affordable price point to an ever increasing customer leaves them with much room for growth.
(Click to enlarge)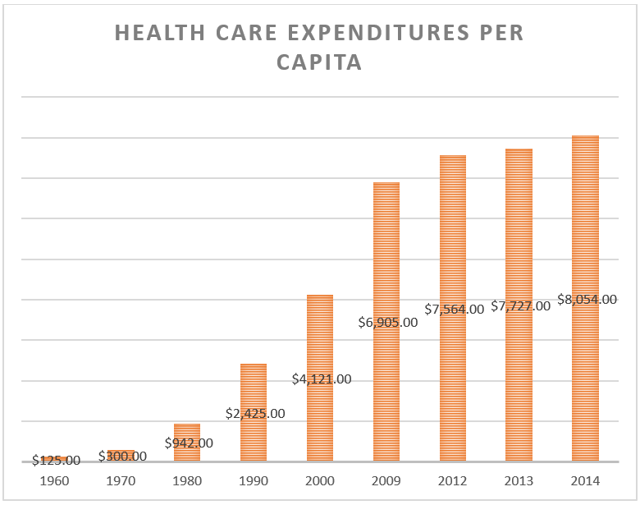 Source: CDC.Gov
Key Strengths:
Sourcing Venture with CVS Health
In July 2014 Cardinal Health in conjunction with CVS Health established "Red Oak Sourcing", a generic pharmaceutical sourcing venture for an initial term of 10 years. This strategic venture not only reiterates Cardinal's close relationship with CVS, but also provides visibility to the general public with its largest customer. I believe this partnership will be a major growth driver for the foreseeable future as Red Oak will negotiate generic pharmaceutical supply contracts on behalf of both companies, keeping costs down and margins high. Generic drugs continue to be a high margin business in the pharmaceutical industry.
Cardinal operates the largest radiopharmaceutical network in the United States
Cardinal's nuclear pharmacy segment prepares and delivers radiopharmaceuticals for use in nuclear imaging and other procedures in hospitals across the United States. Cardinal currently operates 150 nuclear pharmacies and cyclotron facilities which allows it to reach over 90% of all hospitals in the United States in under 3 hours. Cardinal controls an estimated 30% of market share with revenues north of $900M. While this comprises only a small amount of Cardinals revenue, this specialized industry is expected to grow as patients with complex diseases are in need of specialized treatments which only a small amount of companies have the ability to treat.
Cardinal has generated a surfeit amount of FCF compared to net income over the recent years
As shown below, Cardinals management has a history of generating strong FCF from operations. This leaves plenty of flexibility should Cardinal decide to acquire new companies, increase its dividend payout, or develop new products. Cardinal has spent ~3.4B on acquisitions FY2016 compared to 5.8B on acquisitions FY2010 - 2015.
(Click to enlarge)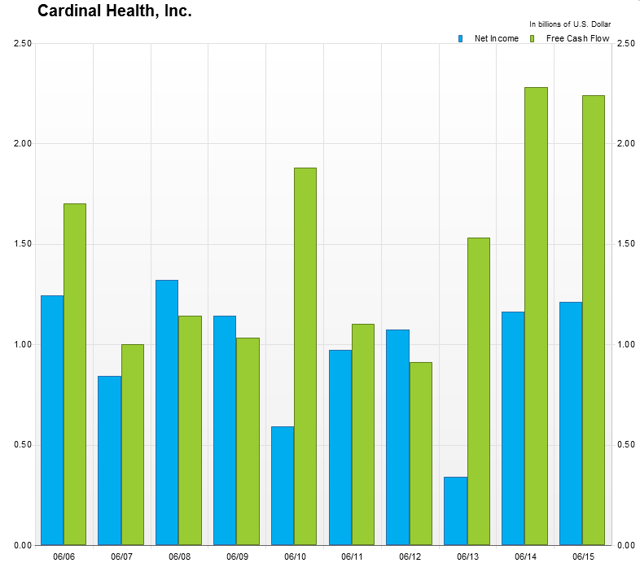 Source: Factset
Dividend Analysis:
A factor overlooked quite frequently is the attractive opportunity for dividend investors. Cardinal Health is a very shareholder friendly company. Cardinal is focused on delivering strong financial performance and creating value for its shareholders. Cardinal also invests in itself. Cardinal has been repurchasing shares, with buybacks amounting to over 1 billion FY2015, 673M FY2014, and 450M FY2013 respectively. This equates to a 5.4% shareholder yield. As shown below is Cardinals capital deployment and financial performance FY2011 - FY2015.
(Click to enlarge)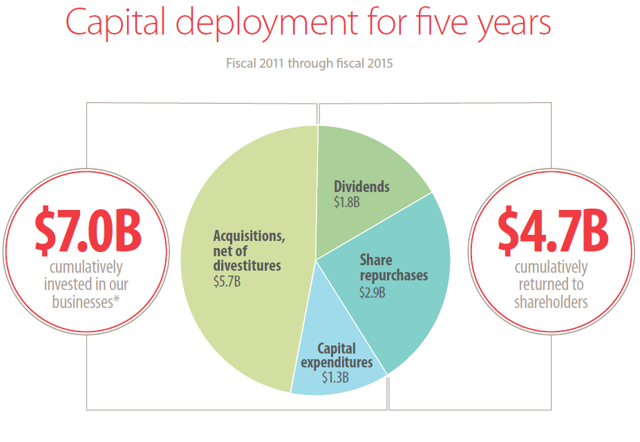 Source: Cardinal Health Annual Report 2015
(Click to enlarge)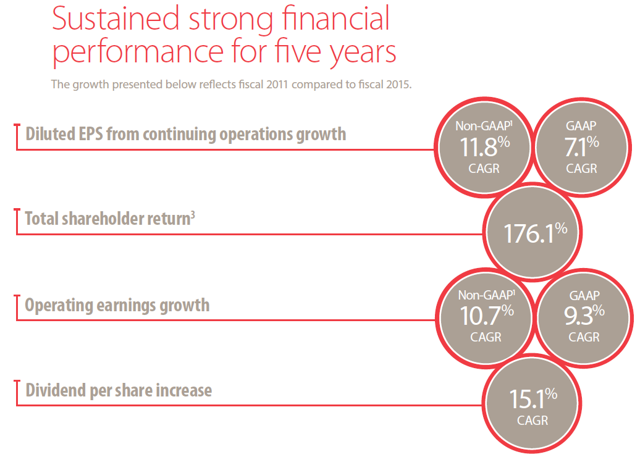 Source: Cardinal Health Annual Report 2015
Cardinal has paid cash dividends per common share of $1.37, $1.21, and $1.025 in FY2015, FY2014, and FY2013 or an average 10% increase per year.
Investment Thesis:
Cardinal Health has been distributing essential pharmaceutical and medical products worldwide for over four decades. In an extremely competitive market, Cardinal Health is a leading brand and ranked 22nd on the Fortune 500 list with annual revenue over 100B FY2015. I believe that Cardinal Health is a strong sustainable company that will be around for the long haul, and continue to build on its ~45 year legacy.
The healthcare market is still growing rapidly. Cardinals medical segment (most profitable) should benefit from this trend with the expansion of Cardinal branded products. Should it's "Red Oak Sourcing" venture with CVS prove to be as successful as the company hopes, Cardinal's stock could reach record highs.
While dividend stocks don't attract as much attention as growth stocks, in this time period a safe stock such as CAH could prove to be a great investment. Investors should never overlook the compounding effects of dividends and share repurchases.
Final Thoughts:
While it is up to each individual investor to determine if this stock is right for their portfolio, Cardinal Health continues to be a cash producing company that appears to be faring well even in this rough economy. With ample room for growth I believe that we will see the perpetuation of strong sales and FCF throughout FY2016 and into the future.
Disclosure: I am/we are long CAH.
I wrote this article myself, and it expresses my own opinions. I am not receiving compensation for it (other than from Seeking Alpha). I have no business relationship with any company whose stock is mentioned in this article.