Brexit fears have now taken a backseat as equities recover, but the world did collectively panic for a couple of days after UK citizens voted to break away from the EU. If you invested in stocks, there was a good chance that the market took you along for the ride.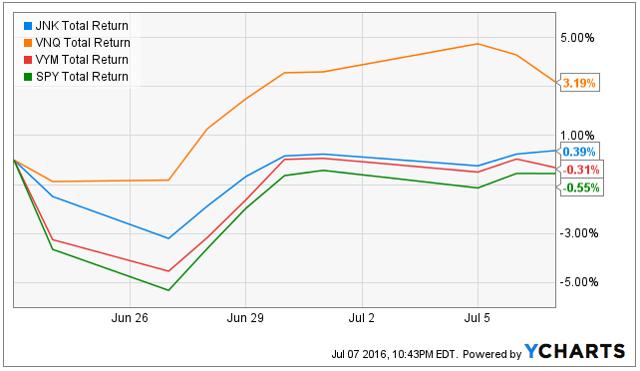 (NYSEARCA:JNK), (NYSEARCA:VNQ), (NYSEARCA:VYM), (NYSEARCA:SPY)
If you invested in REITs, congratulations. You were one of the few that survived the initial onslaught and enjoyed the subsequent recovery (in your case, appreciation). If you are curious about why I find REITs' outperformance to be quite peculiar, read my article about the market's existing bias towards certain sectors (S&P 500 Is Artificially Depressed).
For most investors, they saw the value of their portfolio decline significantly after Brexit. We can see in the chart that the traditional high-yield ETFs fluctuated along with the market.
But what about those in the Seven Percenter list? A few weeks ago, I penned a general guide to high yield investments and established the Seven Percenter list to identify worthy high-yield stocks. While volatility was not a major concern, I thought that it might be interesting to see how our picks fared when the market was in turmoil. In theory, our investments should have been more volatile than the high-yield ETFs, as a single stock position is much less diversified than an ETF. The results were quite surprising.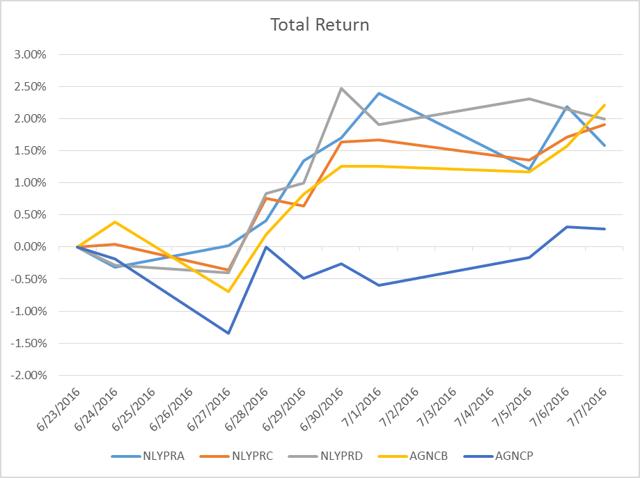 Source: Data from Interactive Brokers
Not only did most of our picks beat the high-yield ETFs (AGNCP returned 0.27%, roughly in line with market), they achieved this with lower volatility. The S&P 500, VNQ, and JNK all fell by 3% or more after Brexit. Whereas the worst performer in the Seven Percenter list, AGNCP, only declined by 1.35%.
Why did our high-yield stocks do so well? There are two main reasons. The first reason concerns the safety of the principal. In my analysis of the two mREITs (American Capital Agency Corp. (NASDAQ:AGNC), Annaly Capital Management, Inc. (NYSE:NLY)) that backed the shares, I showed that there was a large equity cushion provided by common stockholders in each case.
American Capital Agency had $7.3 billion covering $348 million of liquidation preference and Annaly Capital Management had $12 billion covering $1.2 billion of liquidation preference. So even if Brexit impacted the companies in some way, a lot would have to go wrong before the principal of the preferreds is at risk. The macro environment was also helpful in that the added uncertainty caused long-term yields to fall, which should help to increase the value of the companies' assets, making the equity cushion even larger.
The second reason relates to the earnings power of our mREITs. There was a lot of uncertainty surrounding the typical goods/services stocks (e.g. car makers) because Brexit could significantly alter their competitiveness. A falling pound and the potential of higher tariffs all contribute to investors' reluctance to invest now. However, our mREITs have no such problems because the principal and interest of agency MBS, which dominate their portfolios, are guaranteed. No matter how chaotic Brexit gets, our mREITs will still get paid, which means that preferred shareholders will get paid.
Conclusion
Most of our picks outperformed the high-yield ETFs with lower volatility. This won't happen to every high-yield stock in the Seven Percenter list, but in this case, all of our picks had substantial equity cushion to protect their principal and there was no uncertainty regarding near-term profits. By sticking to these two rules, we can be more certain that the market will be able to recognize the strength of our holdings, which will decrease volatility without sacrificing returns.
| | | | | |
| --- | --- | --- | --- | --- |
| Ticker | Date Analyzed | Yield At Analysis | Opinion | Link To Analysis |
| AGNCP | Jun-12-2016 | 7.67% | Investable | |
| AGNCB | Jun-12-2016 | 7.60% | investable | |
| NLY.PRD | Jun-15-2016 | 7.41% | investable | Link |
| NLY.PRA | Jun-15-2016 | 7.61% | investable | Link |
| NLY.PRC | Jun-15-2016 | 7.50% | investable | Link |
Click the "Follow" button beside my name on the top of the page to be updated with my latest insights. To learn more about the V20 Portfolio, whose goal is to compound capital at 20% over the long term, I encourage you to read the introduction to my investment process. Premium subscribers get full access to the V20 Portfolio.
Disclosure: I/we have no positions in any stocks mentioned, and no plans to initiate any positions within the next 72 hours.
I wrote this article myself, and it expresses my own opinions. I am not receiving compensation for it (other than from Seeking Alpha). I have no business relationship with any company whose stock is mentioned in this article.