How many times have you heard of an E&P company touting its superb efficiency in lowering drilling costs?
Sadly, investors have been fooled in believing that the lower breakeven is attributed to efficiencies rather than concessions from servicing firms. This wakeup call will hit some of the investment houses that have touted the era of the "shale band" will somehow miraculously keep oil prices range bound for the next four years.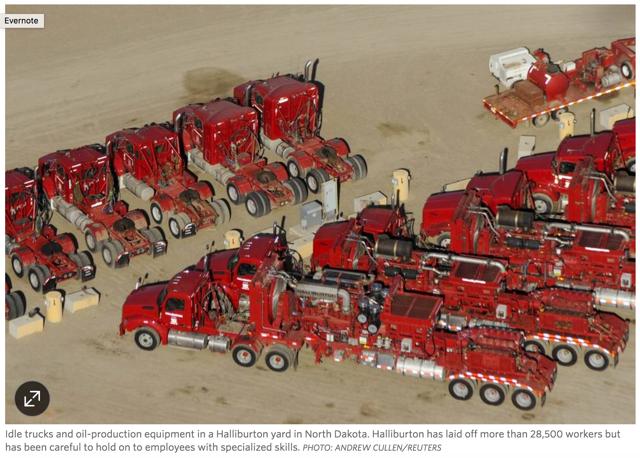 Wall Street Journal (WSJ) published a wonderful piece on this topic last night titled, "Revving Up Oil Fields Won't Be So Easily Done."
The article essentially highlighted a topic we talked about in our article, "$50 Oil Doesn't Change a Thing."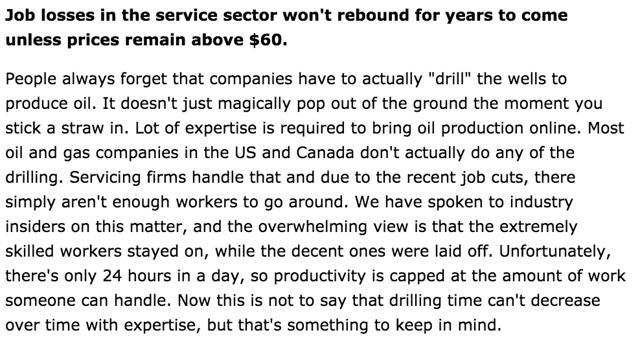 The issue for US oil production is that any pickup in activity would directly result in servicing costs going up, which would negate all of the benefits of "lower cost" leading to many of the oil and gas companies borrowing heavily to subsidize growth at any cost.
One venue for many of the oil and gas companies is to issue equity in order to grow production, but how long would that last if oil prices remain volatile?
Servicing costs won't stay low forever, and we've seen estimates that suggest over 75% of the "reduction in cost" resulted from a decrease in servicing cost.
On top of the potentially rising servicing costs, financing options are becoming more and more expensive for E&P companies. Banks are clamping down on producers that have too much debt, and the unlevered ones are issuing equity to pay off existing debtholders. US banks are even pulling out of the Canadian E&P space altogether, and credit line redetermination this time around was much more stringent than the previous ones.
How will this translate into actual production?
Producers will continue to rely on drilled but uncompleted wells to grow/stabilize production, but eventually, new rigs need to be brought on, and additional servicing crew needs to be hired to "grow" US production. The impact would result in breakeven costs rising, which would keep a lid on US oil (NYSEARCA:USO) production growth.
US shale might not be the answer the world needs to keep supply on pace with demand growth. Absent of oil prices spiking to $70+, producers will remain in this stranglehold until some kind of technological breakthrough truly lowers breakeven costs across the plays. Until then, we remain skeptical of shale production growth over the next 24 months. US production would likely stabilize starting H2 2017, and could see the figure rise if DUCs are used. We fully expect servicing cost to come back with vengeance, and the touted new breakeven will all go down the drain.
As always, we hope you enjoy our Oil Markets Daily articles. If you want to read more of our articles, please be sure to hit the "Follow" button above. We also have a premium service tailored to investors looking to how we are thinking about positioning and real time trade alerts. You can view our delayed one-month portfolio update here. We hope to see you join the HFI community.
Disclosure: I/we have no positions in any stocks mentioned, and no plans to initiate any positions within the next 72 hours.
I wrote this article myself, and it expresses my own opinions. I am not receiving compensation for it (other than from Seeking Alpha). I have no business relationship with any company whose stock is mentioned in this article.