As many of you were made aware last week, there was almost an acquisition between two of the biggest parties in the confectionery industry. According to the Wall Street Journal, Mondelez International Incorporated (NASDAQ: MDLZ) contacted The Hershey Company (NYSE: HSY) offering them a buy-out at $107 per share. This approximately equals a $23 billion dollar offer to fully takeover Hershey. Throughout history, Hershey's seems to take a lot of pride in their brand. Hershey's declined the offer and said there is no further room for consideration at that price.
Mondelez, previously known as Kraft Foods, has had some questionable ethics when acquiring smaller snack manufacturers. Going back 6 years when the company was still Kraft Foods, they acquired Cadbury Eggs in a $19 billion dollar deal. With that deal, Kraft promised to keep production operations in the U.K. which ensured jobs and contributions to their economy. Within months after the acquisition, Kraft stopped operations in the U.K. and broke their promise.
Although Hershey's still has their pride and their chocolate, I think it was a mistake for Hershey's to pass up an offer like that. This article will first talk about the phenomenon that has been currently happening to both companies' stocks. Then, I will display and compare the two company's balance sheets. From all of this information, you will be able to see how I reached my conclusion. Hershey's definitely should have accepted the offer given the current state of their balance sheet, and if you own shares, I would consider selling at this time as well.
As expected, when the announcement was made June 30 it caused a lot of trading. The below graphs display the past 5 day performance of Hershey (left) and Mondelez (right):

Source: Google Finance
As you can see, both companies have seen a positive stock performance ever since the offer was made. Mondelez had a more consistent and steady climb. In between June 30 and July 1, shares of Mondelez grew a little over 5%. On the other hand, Hershey had a very sudden and steep upward climb. At 10 AM on Thursday June 30, we could find shares of Hershey priced around $98. In just one hour we saw the stock grow over 16%, almost being traded at $115 per share. This is the highest Hershey's has found their stock trading at for the year.
Investors and potential investors have to understand that the 'hype' surrounding these two companies has caused the very sudden and dramatic climbs we have witnessed this past week. If you follow Hershey at all, you would know that shares have been underperforming for the year until this offer was brought to the table. I would strongly advise staying away from shares of Hershey at this time. The price has skyrocketed, and once the hype surrounding this offer simmers down I think shares of Hershey will rest where it has been most consistent for the year, around $95 a share.
Another observation I wanted to make prevalent when comparing these two companies are their balance sheets. The balance sheet offers a goldmine of information for potential investors. This financial statement displays the basic accounting formula; A = L + SE. In a perfect situation, there should be a little bit of both debt and equity. Debt is certainly an important thing in order to grow the company and expand into new waters. However, too much of it puts the company at more risk. The below figures display the most recent quarterly balance sheet for Hershey in comparison to Mondelez:
THE HERSHEY COMPANY




Source: MarketWatch
You can see that Hershey has taken on a lot of debt through 2016. As a matter of fact, about 83% of The Hershey Company's assets have been financed through debt as of last quarter. Also as of last quarter, Hershey's financed assets with debt at a rate of 6.39 times the amount of equity.
Through some research, I discovered that Hershey has been expanding into China. Two years ago, Hershey acquired Shanghai Golden Monkey foods to be their guide into Chinese consumers' snack cabinets. However, in 2016 things have not been a smooth ride in Asia. China has been dealing with a small dent in their economy. The effect of this turmoil has rippled into the average Chinese households, causing less spending on candy and other sweets. Outside of the U.S in developing regions, Hershey accounts for about 17% of its revenue. Although a smaller amount, Hershey's sales have not been up in U.S. as well. The below graph shows some recent trends in candy consumption throughout the U.S: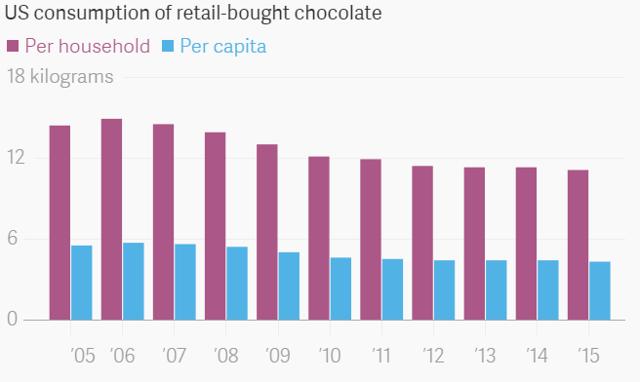 Source: QZ
As you can see, annual candy consumption in the United States has gone down. As time goes on, Americans seem to be more cautious with what they are eating. This is one trend that I find harms Hershey's sales revenue. Another logical explanation is that cocoa beans have become more expensive. Since Hershey is paying more for their cocoa, they will charge more for their chocolates. The American consumer seems to be heading towards a healthier and cheaper snack. The hiccup in sales within the U.S. and Asia are why I believe Hershey's financial performance has been down in recent years. In 2015, revenue declined marginally from $7.42 billion to $7.39 billion. Profit also dropped 39% at this time, from $817 million to $513 million.
I believe that Hershey's debt levels are so high because of this recent underperformance we have witnessed. High debt levels combined with fewer sales may have discouraged stockholders. This ultimately has caused stockholder's to sell shares. This explains why we see stockholder's equity go down through the most recent quarters and debt levels go up. An ideal balance sheet in the confectionery industry should look like Mondelez. The snack giant has a closer ratio between the levels of debt and equity, which is way more ideal to work with and watch in terms of growth.
MONDELEZ INTERNATIONAL INC.




Source: MarketWatch
As you can see, the hype surrounding this potential deal has really artificially rose Hershey's share price. The high levels of debt they have had these past couple of years have really discouraged trading through a large portion of 2016 thus far. The price is suddenly through the roof right now because of this social phenomenon, which is why I suggest avoiding any thoughts of picking up shares now. If I currently held shares of Hershey, I would strongly consider taking advantage of what this social phenomenon has done to the price and selling your shares. You are not going to get many opportunities to sell Hershey over $110 a share when they finance their assets with 83% debt. Given Hershey's recent expansion, their decrease in overall sales, and the amount of debt they have taken on; you can see why I believe $107 a share was a fair offer on June 23. Hershey will not pay off this debt overnight, and shares will fall back down below $100 a s hare as soon as investors realize that. Mondelez, on the other hand, seems like they want to take on that challenge. Keep a watch on these two companies in the near future - I believe that Mondelez is not done making offers for Hershey.
Disclosure: I/we have no positions in any stocks mentioned, and no plans to initiate any positions within the next 72 hours.
I wrote this article myself, and it expresses my own opinions. I am not receiving compensation for it (other than from Seeking Alpha). I have no business relationship with any company whose stock is mentioned in this article.