Omega Healthcare Investors Inc (NYSE:OHI) is a healthcare based REIT with over 900 facilities under management. OHI is solidified by an ever growing amount of baby boomers reaching health assisted retirement age. This growing influx of baby boomers reaching older age will propel this stock and its future gains for years to come. While people continue to age, OHI continues to purchase new facilities.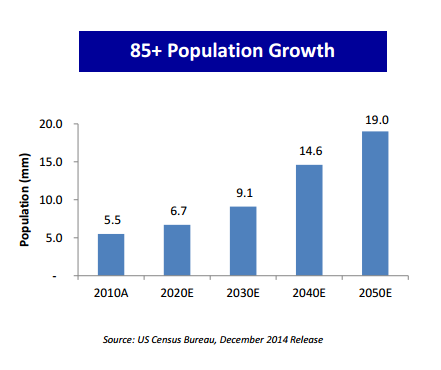 It looks as if OHI will have no shortage of customers for the coming decades.
Since this REIT is in the healthcare sector, it should hold up rather well to any type of recession that is starting to dominate the headlines. People will always age, and with a growing population, people will continue needing assisted living healthcare.
I am reviewing this stock for my covered call DGI portfolio that I have started for readers. While it may not be such a great candidate for covered calls, it does offer stellar dividend growth. OHI has increased their dividend payout for 15 quarters in a row. This is no small feat while continuing to grow their business portfolio. Reviewing a REIT by their P/E would not be the correct way of properly valuing the company. REITs mainly use adjusted funds from operation (AFFO) to value a stock. OHI has been growing their AFFO quarter after quarter. They also revised their FY16 AFFO from $3.21 to $3.25-$3.30. This is a small amount, but growth is still growth.
The dividend yield currently sits at %6.77, which is good for a yearly dividend of $2.32 based on a stock price of $33.70. As stated before the dividend has been steadily rising and should continue to reward investors well since their dividend is only %70 of AFFO. Since 2007 their dividend growth has been in the high single digits on average. For all my long term investors out there, if you invested $10,000 on 12/31/2007 you would currently have a value of $37,577.70 provided you reinvested quarterly dividends. This large increase in value equates to an annualized ROR of %16.8. If you took this same starting investment and placed it in the S&P 500 (NYSEARCA:SPY) you would end up with a value of $16,027.04. This is good for an annualized ROR of %5.7 while reinvesting dividends. Which would you rather have? I am currently eyeing OHI for a purchase price of $31 a share. While I am looking to add only a small position to our Covered Call DGI portfolio, when the price is right I will continue to add. A solid yield and long term earnings and dividend growth sound like a winning combo to me. While not necessarily purchased for capital appreciation, by the end of 2017 this stock should have a fair value of $41.17 a share, based on current metrics.
Possible Weakness
While I do not see weakness in this particular subset of the REIT industry, I do see REITs in general facing headwinds if there is an increase in interest rate yields. Usually when these yields rise, REITs sell off due to lower demand. People buy REITs for their yield primarily, not the expected capital appreciation. One other worry, although far fetched, is the possibility of slowing funds available from Medicare and Medicaid. While I do not see this happening, anything is possible.
Conclusion
This stock is one of the only few REITs I would personally consider investing in. They have a solid business model and are growing year after year. With an aging US population, there will be no shortage of customers to fill up bed space. More than half of their income comes from government funds and that sounds good to me. Time for Uncle Sam to pay me back something after all these years of high taxes!
Happy Investing!
Please follow for weekly market updates, options trading, dividend stock analysis and the monthly update of our Covered Call DGI portfolio.
Disclosure: I/we have no positions in any stocks mentioned, but may initiate a long position in OHI over the next 72 hours.
I wrote this article myself, and it expresses my own opinions. I am not receiving compensation for it (other than from Seeking Alpha). I have no business relationship with any company whose stock is mentioned in this article.
Additional disclosure: WE ARE SHORT SPY THROUGH BEAR CALL OPTION SPREADS