"Success depends in a very large measure upon individual initiative and exertion, and cannot be achieved except by a dint of hard work." - Anna Pavlova

It has been a good two days for biotech investors since our last Biotech Forum Daily Digest on Wednesday despite so-so action in the overall market. The biotech sector has gained some three percent since then as it continues to rally after bouncing again off lower resistance levels hit right after the outcome of the Brexit vote.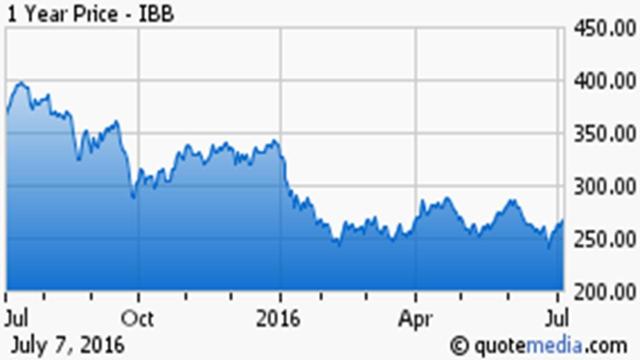 Resistance seems to be established right at the 240 level on the iShares Nasdaq Biotechnology ETF (NYSE:IBB), the largest ETF in the biotech sector. This is about the sixth time this year this has proved to be a floor. Outside a major event like a global recession, I believe this level will continue to hold, which leads me to the view that biotech has much more upside potential than downside risk after almost a year now in a bear market cycle.
Note: To get these Biotech Forum Daily Digests as soon as they are published, just click on my profile and hit the big orange "Follow" button and choose the real-time alerts option.

Shareholders in CAR-T pioneer Juno Therapeutics (NASDAQ:JUNO) are going to experience considerable pain in trading today. After the bell yesterday, it was announced that a key Phase II trial testing a drug candidate for the treatment of relapsed/refractory B-cell acute lymphoblastic leukemia in adults was placed on clinical hold after two recent deaths within the trial. The stock was trading down some 30% in after-hours trading, and it is likely to be a volatile stock in trading today on heavy volume.
Going in the other direction in trading today will be Eleven Biotherapeutics (EBIO) after this nano-cap announced after-hours that the FDA has approved its Investigational New Drug (IND) application for EBI-031 for the treatment of ocular diseases. The company is now entitled to a $22.5 million milestone payment from licensee Roche (OTCQX:RHHBY). EBI-031 is a humanized monoclonal antibody that potentially binds to interleukin-6, a pro-inflammatory cytokine. It was designed and engineered for intervitreal delivery into the eye. The stock was up more than 40% in the after-hours trading Thursday.
Fibrogen (NASDAQ:FGEN) announced it has received a $62 million payment from AstraZeneca (NYSE:AZN) under their 2013 collaboration agreement to develop roxadustat (FG-4592) in the U.S. and certain other territories for the treatment of anemia in chronic kidney disease patients on or not on dialysis. Fibrogen is one of the holdings of the Biotech Forum portfolio due to its potential and multiple "shots on goal". Look for the company to appear in the Spotlight feature on the Biotech Forum Daily Digest in the near future due to its favorable risk/reward profile.
Mid-cap biotech concern BioMarin Pharmaceutical (NASDAQ:BMRN) was up nearly 10% in trading on Thursday in response to the latest takeover rumor on this much speculated target. This time the rumored interested party was Roche. Another potential possible acquirer is said to be Sanofi (NYSE:SNY) should its hostile pursuit of mid-cap Medivation (NASDAQ:MDVN) end up to be not fruitful. One or two mid-cap companies being acquired would do wonders for the "animal spirits" that have been pretty dormant in the biotech sector for almost a year now.

Fellow CAR-T developmental concern Kite Pharma (NASDAQ:KITE) is the subject of positive analyst commentary today despite the disappointing clinical hold over at Juno. Both FBR Capital and Jefferies have reiterated their Buy ratings on Kite with $75 and $72 price targets, respectfully. Probably helping that outlook was the company announcing that it has achieved full enrollment of 72 subjects in the mid-stage portion of its Phase I/II clinical trial for Breakthrough Therapy-tagged KTE-C19 in patients with relapsed/refractory diffuse large B-cell lymphoma.
Small-cap cancer diagnostics firm NeoGenomics (NASDAQ:NEO) also getting a nice shout out from the analyst community this morning. Both BTIG and Craig-Hallum are reiterated Buy ratings with $10 and $12 price targets, respectfully. This is the first analyst commentary I can find on NEO in 2016. The company was last profiled here on Seeking Alpha in late April.
JMP Securities upgraded Achillion Pharmaceuticals (NASDAQ:ACHN) to Market Outperform yesterday with the first analyst activity on the name in more than a month. Achillion was last profiled late in May on Seeking Alpha Pro. I do not currently own this name, but I like its multiple "shots on goal" as well as its well-funded balance sheet. Another one that might be teed up for the Spotlight feature here on the Biotech Forum Daily Digest in the near future.
Note: New analyst ratings are a great place to start due diligence, but nothing substitutes for deeper individual research in this very volatile sector of the market. Many of the small-cap names highlighted in the "Analyst Insight" will eventually appear in the "Spotlight" section, where we do deeper dives on this type of promising but speculative small-cap concern.

Our spotlight feature today is on a small cap concern Insys Therapeutics (NASDAQ:INSY), a just over $1 billion market capitalization company in the pain management space.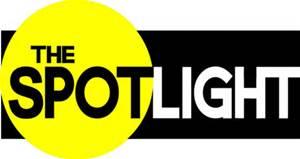 Company Overview
Insys Therapeutics is specialty pharmaceutical company that develops and commercializes supportive care products and is from my home state of Arizona. The stock trades at just above $15 a share. Like most specialty pharmaceutical companies, it has come under pressure from the overhang from Valeant Pharmaceuticals (NYSE:VRX) and the election-driven rhetoric around drug price gouging over the past three quarters or so. The stock trades at approximately 40% of the 52-week highs.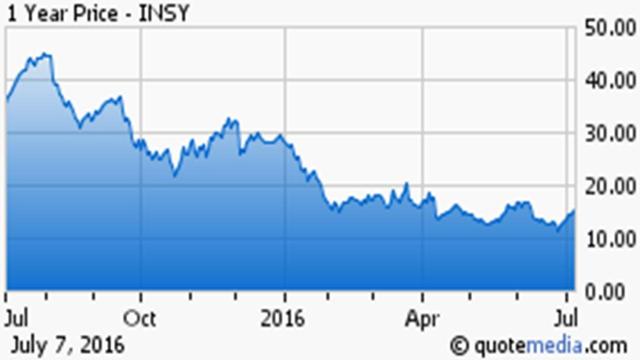 Pipeline & Product Portfolio
Earlier this week, the FDA approved Insys's dronabinol oral solution, Syndros, for the treatment of anorexia-associated weight loss in patients with AIDS and the treatment of chemotherapy-induced nausea and vomiting in patients who have not responded to conventional antiemetic treatments. Syndros is the first dronabinol solution approved in the States. Syndros is a liquid formulation of the pharmaceutical cannabinoid, dronabinol, a synthetic version of tetrahydrocannabinol (THC). It is awaiting scheduling by the U.S. Drug Enforcement Administration.
The company's product SUBSYS is currently on the market and was approved in 2012. SUBSYS is the first and only breakthrough pain medication for patients with cancer offered as a sublingual spray. The product is targeted at breakthrough pain in cancer patients 18 years of age and older who are already receiving and are tolerant to opioid therapy for their underlying constant cancer pain. In the last reported quarter, sales of SUBSYS totaled $62 million, which was down 12% on a year-over-year basis.
The company has a half dozen other products in development focused on pain or the negative consequences of other opioids such as addiction and depression. The majority are in Phase II development. For a full peak of the company's pipeline, click here.
Balance sheet & Analyst Commentary
As of the last quarter, the company had some $200 million in cash and marketable securities on hand. Given it is already a profitable concern, this should be more than enough capital to continue funding the candidates in its developmental pipeline. In light of the FDA approval, Piper Jaffray reiterated its Buy rating and $28 price target on INSY on Tuesday. Janney Montgomery did the same that day, but with a lower price target of $22 a share. The five analysts that cover the stock have a median price target of $23 a share on INSY.
Outlook
This is the first time I have looked deeply at Insys Therapeutics. The company should post 30 to 40 cents in earnings this year. The consensus had it earning just under $1.00 a share in FY2017, but most of those estimates were before this recent FDA approval. Insiders also hold a large stake in the firm. I am already well represented in the pain management space with stakes in BioDelivery Sciences (BDSI) and Cara Therapeutics (NASDAQ:CARA) among other small holdings. However, Insys seems worthy of a small stake within a well-diversified biotech portfolio.

Thank You & Happy Hunting
Bret Jensen
Founder, Biotech Forum
Disclosure: I am/we are long BDSI, CARA, FGEN.
I wrote this article myself, and it expresses my own opinions. I am not receiving compensation for it (other than from Seeking Alpha). I have no business relationship with any company whose stock is mentioned in this article.
Editor's Note: This article discusses one or more securities that do not trade on a major U.S. exchange. Please be aware of the risks associated with these stocks.