According to the Bureau of Labor Statistics, the US economy added 287K new jobs which is four sigma above expectations. Unemployment hit 4.9% in June. Labor force participation increased 10 basis points.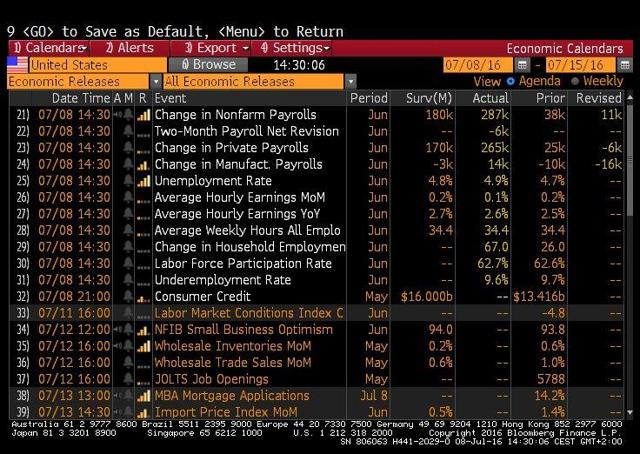 Source: Bloomberg
Now, let's look at some graphs to get a better understanding of what is going on.
First of all, last month's 38K job increase was revised down to 11K jobs (picture above). This month's increase of more than 280K jobs is one of the highest since the end of the recession. The only difference is that employment indicators like the ISM employment index were much higher back then.
Therefore, it is no surprise that 126K jobs are in the low wage/hour sectors.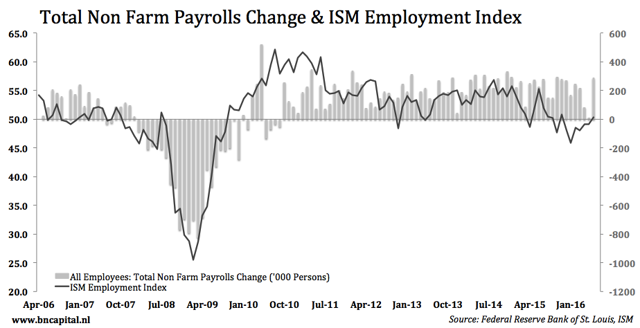 If we look at jobs growth, we see that the downtrend has accelerated. Year-on-year employment growth has hit a multi-year low of just 1.7%.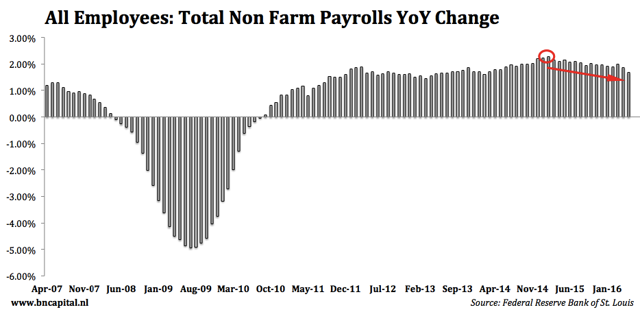 Labor force participation hit 62.7% versus 62.6% in May. It is good news that it didn't contract further. The bad news is that we are still at pathetic levels.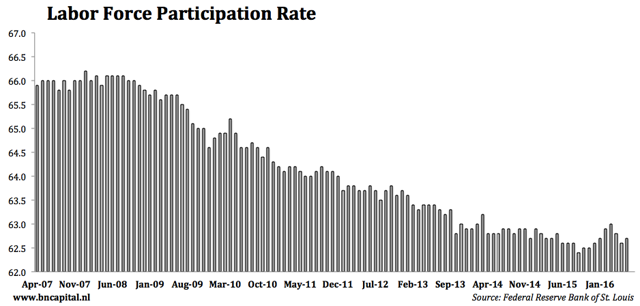 Below, I give a brief overview of all major industries/sectors and their jobs count change.
Leisure & Hospitality +59K
Health Care & Social Assistance +58K
Financial Activities +16K
Information +44K
Professional and Business Services +38K
Retail Trade +30K
Mining -6K
All other industries were unchanged.
I hope this article added some valuable information to your research process. Feel free to ask any questions in the comments.
Disclosure: I/we have no positions in any stocks mentioned, and no plans to initiate any positions within the next 72 hours.
I wrote this article myself, and it expresses my own opinions. I am not receiving compensation for it (other than from Seeking Alpha). I have no business relationship with any company whose stock is mentioned in this article.