When the US 10-Year Treasury interest rate is hovering at 1.37%, it may seem like owning equity REITs is like shooting fish in a barrel.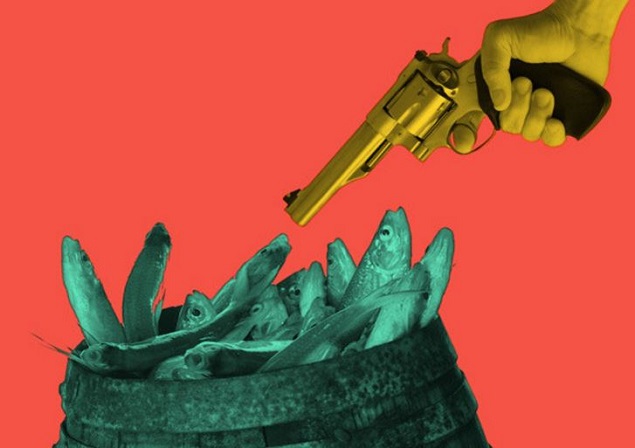 Source: Image - csoonline.com
A passive strategy of owning the Vanguard REIT Index ETF (NYSEARCA: VNQ) can outperform the S&P 500 in a low-rate environment. Because VNQ tracks a market-cap weighted index, it is akin to buying into REIT blue-chips with a bit more diversification from mid-cap names, across all sectors.
However, it takes a bit of diligence to uncover lessor known small-caps, or "rising stars," which can generate superior returns. Picking individual REIT names also can lead to overweight positions in better-performing sectors. Both approaches can help to create alpha in a REIT portfolio.
Are Your REITs Brexit-Resistant?
The Brexit vote has already caused many unintended consequences, most notably, a record devaluation of the British pound and a much lower euro valuation versus the US dollar. There also has been a downward spike in interest rates for sovereign debt. The rate of interest for US 10-Year Treasury Notes continues to flirt with all-time lows.
Meanwhile, much closer to home, more folks are living in apartments, which increases the need to store extra "stuff," and corner drugstores, auto parts stores, and quick serve restaurants continue to do a brisk business.
National Storage Affiliates (NYSE:NSA) and freestanding retail net-lease REIT Agree Realty (NYSE:ADC) both focus upon recession resistant, e-commerce resistant, and high-growth asset classes.
On the flip-side, owning lodging REITs or high-end street retail assets, which depend heavily on foreign tourist spending, is far more likely to cause portfolio indigestion.
Tale Of The Tape: Significant Outperformance - 1H2016
In uncertain times, try to stick with US REIT sectors which are like comfort food - especially when investors are starving for yield.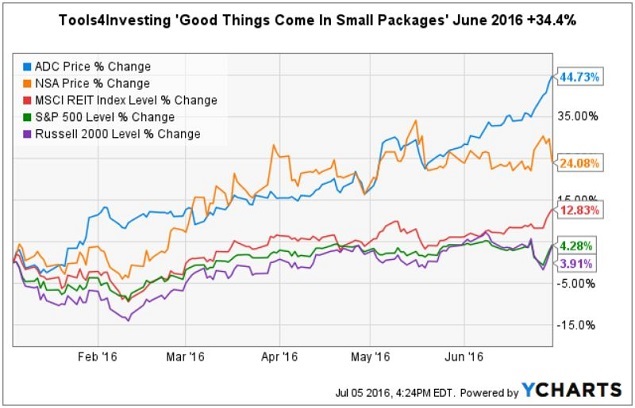 Here is why I think that both National Storage and Agree Realty still have the ability to outperform both the broader equity REITs (RMZ) and sector peers moving forward.
Net-Lease: Agree Realty Corp.
Agree Realty was one of my two small-cap REIT picks back in January, and my most recent focus article points out how ADC has performed quite well even compared to the outstanding performance of its large-cap peers.
If you are unfamiliar with Agree Realty, or net-lease REITs, those articles can provide some valuable background information.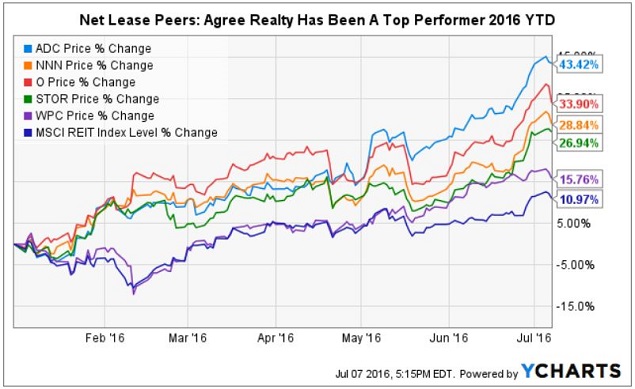 ADC's balance sheet and key REIT metrics compare quite favorably to larger peers National Retail Properties (NYSE:NNN) and retail investor favorite Realty Income (NYSE:O).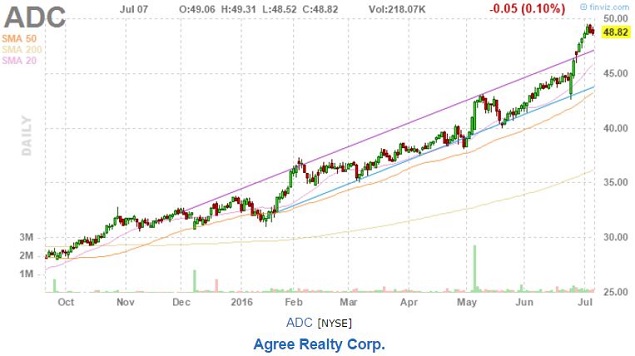 During the past 52 weeks, Agree Realty has traded in a range of $26.34 to $49.56 per share, and essentially ended flat on a day when large-cap peers saw some significant profit taking.
One of the reasons for the relative strength in ADC's shares could be attributed to a positive research note written on July 7 by Stifel analyst Simon Yarmak who initiated Agree Realty with a Buy rating and $54 target price. According to his note:
"Shares trade at a 4.5x discount on an AFFO multiple basis to Realty Income and National Retail Properties; we believe there should be some discount due to liquidity and size, but not a 4.5x discount."
Since 2010, the ADC dividend has grown at a 4.5% CAGR. Yarmak also pointed out that Agree Realty's 76% funds available for distribution payout ratio was significantly below its peer average and left plenty of room for future dividend increases.
Small-Cap Growth Advantage
Based upon the share price appreciation, it appears that during the past 12 months, investors have started to recognize that Agree Realty has demonstrated the ability to move the growth needle.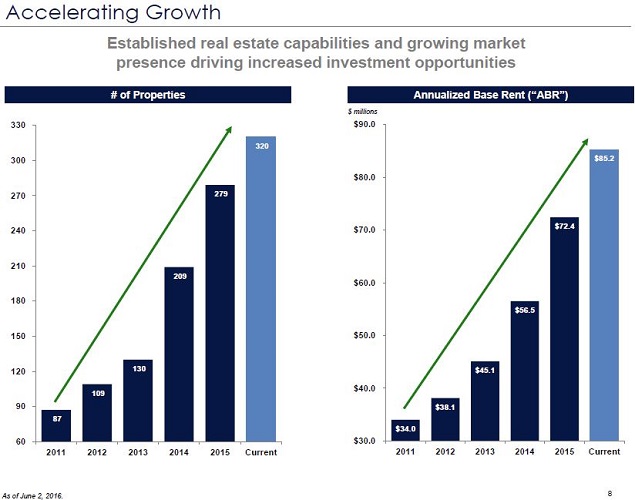 Source: ADC June 2016 presentation (for all unattributed slides)
June Acquisition Boosts FY2016 Guidance
While initial guidance for 2016 acquisitions was a bit conservative, Agree pulled the trigger on a $79.5 million portfolio acquisition on June 1st, immediately after raising its acquisition guidance for FY2016 from $175-200 million to $250-275 million in May.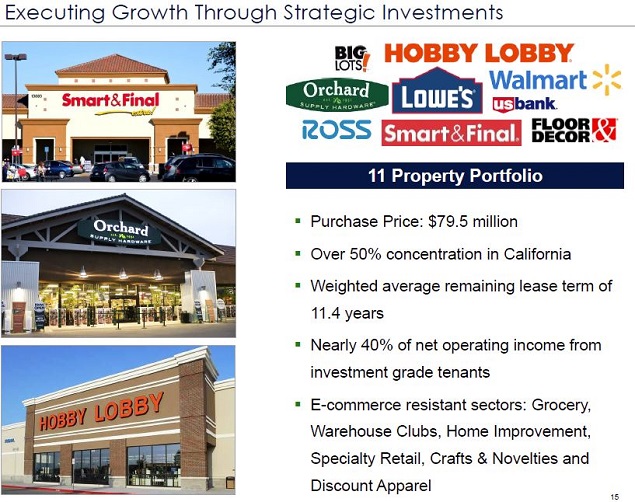 Management is not willing to sacrifice portfolio quality in pursuit of growth and therefore tends to underwrite granular acquisitions in an effort to achieve a targeted 8% initial cap rate.
In an e-mail exchange on Thursday, CEO Joey Agree added a bit of color regarding the California-focused portfolio purchased in June. I asked him how ADC was able to reel-in this deal in such a competitive marketplace, and he replied:
"This portfolio was a compelling opportunity to acquire high-quality assets under long-term lease to a number of industry-leading retailers. Two critical capabilities enabled us to move quickly and decisively to secure the portfolio, our tenant relationships and the expediency and cohesiveness of our diligence team."

"Upon closing, Lowe's (NYSE:LOW) is now the Company's 3rd largest tenant, and our exposure to home improvement, grocery and crafts and novelties are all materially increased. Our focus is on continuing to build the strongest retail net lease portfolio, which is best positioned for the continued omni-channel retail evolution that we are all witnessing."
Previously, Lowe's was Agree Realty's seventh largest tenant at 1.8% of revenues, with Wawa and CVS (NYSE:CVS) tied for third on the list, at 3.3% each.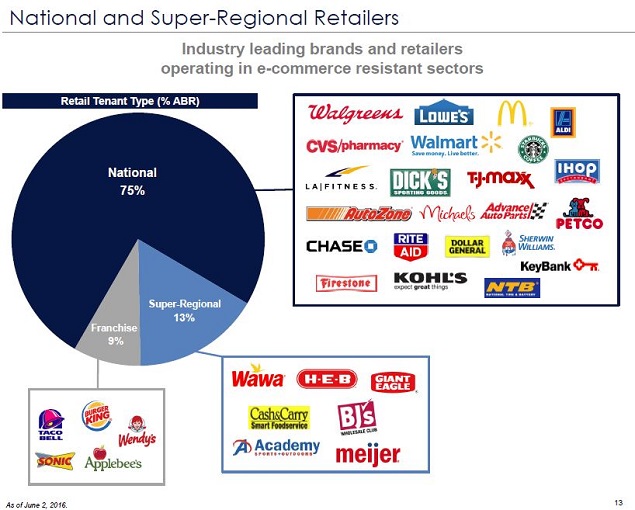 The Agree Realty portfolio was now grown to 320 properties, located in 42 states, totaling 6.3 million square feet, while generating a sector-leading 50.3% of its revenues from investment-grade tenants.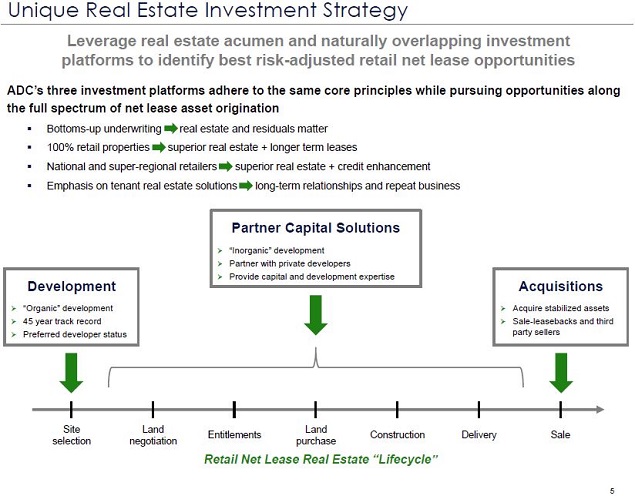 Agree Realty also holds the distinction of being the only 100% retail focus triple-net REIT with an in-house, ground-up development program.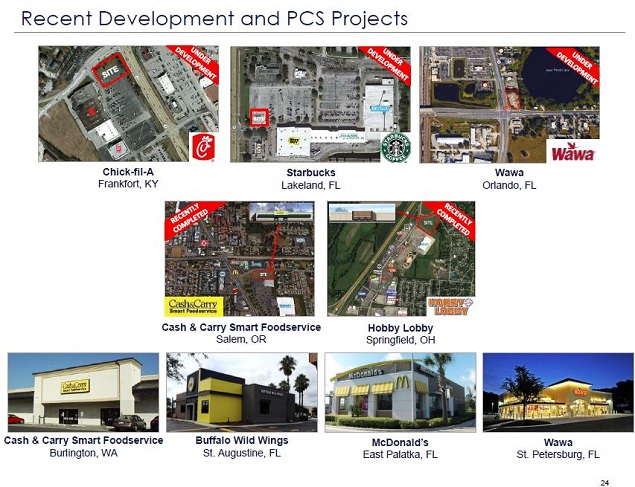 This is an area where Agree has an ROIC advantage vs. peers who depend solely upon acquisitions as development yields have been in the 9-10% range. There's ample room for the development and PCS channels to grow substantially from a relatively small base.
National Storage Affiliates
While National Storage has only been a publicly-traded self-storage REIT for about a year or so, back in February, management demonstrated the ability to execute on its unique business plan I detailed for readers in October 2015.
This has resulted in relative outperformance for National Storage year-to-date vs. the "Big 4" Storage REITs: Public Storage (NYSE:PSA), Extra Space Storage (NYSE:EXR), CubeSmart (NYSE:CUBE) and Sovran Self Storage (SSS).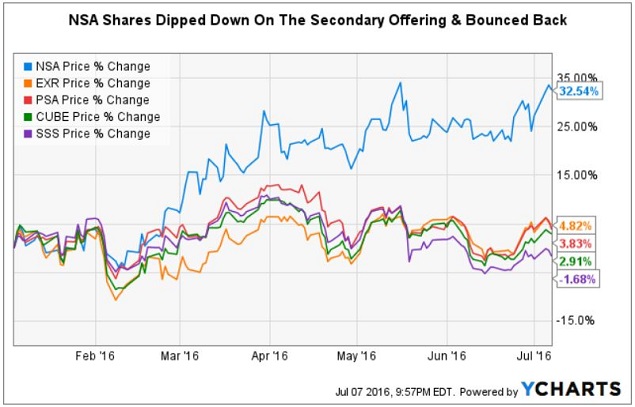 Investors should keep in mind that the Big 4 self-storage REITs had delivered huge gains to shareholders during the past 24 months and collectively were the top-performing REIT asset class in 2015. In fact, Extra Space Storage has been the top-performing REIT overall during the past 10-year period, delivering an eye-popping ~800% return.
Frankly, it has been difficult to find an entry point to initiate a position in self-storage. In mid-June, I wrote: Self-Storage REITs Fell Back Down To Earth Last Week - Time To Buy?
While the main purpose of the article was to give a heads-up to readers regarding a potential entry point, the article contains background information as well as the basic case for why self-storage REITs "work."
In a nutshell, a muted new supply since the Great Recession has resulted in record occupancy and same-store NOI growth. Additionally, self-storage is a fragmented industry ripe for consolidation by the large public REITs which have a cost of capital and technology advantage compared to small private operators.
However, there are unique aspects to the NSA approach to storage, most notably the focus on partnering and acquiring the portfolios of large regional operators, or PROs.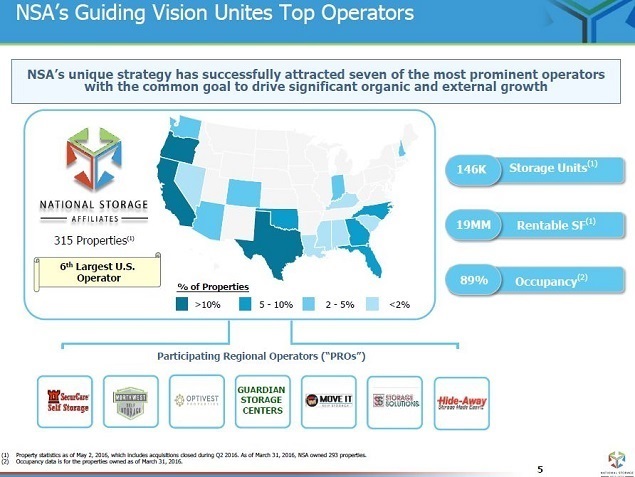 Source: NSA May 2016 presentation
The NSA value proposition seems to be resonating with operators who prefer to remain active in growing the business while leveraging advantages that come from a national platform and publicly-traded shares.
However, subsequent to my mid-June article (and just a couple of days after the Brexit vote), NSA announced a large acquisition and was able to successfully float a large secondary offering to fund it.
NSA: Post-Brexit Acquisitions
While the rest of the world was focused on the headlines coming out of the UK, small-cap National Storage announced on June 28 a $190 million acquisition of 29 self-storage properties, including 22 located in California. The portfolios totaled 18,000 units, which contain 2.1 million square feet of storage area. Notably, all but one of the properties were arm's length acquisitions negotiated with third parties while the remaining property was acquired from an NSA PRO.
On July 6, National Storage confirmed that it had received approximately $237.7 million in net proceeds from the offering, after deducting the underwriting discount and estimated expenses.
The upsized offering of 12,050,000 shares at $20.75 per share included an underwriter greenshoe of 1,570,000 shares. Arlen Nordhagen, Chief Executive Officer, commented in the release:
"We are pleased to announce that with these planned acquisitions, we will have successfully completed or currently have under contract approximately $390 million of acquisitions, representing 54 properties and over 36,500 units since the end of the first quarter 2016 and approximately $480 million, representing 71 properties and over 44,000 units since the end of the fourth quarter 2015."
CFO Tammy Fischer confirmed with me in an email last week that NSA would be updating guidance along with the Q2 earnings print and conference call.
Notably, NSA's shares closed on July 7 at $22.25 per share, well above the secondary price.
Investor Takeaway
Investors who typically own REIT blue-chips with investment-grade ratings may have understandably overlooked both of these smaller REITs.
Agree Realty manages its balance sheet metrics in a manner which is consistent with an investment-grade approach. In the future, as this REIT grows in size, management has expressed the intent to pursue an investment-grade rating.
The current ADC dividend yield of 3.93% provides income-focused investors with an acceptable yield in a post-Brexit world - especially given the growth potential. I took a look at Agree Realty compared with four other top shelf net-lease REITs last week in an SA article available here.
Likewise, National Storage has taken a conservative approach regarding managing its balance sheet during its short tenure as a public REIT while actively pursuing an accretive growth strategy. NSA's shares are currently yielding 3.93%, the highest yield of any self-storage REIT.
Coincidentally, both of these growing REITs were able to negotiate sizable off-market acquisitions, including assets located in California (an economy larger than Brazil, with a per-capita GDP akin to Germany). US REITs have a huge runway for growth vs. UK and EU commercial real estate markets.
However, Brexit-induced depressed interest rates have resulted in elevated US REIT prices, and it remains to be seen how long this dislocation in capital markets will last. This complicates the process of estimating fair value and calculating attractive entry prices for US equity REITs.
I would recommend putting both of these small-cap gems on your REIT watchlist and closely watching for a pullback to initiate a position.
I relentlessly hunt for diamonds in the rough and rising stars, in addition to closely following data centers, covering REIT blue-chips and breaking news. Please consider following me as a Seeking Alpha author if you would like to be notified when my future articles are published.
Disclosure: I/we have no positions in any stocks mentioned, but may initiate a long position in NSA, ADC over the next 72 hours.
I wrote this article myself, and it expresses my own opinions. I am not receiving compensation for it (other than from Seeking Alpha). I have no business relationship with any company whose stock is mentioned in this article.