For Las Vegas Sands (NYSE:LVS), the old adage the house always wins hasn't exactly held true over the past few years. Since its peak in 2014, shares have been cut in half as demand in Macau--their biggest market--has slowed. Many questions remain as to whether this casino staple will be able to fight the headwinds dragging down the casino industry, or if they will be dragged down with it.
In this article, I will examine two potential scenarios and give my take on the likely future of Las Vegas Sands.
Best case
"Investing is the only business I know that when things go on sale, people run out of the store" - Mark Yusk
The best time to invest is often when a company is highly unpopular. This can be a hard in practice as intuitively it goes against all our instincts. However, if investors are able to put fear aside and buy the depressed stock, they may set themselves up to receive outsized returns over the next few years. Las Vegas Sands may present this exact scenario, as there have been several recent signs that things are turning around for the resort and casino company. The biggest hit to Sands business has come from its Macau market, which accounts for over half of the company's earnings. Lower gaming demand caused by Chinese currency and travel restrictions as well as a slowing Chinese economy has caused the Sands to experience a 50% drop in price since 2014 despite gaining over 10% since the beginning of the year. However, this drop may have been overdone as the stock now trades at a relative undervaluation to its peers. This depressed valuation coupled with a large dividend, strong earnings, a diverse business model and a potential economic shift in the Chinese market, leave the company's future looking bright.
Looking to its peers to determine relative valuation we see that Las Vegas Sands performs quite favorably. Wynn (NASDAQ:WYNN), one of its largest competitors currently trades at a P/E of 29--a significant premium to Sands P/E of 20. However, it doesn't just appear cheap compared to Wynn. The industry as a whole trades at an average P/E of 25. Where the company truly outshines its peers is with their dividend yield. From this perspective, Sands has a clear lead over the rest of the industry. Currently, Wynn pays a 2.2% yield, which is towards the top end of the consumer services industry--with the average payout being a paltry 0.42%. In contrast, Sands pays a hefty 6.3% yield. What's more, their dividend has increased consistently over the past five years.
Despite the slowdown, Sands has been able to generate over $4 billion in EBITDA in the past year. These earning are more than enough to cover both their divided as well as their interest expense. They have been able to produce this type of cash due to strong margins and a diverse business set--the company brings in a large amount of cash from its resorts and is not entirely reliant on the casino business to generate income.
Finally, gambling demand in Macau seems to move cyclically. As recently as 2010 demand waned before busting out of the mini recession. There is a good chance that the current sluggish performance is simply another small blip and the Macau demand will once again pick up in the near future.

Worst case
Yes, buying something on sale can be an enlightened investing strategy, but as veteran investors will tell you, cheap can always get cheaper. In order to avoid catching a falling knife, it's imperative that we look beyond cheapness to measures of quality as well as economic drivers. Unfortunately for Las Vegas Sands, they face several headwinds that will prove tough to navigate. One of the main issues for the company is their heavy reliance on Macau and the larger Chinese economy. With over half their profits coming from this segment, any change in the China's economy can have huge ramifications for the company. As it can be difficult to predict regulations the Chinese government may institute, it becomes difficult to gauge how the business will perform moving forward. With their dividend being as high as it is, it's understandable why many investors are drawn to it. However, there's reason to believe that this yield might be unsustainable despite the company insisting it is committed to maintaining the payout. In the past year, the company's cash balance has declined from $2.4 billion down to $1.7 billion. In the last quarter, they generated $800 million in operating cash flow, yet it paid out over $880 million for its dividend and another $344 million in capital expenditures. With a great deal of their revenue stemming from their Macau and Singapore operations, much of the company's profits may be subject to repatriation taxes. This is yet another factor that may play into their inability to sustain their dividend at its current levels. Unless they are able to start improving revenue soon, they will be forced to slash the payout substantially.
Moving forward, one of the biggest challenges Sands will face is a lack of growth opportunities. They are set to open the Parisian hotel in Macau in a few weeks time, but considering the growing competition in the region and the decline in the Macau gaming market, it's tough to see how they will grow earnings this upcoming year. Finally, little relief seems to be on the horizon in Macau, as estimates for casino revenues are said to fall to $25 billion for 2016. This would be the lowest level since 2010. To add insult to injury, some of Sands' largest competition, including Wynn and MGM (NYSE:MGM) are set to open properties later this year. With a smaller market and increased competition, the next few years look as though they could be difficult for Las Vegas Sands.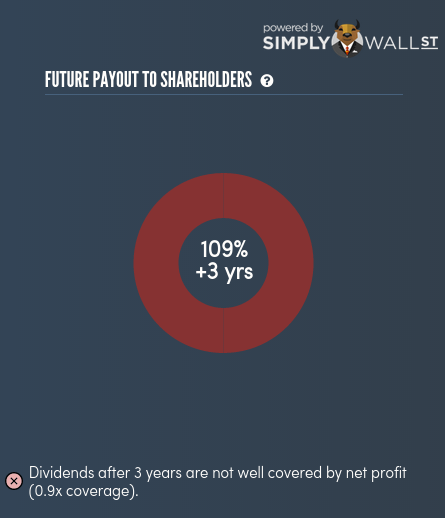 Bottom line
Like most things in life, this investment is not black or white. However, there are a couple things that we can take away. First, The success or failure of the company will depend heavily on the Macau market and to a larger extent the Chinese economy as a whole. For those who believe China's economy will prosper in the next few years, Sands becomes an easy bet. However, if the Chinese market fails to pick up, it's likely the company will struggle along with it. Second, the company's attractive dividend, may or may not be sustainable. The company has repeatedly stated their commitment to this payout, even promising to raise it in the future. However, their current balance sheet tells a different story. If they're able to increase cash flow over the next few years they should be able to keep their promise, but if not I think it's unlikely. Again much of this will be tied to the success of the Chinese economy. For those with a strong belief in China, the depressed share price and large dividend may be worth the risk, but for the risk averse investor, it would be best to sit this one out.
Disclosure: I/we have no positions in any stocks mentioned, and no plans to initiate any positions within the next 72 hours.
I wrote this article myself, and it expresses my own opinions. I am not receiving compensation for it (other than from Seeking Alpha). I have no business relationship with any company whose stock is mentioned in this article.