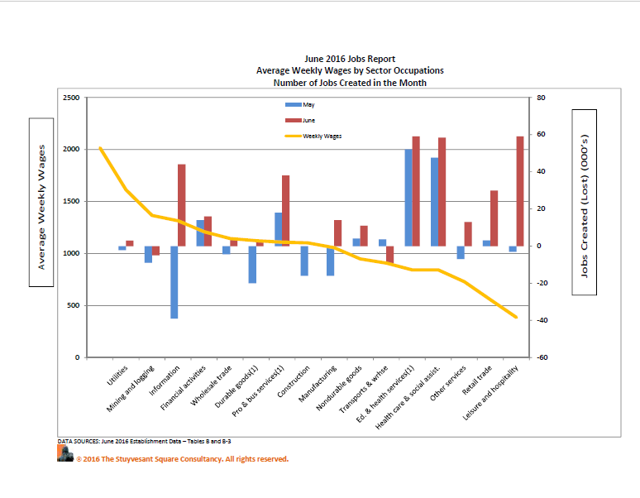 SOURCE: The Stuyvesant Square Consultancy. Used with permission.
This morning's headline June jobs number of 287,000 jobs changed the negative narrative of the miserable May number, but a closer look into the numbers shows that the majority of the jobs pay less than $850 per week, and nearly 60,000 of the new jobs paying less than $500 week. As many as 40,000 of the 44,000 of the "new" jobs in the Information sector are likely attributable to telecommunications workers returning to their jobs after the Verizon strike was settled. In the abysmal May jobs report, Verizon's (NYSE:VZ) 39,000 striking workers would have first been shown as "unemployed".
Nearly 60,000 of the new jobs were in the Education, health, and social services sectors, which jobs tend to be heavily dependent on government subsidies, support or direct employment.
Some 14,000 jobs were created in the broad manufacturing sector, but only 3,000 of those were in the higher-wage durable goods sector, where wages average over $1,100 per week. The balance were in non-durable goods manufacturing, like food processing, where wages average around $950 per week.
Professional and business services produced 38,000 jobs, which tends to support the positive Non-Manufacturing PMI that printed earlier this week.
It's troubling that no new net jobs were created in the construction sector and that there were layoffs in the transportation and warehousing sector. Both data points would indicate a slowdown in the economy.
Average jobs creation over the last three months was 147,000 per month, thus seemingly confirming the view of many Federal Reserve governors that the abysmal May jobs number was due to "transitory factors, such as statistical noise and the effects of a strike" at Verizon. Nevertheless, May jobs creation was revised down even further to just 11,000 jobs. April was revised up by 21,000 jobs.
A hopeful element of the jobs report was the diffusion indexes, which jumped considerably. The Private Index jumped 14.3 and 15.2 for the Manufacturing Index.
The jobs report points to a continuing stagnant economy; nothing particularly good or bad, all things considered. With average monthly jobs creation at 147,000 for the last three month, and many of those in low-wage and government-subsidized sectors, there is little to cheer here. But the diffusion indexes may be pointing to a better third quarter.
Since the Fed tends to look at quantity more than quality in the jobs numbers, and many of its governors believing the May jobs report to be a statistical anomaly, a rate hike is not completely off the table, in our view. Foreign developments from Brexit, Abenomics, and the slowing Chinese economy will likely weigh considerably in the Fed's rate decisions later this year.
____________________________________
NOTES:
[1] Our chart of jobs by average weekly wages, shown above, shows jobs creation by highest to lowest average weekly wages and includes sub-categories of jobs as they are reflected in Table B. Thus, total jobs per the chart will be greater than the total jobs created.
[2]The diffusion index shows the percent of industries with employment increasing plus one-half of the industries with unchanged employment, where 50 percent indicates an equal balance between industries with increasing and decreasing employment.
________________________________
AUTHOR'S NOTE:
My commentaries are mostly in the consumer discretionary space and, most often, tend to be event-driven. I also write mostly from a management consulting perspective for companies that I believe are underperforming; that is, I sometimes lay out strategies that I would recommend to the company to improve its business and strategy were they my clients. I think this approach lends special value to contrarian investors who see the opportunities that I do in companies that are otherwise in downturn. My opinions with respect to the company here, however, assume the company will not change.
If you like my perspective, you might consider following me by clicking the "follow" link below.
Disclosure: I/we have no positions in any stocks mentioned, and no plans to initiate any positions within the next 72 hours.
I wrote this article myself, and it expresses my own opinions. I am not receiving compensation for it (other than from Seeking Alpha). I have no business relationship with any company whose stock is mentioned in this article.
Additional disclosure: The views expressed are the opinions of the writer and do not represent, and should not be considered to be, investment advice. You should not use this article for that purpose. Before making any investment decision you should consult your own business, legal, tax, and financial advisers.