In my last article on BP (NYSE:BP) late last month, I had recommended that investors should take advantage of the dip in the company's stock price post the Brexit. My bullish thesis was driven by BP's focus on those projects that can generate stronger returns owing to low costs. In fact, as I had pointed out in that article, BP had one of the lowest production costs per barrel of oil equivalent.
But, apart from the strength in the upstream, downstream improvement is another reason why investors should consider going long BP. So, in this article, we will see why BP's downstream segment is set for strong growth going forward.
BP's downstream business has started recovering
BP's downstream segment had dropped steeply toward the end of 2015, but it has made an impressive comeback this year. Driven by oversupply in the gasoline market due to weak demand in light of the mild winter and higher refinery utilization, BP had struggled in the downstream segment. This is shown below: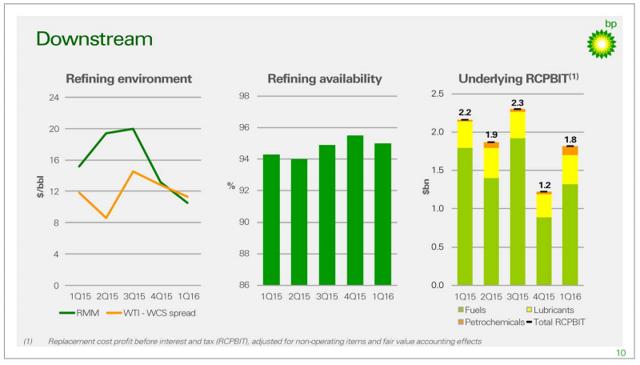 Source: BP
However, the chart above also shows that BP's profit in the downstream segment has started making a comeback of late. In the first quarter of this year, the company saw an impressive rise in the replacement cost of profit in the downstream segment on a sequential basis. This is because the conditions in the refining segment are now getting better on the back of an improvement in gasoline demand.
This is evident from the chart below: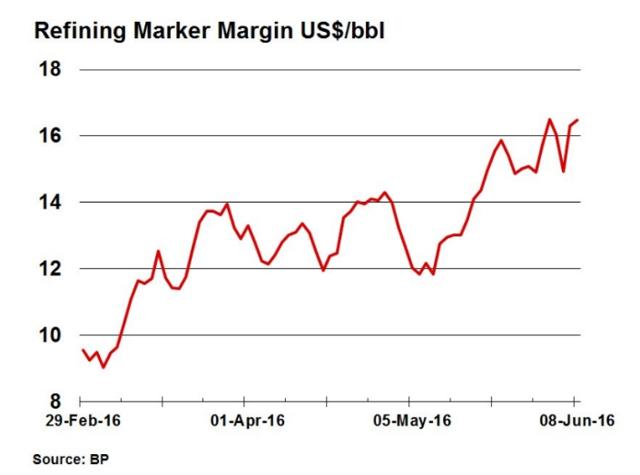 Source: BP
As evident from the chart above, the refining marker margin has improved drastically over the past four months. From a low of less than $10 per barrel, there has been impressive growth in the refining margins to around $17 a barrel, signifying a rise of around 70%. In fact, as the chart above shows, refining marker margins have been averaging higher in the second quarter of the year as compared to the first quarter. As a result, it won't be surprising to see further improvements in BP's underlying profit in the downstream segment on a sequential basis going forward.
What's more, it is likely that the refining business will remain strong for the rest of the year as well as demand for refined products such as gasoline continues to pick up pace, thereby creating another tailwind for BP.
Expect more upside in the downstream segment
A combination of high utilization rates and strong gasoline demand will prove to be a tailwind for the refining segment going forward. Last quarter, refinery maintenance activity led to a drop in refinery output, thereby creating a gap in the market as demand rose. As a result, to compensate for the lost productivity, refinery runs in the ongoing quarter will lead to a record output of 2.3 million barrels per day.
The increase in refinery utilization does not come across as a surprise because there is enough demand in the market to absorb the increasing output. This is because during the summer of 2016, gasoline demand in the U.S. is set to hit a record of 9.5 million barrels per day on the back of a 2.5% increase in highway driving. In fact, as the following chart shows, the strength in gasoline consumption will continue next year as well: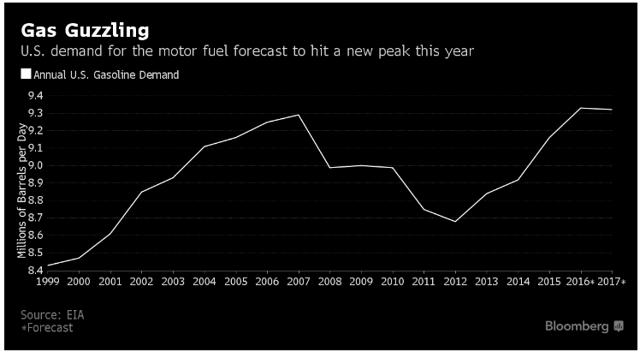 Source: Bloomberg
This increase in gasoline demand going forward is not surprising as auto sales in the U.S. are currently growing at a robust pace. The good news is that BP is well-placed to take advantage of the rise in gasoline demand in the U.S. on the back of its strong refining infrastructure. More specifically, the company is focused on increasing its utilization rates and lower costs at the same time.
As a result, BP has been looking to process more advantaged feedstock. In fact, last quarter, BP's advantaged feedstock processing increased 20% while its utilization rate was up 4%. Looking ahead, BP is looking to further increase its advantaged feedstock processing by upgrading its plants in South Carolina, China, and Belgium. In fact, as a result of BP's focus on improving its operating efficiency in the downstream segment, the company expects to record cost savings of $2.5 billion in this business by the end of 2017.
Conclusion
A combination of an improvement in refining margins and BP's focus on improving the efficiency of its downstream business will lead to growth in the company's downstream profit going forward. The downstream segment has already started improving and more upside is on the way, which is another reason why investors should consider buying BP.
Disclosure: I/we have no positions in any stocks mentioned, and no plans to initiate any positions within the next 72 hours.
I wrote this article myself, and it expresses my own opinions. I am not receiving compensation for it (other than from Seeking Alpha). I have no business relationship with any company whose stock is mentioned in this article.