Despite an impressive turnaround in natural gas prices since the beginning of June, Chesapeake Energy's (NYSE:CHK) shares have lost momentum. This weakness in shares can be attributed to negative sentiment among analysts. For instance, toward the end of last month, Jefferies slapped an underperform rating on the stock with a $3 target price. Post this, the deterioration in crude oil prices following Britain's exit from the European Union also had a negative impact on Chesapeake.
However, the fact that commodity prices have improved at a robust clip since the year began cannot be ignored. But Chesapeake's stock hasn't risen commensurately with the rise in oil and gas prices, with its shares down almost 4% over the past six months. But, sooner than later, CHK's share price will start picking up pace as the company's financial performance will improve on the back of better commodity pricing and its own moves to improve efficiency.
Let's take a look.
Divesting non-core assets that aren't very profitable
Chesapeake Energy is undertaking efforts to stay profitable under a prolonged low commodity price environment rather than hoping for a turnaround. This is a smart strategy in my opinion as it will allow Chesapeake to do well even in a weak pricing scenario. As a part of this strategy, the company is divesting those assets where it is generating lower returns.
For instance, its targeted asset sale is expected to be in the range of $1.2 billion to $1.7 billion in 2016. In fact, it has divested approximately $700 million of non-core assets already so far this year.
In my opinion, this is a smart move for two reasons. First, the company's borrowing base will remain steady as Chesapeake's revolving credit facility is affirmed at $4 billion while the proceeds from sales will allow it to reduce debt and remain within covenants. Second, the non-core asset divestitures will have minimum impact on Chesapeake's production and EBITDA. In fact, the asset sales announced this year will reduce its production by only 5% while the adverse impact on the EBITDA will be just $45 million for the full year.
On the positive side, the proceeds from Chesapeake's aggressive asset sales will strengthen its liquidity, allow it to pay off its debts, and also enable it to invest in short-cycle cash-generating projects that can lead to stronger returns. For instance, Chesapeake's asset divestitures have helped the company reduce its 2017 maturing debt by $410 million during the first quarter of 2016. In fact, its 2017 maturing debt has been lowered by 32% since September last year. As a result of this reduction in debt, its interest coverage ratio covenant has been reduced to 0.65x from 1.1x through March 2017.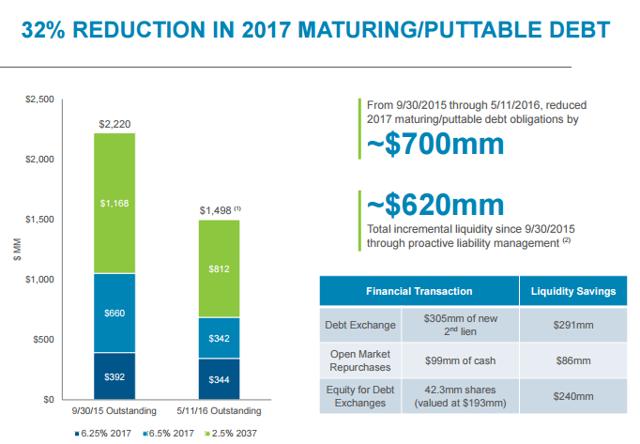 Source: Chesapeake Energy
At the same time, Chesapeake's improving liquidity due to the asset sales plans will enable it to invest in the Meramec and Oswego plays that carry a better rate of return in the short term and have plenty of upside potential in the future. For instance, its Meramec asset can deliver a rate of return of over 100% in the best-case scenario at a PV10 breakeven oil price of $20 per barrel, helping Chesapeake recoup its investment in 1.2 years.
On an average, Meramec can generate returns of 23% at a $34 oil price according to the type curve. The rates of returns at Oswego are even better with the current type curve showing an IRR of 39% at a $31/barrel oil price. This is shown below: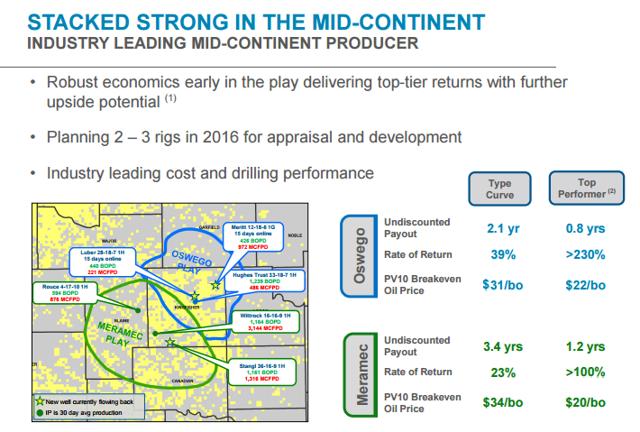 Source: Chesapeake Energy
Thus, by offloading assets that will generate lower returns in exchange for liquidity, Chesapeake is making the right move as it will be able to improve its finances even in challenging times due to its focus on high-return assets.
A lower-cost structure will complement the focus on stronger assets
Chesapeake's focus on those assets that are capable of generating stronger returns is also helping the company lower costs. In fact, during the first quarter, Chesapeake had reduced its cash costs by 11% on a sequential basis and by 28% on a year-over-year basis. This reduction in the cash costs led to approximately $100 million in cost savings on a year-over-year basis.
Looking ahead, Chesapeake is planning to reduce its lease operating cost by an additional 10% and its G&A expenses by another 15% for each barrel of oil equivalent. More importantly, the reduction in Chesapeake's cash costs is sustainable since the company has been using longer laterals to drive production efficiency and lower costs.
For instance, its longer laterals in the Haynesville shale have led to a 63% increase in 160-day cumulative gas production. This was a result of Chesapeake bringing online its first two 10,000-foot wells online at the Haynesville shale as compared to 8,000-foot laterals last year. As a result of the longer laterals, Chesapeake expects drilling and completion costs to go down by approximately 23% in 2016 in the Haynesville shale. The following chart shows the improvement in productivity at Haynesville post the usage of longer laterals: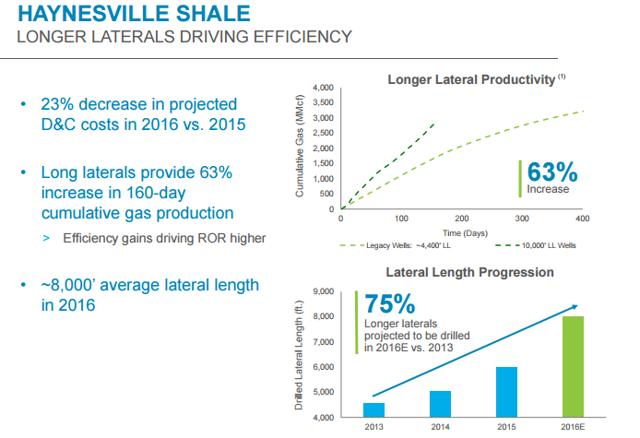 Source: Chesapeake Energy
Conclusion
Chesapeake Energy's shares haven't yet benefited from the rise in oil and gas prices of late, but this could soon change as the company is lowering costs, reducing the debt, and still keeping production in good shape. Hence, investors should consider accumulating CHK's shares on the weakness since the company can recover on the stock market going forward.
Disclosure: I/we have no positions in any stocks mentioned, and no plans to initiate any positions within the next 72 hours.
I wrote this article myself, and it expresses my own opinions. I am not receiving compensation for it (other than from Seeking Alpha). I have no business relationship with any company whose stock is mentioned in this article.