Around six months ago, I had advised that investors should consider buying Chevron (NYSE:CVX) to benefit from a potential oil rally in 2016. My bullishness regarding Chevron was also driven by the fact that the diversification in the company's business, such as LNG and downstream, will allow it mitigate any further weakness in oil prices.
It has been almost six months since that article and Chevron shares are now up more than 20%, driven by the strength in oil prices. The stock currently trades near 52-week highs, but I would suggest that investors should continue to hold Chevron for the long run. Let's see why.
Higher oil prices will complement lower costs
Chevron's upstream business is on the path to recovery in light of the recovery in oil prices this year. In fact, I believe that the performance of the upstream segment will be stronger than before since Chevron has managed to bring down its cost base to counter the end-market difficulties. More importantly, Chevron has been using sustainable cost reduction techniques by improving its drilling efficiency and technology deployments, which will enable it to take better advantage of the rally in oil prices.
For instance, in the Permian Basin, Chevron has been able to record robust production growth, a trend that is expected to continue over the long run due to a strong resource base. This is shown in the chart given below: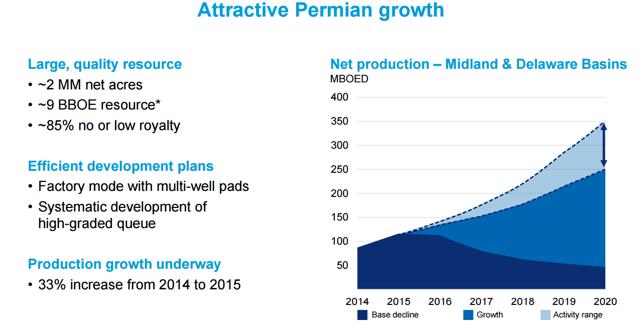 Source: Chevron
As seen above, Chevron's production in the Permian Basin will continue to increase until 2020, driven by a continuously reduction in the base decline rate. The lowering of the base decline rate means that Chevron will be able to extract more oil from this area for a longer period of time without having to incur additional costs. As a result, its cost per barrel of oil will continue to remain low.
Another reason why Chevron's costs will remain low in the Permian is because of the company's focus on lowering development costs. For instance, Chevron has reduced the costs of its horizontal wells by 40% by deploying longer laterals and increasing frac stages.
In fact, Chevron has increased its frac stages by 115% in the Permian, apart from drilling 45% more footage per day. As a result, the number of drilling days for each well has gone down by around 50% while production has picked up pace.
This is not surprising as using longer laterals and higher frac stages is a tried and tested method of increasing production at lower costs. Using a longer lateral length allows the exploration and production company to increase contact with the wellbore, while also giving it access to a wider window with higher pressure. As a result of more frac stages and longer laterals, there are more stages in the high pressure area, which leads to the extraction of more oil at lower costs. This is illustrated below: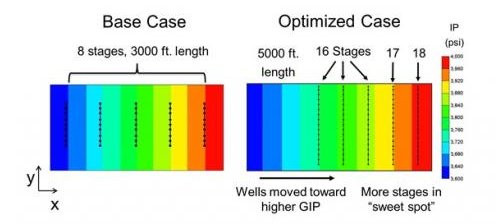 Source: RBN Energy
More importantly, Chevron is replicating this technology across other areas as well. For instance, in the Duvernay, Vaca Muerta, and Appalachia regions, Chevron's unit development costs have gone down by 35%, 30%, and 40%, respectively, on the back of an increase in estimated ultimate recovery rates and lower well costs.
Therefore, Chevron is now well-placed to capitalize on an increase in oil prices since it has a lower cost base than before in the upstream segment. This will help the company achieve a stronger increase in its margin and cash flow profile going forward. More importantly, I think that investors can expect the oil price rally to continue on the back of an increase in consumption and a slowdown in production.
Improving oil market balance will be a tailwind for pricing
The reason why oil prices have picked up pace this year is because of an improvement in demand and controlled production, which is bringing down the level of oversupply in the industry. In fact, as compared to last year, oil inventories have been declining rapidly, and it is anticipated that the trend will continue going forward as well with a balance being attained in 2017. This is shown below: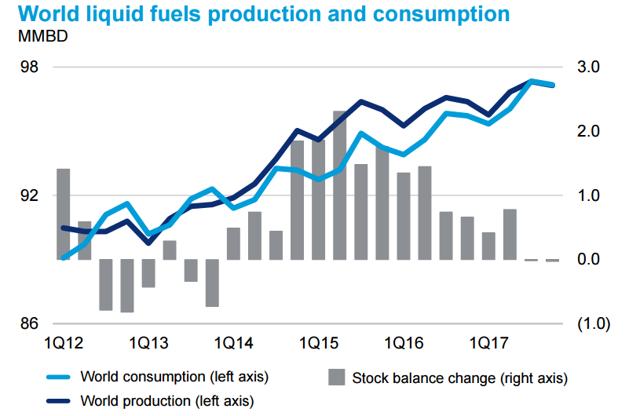 Source: Chevron
Looking ahead, it won't be surprising to see the oil market attaining balance since oil output has been coming down. For instance, in the month of May, total oil supply was down by 590,000 bpd as compared to the year-ago period, driven by production cuts in both OPEC and non-OPEC countries. Lower production will persist going forward as output in the U.S. will decline by 800,000 bpd in 2016 and 400,000 bpd in 2017.
Additionally, even OPEC's output is lower than demand. According to a Reuters report:
"In a monthly report, the Organization of the Petroleum Exporting Countries said its current production is lower than the average forecast demand for its crude in the second half of 2016. The last full quarter when OPEC pumped less than demand for its crude was in 2013, according to past OPEC reports.

In Monday's report, OPEC said its oil output fell 100,000 barrels per day (bpd) to 32.36 million bpd in May. That is 500,000 bpd less than OPEC's forecast of the demand for its crude in the third quarter, and 160,000 bpd below the average of expected demand for OPEC crude in the second half."
Hence, it won't be surprising to see the oversupply in the oil market coming down going forward as Chevron projects. As the oversupply comes down due to higher demand and lower supply, the price of oil will gain more strength and help Chevron improve its financials owing to a lower cost base.
Conclusion
Chevron has done well this year as oil prices have recovered. Looking ahead, the company's financials will start showing the positive impact of a lower cost base as prices improve further. So, in my opinion, even though Chevron trades close to its 52-week high, investors should continue holding the stock.
Disclosure: I/we have no positions in any stocks mentioned, and no plans to initiate any positions within the next 72 hours.
I wrote this article myself, and it expresses my own opinions. I am not receiving compensation for it (other than from Seeking Alpha). I have no business relationship with any company whose stock is mentioned in this article.