Following two consecutive months of U.S. commercial P&C average rate declines of 2%, the deceleration trend witnessed earlier in the year was evident again in June with rates down by an average of 1%, suggesting that insurers are perhaps unwilling to cut rates any further.
MarketScout's latest U.S. commercial P&C insurance market barometer, along with commentary from analysts at Keefe, Bruyette & Woods (NYSE:KBW), reveals that year-on-year, rates declined by an average of 1% in June 2016, compared with 2% in the previous two months.
"Insurers are getting tired of cutting rates. There are still pockets of very competitive business; however, it is beginning to look like insurers are willing to maintain the rate reductions of the past few years and not cut rates even further," said Richard Kerr, Chief Executive Officer (CEO) of MarketScout.
Rates in the global insurance and reinsurance industry have, generally, been declining for some time as pressures continue to mount in a low interest rate environment. In response, and as noted by Kerr, insurers are beginning to tire of reducing rates, showing discipline and an unwillingness to stress the situation even further.
A positive for reinsurance and ILS capital market players, who will perhaps find pressure on their own rates lessens as a result of insurers pushing back on further declines.
Highlighted by the chart below, analysts at KBW also noted that rate decreases have decelerated since February 2016, adding that declines "still trail even benign loss cost inflation, so accident-year underwriting margins will almost certainly contract, dependent upon individual companies' loss reserving conservatism."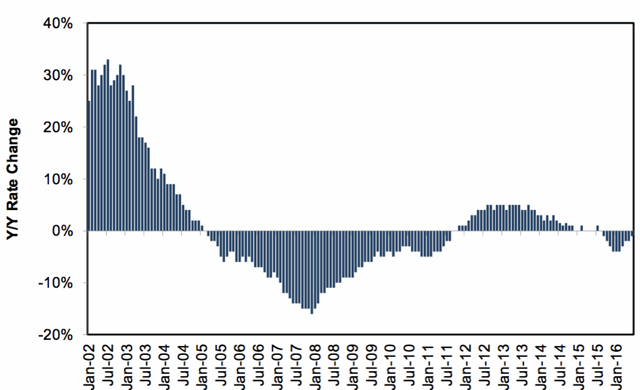 Commercial Insurance Rate Barometer - June down 1%
By account size, MarketScout reveals that medium ($25,001 - $250,000) and large ($250,001 - $1 million) sized accounts both saw rate declines moderate in June, at -1% and -2%, respectively.
Small (up to $25,000) and jumbo (over $1 million) sized accounts remained unchanged from the previous month, declining by an average of 1% and 3% in, respectively.
MarketScout also provided U.S. commercial P&C rate movements by coverage class for June, which saw commercial auto shift from flat to 2%, and crime and EPLI move to plus 1%.
Business owners policies, umbrella, and professional liability all moderated by 1% during the month, in comparison to May. Workers' compensation and inland marine were down 1%, as was D&O liability and Fiduciary, while surety was flat in the month.
"Rate changes that trail loss cost trends make underwriting margin improvement almost impossible absent company-specific actions, especially if reserve releases fade further. We expect rates to remain pressured in 2016," said KBW.
Both MarketScout and KBW had suggested last month that the deceleration trend witnessed since February 2016 might not last too long, and while that seemed the case with May's average 2% decline, a 1% drop in June signals a slowdown in rate declines, for the time being at least.
It will be interesting to see if U.S. commercial P&C rates continue the deceleration trend in the coming months, and whether insurers will continue to resist cutting rates any further as market headwinds persist.
Editor's Note: This article discusses one or more securities that do not trade on a major U.S. exchange. Please be aware of the risks associated with these stocks.