Nemaska Lithium (OTCQX:NMKEF) is a Canadian metal and mineral exploration company with a focus on lithium. Their flagship project is the Whabouchi spodumene deposit, located in the James Bay region of Quebec, Canada.
The Whabouchi Mine Site

Nemaska Lithium's Projects and Resource Details
The Whabouchi spodumene deposit, according to the company, has the 2nd richest and largest deposit in the world with 27.3 million tonnes proven and probable reserves of lithium carbonate equivalent (LCE), with a lithium grade of 1.57% lithium hydroxide.
Based on their 2016 feasibility study (updated from 2014), Nemaska estimated an after tax 8% NPV of CAD 1.16 Billion (US$ 928 m), with an after tax internal rate of return (IRR) of 30.3%. Start up costs were estimated at CAD 549 Million (US$ 439M), with cost of production of lithium carbonate estimated at USD 2,753/t, and USD 2,154/t for lithium hydroxide FOB Shawinigan. Life of mine was estimated at 26 years.
Global Lithium Spodumene Resources Comparison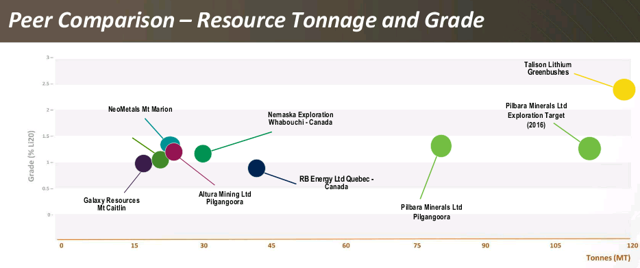 The above graphic shows Nemaska lithium with a high grade large deposit. Note that RB energy is no longer operating, and that Nemaska's resources are actually reserves, whereas Pilbara Minerals has at this stage only proven up some of it's resources in the above graphic.
Off-Take Agreements and Financing
Recently in May 2016, Nemaska Lithium signed a commercial purchase order (better than an off take agreement) with the battery technology company Johnson Matthey Battery Materials (JMBM) for an up-front payment of CAD 12 million in exchange for lithium products from the phase 1 plant as well as an off take agreement for long term supply from the commercial plant.
Nemaska will continue to arrange further off take agreements and financing during 2016. CEO and President of Nemaska Lithium, Guy Bourassa, has so far secured more than $50 million in financing for the project.
Production Plans
Nemaska plans an average per year of approximately 213,000 tonnes of concentrate to produce approximately 27,500 tonnes of lithium hydroxide and approximately 3,245 tonnes of lithium carbonate. It will be a combined open pit and underground mine with production derived from the open-pit portion for the first 20 years.
The phase 1 chemical plant plans to be operational in Q4 2016, and full commercial production to start in Q2 2018.
Hydromet Facility to Be Built in 2016 in Shawinigan

Proprietary Method to Extract the Lithium - "Electrolysis"
Nemaska Lithium has developed proprietary processes that use electrolysis to produce high-purity lithium hydroxide and lithium carbonate for the lithium battery market. The technology virtually eliminates costly soda ash from the process. Soda ash is used as a reagent in traditional methods to produce carbonate. The price of soda ash fluctuates considerably and the increase in the price of lithium carbonate and lithium hydroxide in recent years has been a direct result of increasing prices of soda ash. By using electrolysis, Nemaska Lithium's main input cost is electricity, which in Quebec is highly predictable and cost effective. In Quebec, hydroelectricity costs just $0.05 kWh. CEO Guy Bourassa sees this as a game changer for lithium extraction. You can read more here.
Nemaska's Proprietary Lithium Extraction Method Flow Sheet
Valuation
Nemaska Lithium is not yet producing, so has no earnings or P/E yet. Approximately CAD 1.6m in cash (as end 2015); however, the coming TSX listing and capital raising will raise CAD 50-60m, and other funds (see p24), have been coming in from Johnson Matthey, government grant, and other minor equity raising.
Debt was zero at the end of 2015. Nemaska Lithium currently trades with a market cap of CAD 290m (~USD 226m). That places it a bit lower than Lithium Americas on a market cap of USD 248m, and a lot lower than Pilbara Minerals on a market cap of USD 528m. So about right for now, perhaps a bit cheap relatively, given it will be producing as soon as late 2018.
Based on reaching production for Whabouchi, my model forecasts the following:
2018 or 2019 - 30ktpa LCE produced, USD 107m in earnings, stock price of CAD 4.07, or 3.54x higher.
2020 - 35ktpa LCE produced, USD 126m in earnings, stock price of CAD 4.80, or 4.18x higher.
NB: Based on 100% ownership, LCE sold at USD 10,000/t, production cost USD 2,753/t, PE of 15. CAD 300m equity raising plus a CAD 250m debt funding to build the mine and plants. Or they may take on a strategic partner to buy say 20% of the company in return for funds to build the mine and plant. (NB: Includes the current CAD 50-60m raising). The above figures are my own assumptions.
Near-Term Catalysts
Late 2016 - Listing on the TSX, leading to more institutional attention.
2016/2017 - Off-take agreements and project financing announcements. Start of mine and plant construction.
Competitors
The other producing lithium miners, and soon to be producers. I have discussed these previously in detail here, here and here. Needless to say, the top 3 producers are non-pure plays (Chemical & Mining Co. of Chile (NYSE:SQM), Albermarle (NYSE:ALB), and FMC Corp. (NYSE:FMC)). The top pure play currently producing miners are Orocobre, Mineral Resources, Galaxy Resources (OTCPK:GALXF), and Neometals OTC:RRSSF). The near-term producers include Altura Mining (OTC:ALTAF), Pilbara Minerals, Critical Elements (OTCQX:CRECF), Lithium Americas (LACDF), Lithium X (LROCEF),and Bacanora Minerals (OTC:BCRMF).
A key here is that it takes usually 3-5 years to bring on a mine (land acquisition, drilling, feasibility studies, permits, licenses, construction, etc.), and demand is growing very strongly thanks to electric vehicles. I think all the above miners will have plenty of demand.
Risks
Nemaska Lithium's main risks revolve around financing to build the mine and plants, and the risk that their electrolysis technology will prove to be effective and cost effective. Based on various reports and small scale trials it looks promising, but we will have to wait and see over the next year.
Liquidity risk for those investors buying on the US exchange. Better to buy on the TSXV or soon TSX, as there's higher liquidity.
Sovereign risk looks very low being based in Canada, an advantage for Nemaska.
Conclusion
The main reasons I like Nemaska are that it has a large proven lithium reserves (albeit spodumene), located in North America and close to infrastructure, with low sovereign risk.
The project is very advanced, being fully permitted, some off take agreements and close to full production (set to begin Q2 2018). They have supportive local Government including federal grants of $12.8M for phase 1 plant construction, and the possibility to take a 20% equity stake using their CAD 1b special fund of the plan Nord program to support the development of resources in Northern Quebec.
The company has developed an electrolysis technology to cheaply extract the lithium ($2,154 per tonne of lithium hydroxide), given the electricity source is hydroelectric and inexpensive. It maybe in the future that other lithium companies send their spodumene to be processed by Nemaska, rather than to the Chinese converters.
Nemaska has a end to end complete operation including processing the spodumene to produce battery grade lithium carbonate and lithium hydroxide, therefore a value added process. Their focus on lithium hydroxide production which will yield higher selling prices.
Nemaska Lithium will soon be listed on the Toronto Stock Exchange which will bring them more onto the radar of institutional investors similar to Lithium Americas. The downside will be some equity dilution, offset by capital raising needed to build the plants.
The stock price has recently fallen down significantly to CAD 1.15, matching the recently announced capital raising price of CAD 1.15 to raise CAD 50-60m for the TSX listing, making a nice entry point noting 43.8m to 52.174m shares will be issued). At a current market capitalization of CAD 290m, or say CAD 350m after the capital raise, Nemaska will be cashed up and able to start their plant production in late 2016 and 2017 as planned. My only slight concern would be the high start up cost of the mine and plant of CAD 549 million (US$439M), however the company seem confident to achieve financing.
Analyst consensus target 1 year is CAD 1.60. My target for end 2018 (or 2019 depending when reaching 30ktpa LCE) is CAD 4.07, and I see Nemaska rising steadily towards my target each year as it achieves the various milestones towards full production. Should they have a full year of production volume amounting to 30kt in 2018, my CAD 4.07 price target would come apply to 2018 and not 2019.
Currently, I have Nemaska Lithium as ranked number 5, in my "top five lithium miners to consider," but investors should remember that there are now over 50 lithium miners to choose from, albeit most of them are juniors.
Nemaska gives investors a non-Argentine pure play lithium mine which removes some sovereignty risk, and a low cost of production thanks to cheap Quebec hydroelectricity and Nemaska's proprietary electrolysis technique. I would take a position now and add on any major dips.
Disclaimer: I am not an employed analyst, and investors should do their own due diligence and modeling.
Disclosure: I am/we are long NEMASKA LITHIUM (TSX:NMX), ALBERMARLE (ALB), OROCOBRE (ASX:ORE), LITHIUM AMERICAS (TSX:LAC), GALAXY RESOURCES (ASX:GXY), PILBARA MINERALS (ASX:PLS), ALTURA MINING (ASX:AJM), LITHIUM X (TSXV:LIX), CRITICAL ELEMENTS (TSXV:CRE).
I wrote this article myself, and it expresses my own opinions. I am not receiving compensation for it (other than from Seeking Alpha). I have no business relationship with any company whose stock is mentioned in this article.
Additional disclosure: The information in this article is general in nature and should not be relied upon as personal financial advice.
Editor's Note: This article covers one or more stocks trading at less than $1 per share and/or with less than a $100 million market cap. Please be aware of the risks associated with these stocks.