Before QE was introduced central banks focused on adjusting interbank lending rates to keep inflation expectations under control. If businesses were reducing hiring and investment due to lower demand in the real economy Central Banks would lower the benchmark lending rates at which banks were lent money. This had the effect of reducing bank loan costs and encouraging banks to lend out more money into the economy. When the financial crisis hit it was clear that this wouldn't be enough to stimulate activity and reduce rising unemployment. The financial Crisis was a systemic event and central banks had to step in at the behest of governments to implement a systemic solution. The proposed solution was quantitative easing. To carry out QE central banks increased money supply in the economy by buying sovereign bonds from banks with 'cash' that was created for these transactions. As a result, banks' reserve ratios were improved by the amount of the assets purchased - hence the term 'quantitative easing'. QE had the effect of encouraging equity investment back into bank stocks allowing banks to recapitalise themselves and also encouraging them to lend more money out to businesses in the real economy. With the funds that banks received for selling bonds to central banks they in-turn lent out or used to buy other financial assets. This had the effect of raising financial asset prices and further lowering interest rates.
Lower interest rates made it easier for businesses to raise debt for more-risky projects. Over-lending to certain sectors was sure to follow from such easy monetary policies and the shale boom and subsequent bust in the US was one such sector. Whether the rapid development of the US shale industry would have happened were it not for QE is a discussion for another article.
In regards to its initial aim, QE was an resounding success and the US Federal reserve in many ways saved developed markets from a severe lasting economic depression. However, QE always carried caveats. It was hoped that looser lending conditions would encourage capital to flow out into the real economy as businesses and entrepreneurs who might not have been able to obtain funding in a normal interest rate environment would be able to do so with low or zero rates. This worked to a certain extent but new banking regulations helped to allay any animal spirits that might have thrived under loose policy. Overall, existing businesses were able to refinance bad debts and take on new financing at lower rates and unemployment fell, particularly in the US.
From its inception QE was always going to be a risky long term policy. QE had never been done before on a such a global scale with every major central bank undergoing some form of easing simultaneously. The basic economic relationship inherent in QE is that central banks 'borrow' growth from the future in order to use it up in the real economy at present. Entrepreneurs who don't have particularly great ideas or have ideas that are too risky to fund in a normal environment are able to obtain funding and create employment at present. The flip side is that those businesses who take on too much debt or aren't able to outgrow their debt are eventually forced to 'pay-back' their borrowed growth through redundancies and bankruptcies.
Unfortunately, QE has not impacted real GNP growth as expected. Private indebtedness has been growing rapidly. Currency supply relative to GNP has been growing y-o-y but overall GNP growth has been poor and so has growth in nominal incomes.
Companies acting in the interests of their shareholders have been the biggest purchasers of equities since the beginning of the bull market. Companies have been borrowing for share buy backs when the don't have internal projects that can produce sufficient return relative to returns generated from share buy-backs. The present bull market in equities is the second longest in history. Below is a chart form Bloomberg showing annual total dollar value of buy-backs since 2009.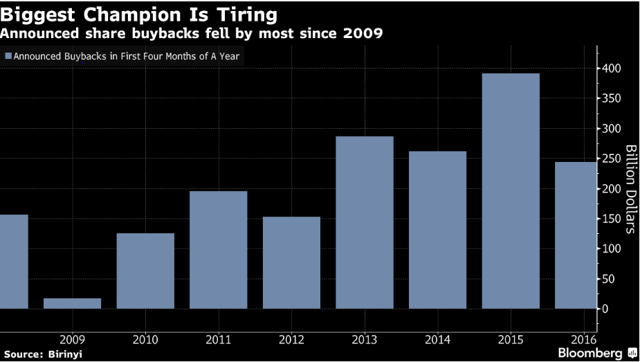 There are a number of factors holding the S&P 500 (TICKER: SPY) back from breaking through its all-time highs in light of the Fed's reluctance to raise rates again this year. Optimists point to the need for corporate profits to catch up to the rapid rise in valuations over the last number of years. Bears point to the effects of the slow-down in the Chinese economy, a sluggish domestic US economy and the knock on effects globally of a strong dollar. The absence of fiscal spending in this economic expansion is something that is not commented on regularly in the financial press or media.
Risk of Over-Heating
There is widespread complacency among the investment community on the long term risks associated with near zero interest rates. The thinking from the beginning was that Central banks would risk over-heating the global economy if rates were held at artificially low levels for too long. The fear was that credit growth would accelerate at a faster rate than GNP growth and stagnation would persist or even worst deflation would set-in. Credit growth at a rate faster that the real economy is the reality in most developed economies including the US and Europe today.
Following on from the borrowing growth analogy above, over heating leads to a situation where there are too many 'bad projects' in the economy that were funded by low rates. Any attempts to normalize rates will induce a deep recession. At present it is clear that the Fed feels that the US isn't able to pay-back its borrowed growth. In theory QE was supposed to be a 'leg-up' for economies and that after a few years' economic conditions would have improved sufficiently to allow normalisation. In reality the longer low rates persist the riskier the policy becomes.
Along with encouraging banks to lend more credit QE was needed to encourage private investment back into bank equity. In the US QE had the effect of attracting $650bn of equity back into the banking system. Today that equity to looking to get back out with banks shares in Europe returning to their post crisis lows. Bank shares in the US are down from their post crisis highs set in mid-2015. Shares in the large US money centre banks such as Bank of America (NYSE:BAC), Citigroup (NYSE:C), JP Morgan (NYSE:JPM) and Wells Fargo (NYSE:WFC) have fallen in line with expectations that the US Fed will hold off on raising rates. These shares are very cheap relative to historical valuations but if the Fed has to reverse course and lower the fed funds rate again current valuations will look expensive. Persistently low interest rates put pressure on banks net interest margins and in turn reduce profits. This makes banks less inclined to consider new lending. With the regulations brought in after the great financial crisis banks have to set aside large amounts of capital further putting pressure on their business models. The chart below from Bloomberg shows a 2 year view of the Euro Stoxx 600 Bank Index.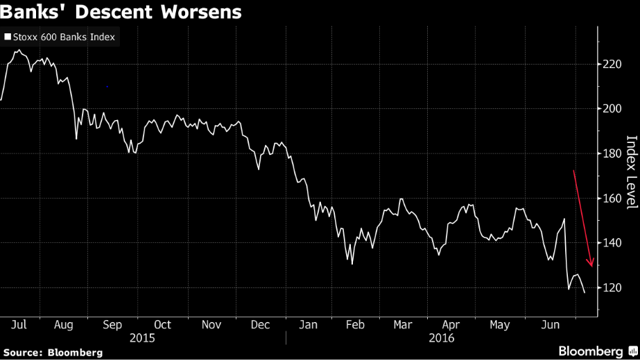 Recent moves in the US Treasury market point to greater expectations that this will indeed be the Fed's next move. Yields on the benchmark 10 Year Bond fell to a record low 1.36% after Britain's vote to leave the EU. YTD the iShares 20+ Year Treasury Bond Index ETF (TICKER: TLT) has rallied nearly 20% as investors dismiss rate rise expectations. While the iShares Core Total U.S. Bond Market ETF (NYSEARCA:AGG) has rallied nearly 6% YTD.
Since the yes vote in the UK referendum the total amount of global sovereign debt trading in negative territory rose by more than 10% to a total of nearly $10tn based on the Bloomberg Global Developed Sovereign Bond Index. The chart below from Bloomberg shows the spread of sovereign negative yielding debt across the world.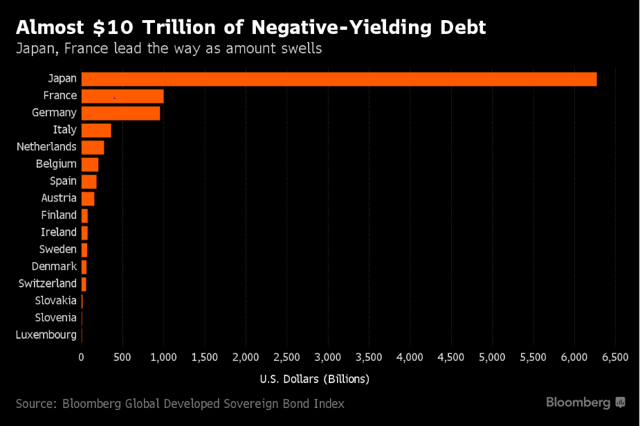 As central banks continue to buy sovereign bonds the global supply of investment grade debt has been shrinking pushing investors to reach for yield further out on the yield curve and assume greater risk. This can be seen in the YTD performance of high yield ETF's such as the SPDR Barclays Capital High Yield Bond ETF (TICKER: JNK) which has rallied 8.36% and the iShares iBoxx High Yield Corporate Bond ETF (TICKER: HYG) which has rallied 7.89%. Fears that investment out-flows who cause a stampede out of these funds when the Fed moved to raise interest rates late last year were over-done. Their performance this year clearly shows that investors don't anticipate the Fed raising rates in the foreseeable future. Investors should take heed of these moves and understand that central banks are unwilling to run the risk of inducing recessions by raising interest rates. As long as this remains the case investors should not count on banks seemingly cheap valuations as providing a floor on share values. Markets are as much about money flows as valuations and investors won't be willing to pay up for more expensive multiples in bank shares until central find some way to maneuver out of the current global economic malaise.
Disclosure: I/we have no positions in any stocks mentioned, and no plans to initiate any positions within the next 72 hours.
I wrote this article myself, and it expresses my own opinions. I am not receiving compensation for it (other than from Seeking Alpha). I have no business relationship with any company whose stock is mentioned in this article.