Nippon Telegraph and Telephone in brief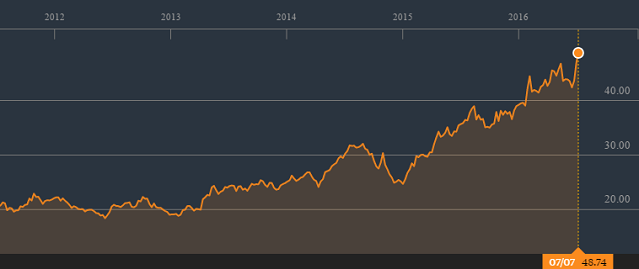 Source: Bloomberg
Nippon Telegraph and Telephone (NYSE:NTT) is a Japanese holding company that owns and operates mainly telecommunication assets. The group has ¥21 trillion in assets, annual sales topping ¥11.5 trillion and more than 240,000 employees. The group was first established by the government in 1952 but it was privatized in 1985. There were clear benefits and NTT was able to be reborn as a flexible and more growth oriented corporation. However the government still owns more than 35% of the group and the share will increase due to the buyback program.
Most of the sales (85.7%) come from the domestic market but they have recently pushed their efforts to expand overseas. Today it represents little over 14% but in the next few years it's expected to reach 20% of total sales. The group operates in five different segments which are mobile communications business (39.1%) regional communications business (27.3%), long-distance and international communications business (17.2%), data communications business (12.6%) and others (3.7%).
This $100 billion market cap company has a complex corporate structure and 907 subsidiaries. Recently the group announced that they are considering to delist from the New York stock exchange and deregister from the SEC before new international reporting standards are adopted in 2018. There are good reasons behind the move. The US-listed stock has only 20% of the trading volume compared to Tokyo. They also could reduce red tape which would certainly ease management's job and produce additional savings.
Financial targets for 2018
NTT outlined the most important target for 2018 is to turn into higher growth. They are targeting to reach at least EPS of ¥400 and it's the most important financial metric they are looking at. It shouldn't be too much of a challenge since it's only 14% from the current level. They are planning to reach the target by profit growth and share buybacks.
The other major target is to expand the overseas sales to at least $22 billion and produce $1.5 billion in operating income. The rock solid balance sheet will enable NTT to acquire competitors, increase market share and step up growth. Even if they decide not to do acquisitions they are already involved in segments that are experiencing impressive double-digit growth. One especially important item is the trendy cloud services business. The demand has skyrocketed and it will remain robust for decades to come. The global cloud services market is expected to top $200 billion by 2018 and keep growing at an impressive ~35% annual rate.
In efforts to improve profitability they are planning to streamline capital investments by ¥200 billion and trying to reduce other costs by more than ¥800 billion. Luckily some of the cost savings will come naturally since a lot of the workers are reaching retirement age. Japanese corporations rarely lay off staff. Overall capital expenditures will most likely remain stable for the coming years after peaking in 2012. NTT has state of the art infrastructure in both mobile and fixed lines that deliver some impressive bandwidth. Mobile users reach on average 337 MBPS and through fixed line 2 GBPS. It really makes me wonder how ridiculously slow my 25 MBPS is.
NTT also is keen on returning value to shareholders in the form of dividends and buybacks. In the past 15 years they have repurchased more than ¥3 trillion worth of stock and there's no reason to think that they will stop anytime soon. The declining need for infrastructure investments, piling cash reserves and the EPS target are pushing the company to be even more shareholder friendly.
We live in extraordinary times when investment-grade bonds are yielding less than the average equity. So yield seekers have crowded into telecoms and utilities during the past six months and it will continue until the yield curve starts to ascend. NTT has consistently raised its dividend but the yield has dropped to 2.2% after the recent rally. This year's distribution is 4.8 times what it was back in 2004. The payout ratio lingers around 30% which is extremely conservative compared to the likes of Verizon (NYSE:VZ) or AT&T (NYSE:T) that distribute 60% to 80% of their earnings sometimes even more.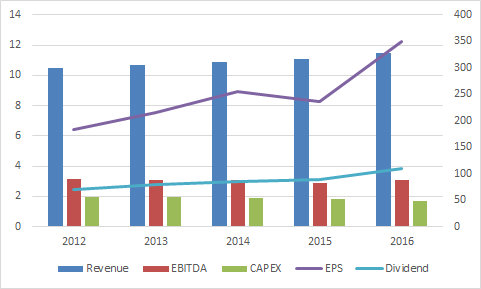 Source: NTT IR. Left scale figures in trillions of yen.
Fundamentals and conclusions
The group trades at 13.4 times next year's earnings which is in-line with the historical average during the past five years. It also trades close to its book value and compared to AT&T's 2 or Verizon's 8.7 it's extremely low. Looking at the price to cash flow multiple at 3.7, it also support sthe bull case. So if you are looking for a bond like instrument with capital appreciation potential, there's no better choice than NTT. The group produces steady sales year after year along with strong cash flow and rock solid balance sheet. So what are the 18 analysts who follow the company saying about the company? The majority recommends the stock as an outperform or buy and there's not a single suggestion to sell. NTT trades slightly below the lowest price target, 20% below the average and 53% below the most bullish.

Disclosure: I/we have no positions in any stocks mentioned, and no plans to initiate any positions within the next 72 hours.
I wrote this article myself, and it expresses my own opinions. I am not receiving compensation for it (other than from Seeking Alpha). I have no business relationship with any company whose stock is mentioned in this article.