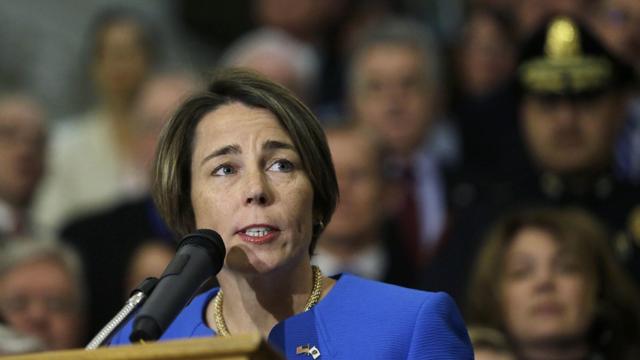 Massachusetts AG Maura Healey
Gilead (NASDAQ:GILD) appears to be on everyone's watchlist - from analysts to bulls, to bears to state attorneys general. Massachusetts Attorney General Maura Healey wanted Harvoni so badly for state prisoners that she threatened to sue Gilead if it didn't make the drug more affordable. Ms. Healey finally reeled in the big fish last week when she and Gilead agreed on discounts for HCV drugs:
Following threats to sue Gilead Sciences over the cost of its hepatitis C treatments, the commonwealth of Massachusetts has reached a deal with the drug maker for rebates for some of its residents who are infected with the chronic disease.

The deal, which begins Aug. 1., is expected to save the state a significant amount of money, but projected savings were not disclosed. However, the cost of hepatitis C drugs for about 2,800 people covered by MassHealth, which is the commonwealth's Medicaid program, has so far totaled about $318 million from late 2014 through early 2016, according to a statement from the agency. A MassHealth spokeswoman, however, said the state expects lower unit costs to be offset by more people being treated, so the state is not forecasting any change in net spending.
Harvoni will be the exclusive therapy for MassHealth members. Sovaldi and Bristol-Myers Squibb's (NYSE:BMY) Daklinza will be used to treat the rest. In exchange for discounts, Gilead was able to secure a near exclusive relationship with the state of Massachusetts. It appears to be a win-win for both parties.
The Situation
Drug costs have been rising at multiples of the rate of inflation. Gilead's Harvoni has captured the national spotlight because it is a cure for a life-threatening disease and the cost (over 90,000 prior to discounts) is so high. States have a constitutional right to provide necessary healthcare to those who are incarcerated. Prisoners in Minnesota, Pennsylvania and Massachusetts have sued their respective states for not providing access to life-saving drugs like Sovaldi/Harvoni.
According to Healey, purchasing HCV drugs for prisoners infected with HCV at the list price would have exceeded the entire healthcare budget for Massachusetts state prisoners. Practically backed into a corner, Ms. Healey came out swinging. I saw it as saber rattling to bring Gilead to the bargaining table. A commenter on my previous article thought the tactic was moronic:
Commenter:
Anyone who actually watched the interview with the Massachusetts AG yesterday on CNBC witnessed one of the most hilariously awkward interviews on that channel in many a year - the AG came off as a complete idiot. They kept asking her (credit to CNBC for not actually just tossing her softballs) repeatedly, "What did Gilead do that broke the law?" and she had no answer and just kept stammering and acting like, "Well, what they're doing is bad, right?"

If she doesn't want Gilead's treatment around, patients can have the alternative, liver transplants - because that's cheaper and doesn't have potential complications? Right? Useless moron politicians looking to make a name for themselves by doing things like this, yet they have no clue and offer no real solutions to things like what's wrong with our healthcare system.
After garnering discounts on Harvoni for state prisoners - her goal all along - Ms. Healey has proven herself "crazy like a fox."
Prisoners Represent A Large Pool Of HCV Infecteds
Harvoni provides a cure with minimal side effects versus the competition. The HCV market is also vast - over 3 million are infected in the U.S. and 150 million worldwide. Those two factors have made Gilead billions of dollars in profits, and made it a company of interest for prisoners and other HCV infecteds. According to the CDC HCV can be spread via [i] contact with HCV-infected blood, [ii] sharing needles used to inject drugs, [iii] sharing needles and equipment used for tattoos, piercings and body art and [iv] via sex.
That said, prisoners are multiples times as likely to contract HCV vis-a-vis the general population; HCV is also becoming a serious health problem for prisoners. According to my estimation, HCV infecteds among America's 2.3 million prisoners could be as high as 313,000.
According to the Bureau of Justice Statistics ("BJS"), there were about $1.6 million prisoners in federal and state prisons in 2014, and 744,600 people in U.S. jails.
The BJS estimated HCV infecteds at 9.8% and 5.6% in U.S. prisons and jails, respectively.
17.4% of prisoners infected with HCV is a figure often cited from a study done by Anne Spaulding of Emory's Rollins School of Public Health.
According to the above chart anywhere from 195k to 313k incarcerated individuals could be infected with HCV in the U.S.
State AGs Could Have Tremendous Leverage With Gilead
I am on record that the pharm has peaked. There is also a school of thought that the remaining pool of patients are disproportionately poor, homeless or incarcerated. Of the company's 116,000 Q1 2016 HCV starts, 55,000 (47%) came from the U.S. To keep its U.S. starts from falling further, the company may have to ramp up its marketing efforts to the prison population.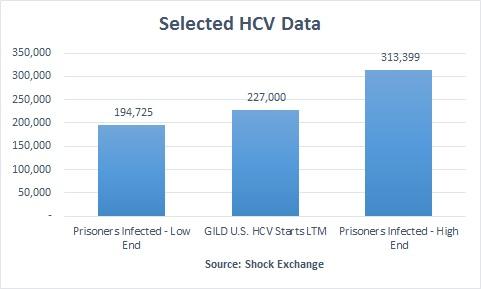 For example, over the last 12 months ("LTM"), Gilead's U.S. starts were 227,000. At the high end of the range (314k), HCV infecteds among prisoners would exceed that total. Over 86% of the 1.6 million prison population is held within state prisons, potentially giving state AGs like Ms. Healey a heavier bargaining chip to work with in negotiations with Gilead.
I anticipate several more state AGs to attempt to negotiate similar deals with Gilead. The good news is that new deals with state AGs and state departments of corrections could temporarily extend Gilead's HCV runway. However, it could negatively impact the $37,309 per U.S. start for HCV drugs. I recommend that investors continue to avoid GILD.
Disclosure: I am/we are short GILD.
I wrote this article myself, and it expresses my own opinions. I am not receiving compensation for it. I have no business relationship with any company whose stock is mentioned in this article.