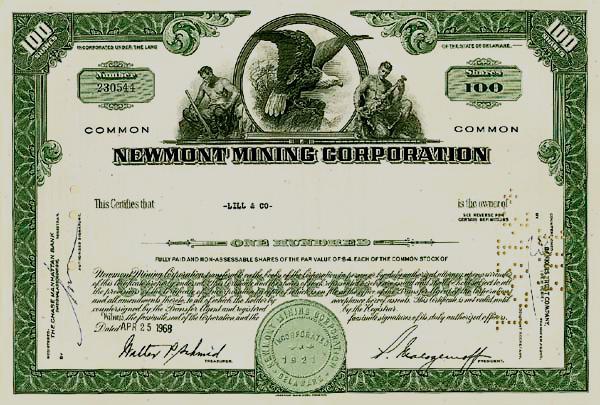 Picture: Newmont Stock certificate
Newmont Mining Corp. (NYSE:NEM)
This article follows my preceding article on Newmont Mining published on April 23, 2016 about the company's 1Q'16 results.
On June 30, 2016, Newmont Mining announced the following:
Has entered into a binding share sale and purchase agreement with PT Amman Mineral Internasional (PT AMI) to sell its interests in PT Newmont Nusa Tenggara (PTNNT), which operates the Batu Hijau copper and gold mine in Indonesia.

The total consideration is $1.3 billion for Newmont's 48.5 percent economic interest in PTNNT. This amount is comprised of cash proceeds of $920 million expected to be paid at closing and contingent payments of $403 million tied to metal price upside and development of Elang. Nusa Tenggara Mining Corporation, majority owned by Sumitomo Corporation, has also agreed to sell its ownership stake to PT AMI.
On July 6, 2016 the form 8-K was filed by NEM.
We know for quite a long time now that Newmont Mining has been focusing on the debt reduction, and this recent news is just another confirmation.
1Q'16 earnings presentation here.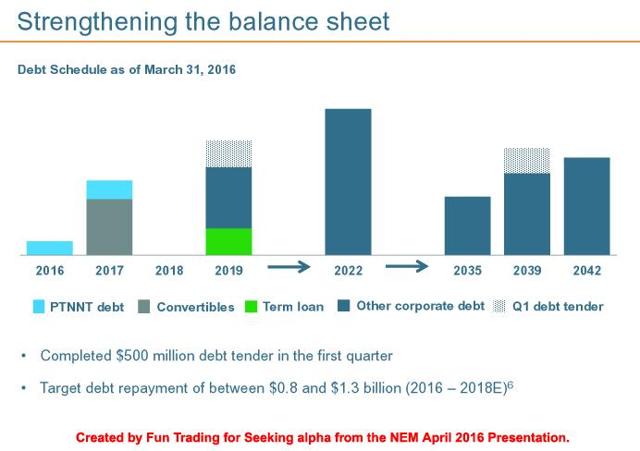 In February 29, 2016, NEM announced a $500 million debt tender, which targeted its 5.125% Senior Notes due 2019, 6.250% Senior Notes due 2039, 3.500% Senior Notes due 2022 and 5.875% Notes due 2035. The offered expired March 28, 2016. The company repaid $274 million of notes due in 2019 and $226 million due in 2039.
Ms. Mary Lauren Brlas, CFO, said in the 1Q'16 conference call:
In the first quarter, we completed a $500-million debt tender, targeting near-term maturities and highest interest rate debt. On this slide, you can see we paid down $274 million of the 5-1/8 notes due in 2019 and $226 million of the 6-1/4 notes due in 2039. This action had an NPV of $133 million and will lower our cash interest by about $28 million per year going forward. We continue to target between $800 million and $1.3 billion of debt reduction through 2018.
Debt situation as of 1Q'16 and milestone.
Newmont Mining had a Net debt of $3.393 billion -- Cash on hand $2.461 billion -- and a debt/long-term liabilities of $5.854 billion.
Mr. Gary Goldberg, CEO, should be proud of the company's achievements that have been delivered on many fronts this quarter.
Merian ($100 million below budget), Long Canyon and Tanami mine expansions are promising near-term projects that are advancing on schedule. CC & V mine expansion reached first production at the New Valley leach facility.
Divesting non-core asset by selling NEM's equity stake in Regis for $184 million.
The company managed to generate $227 million in free cash flow by reducing the AISC to $828/Au Oz, which is one of the best among its peers.
The net debt has been reduced by 16% year over year, and it completed a $500-million bond tender which will lower the company's cash interest payment by about $28 million annually.
Production snapshot:
1 - Gold production for 1Q'16 compared to 1Q'15.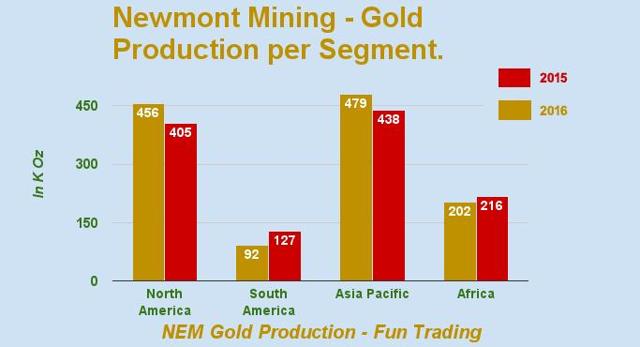 2 - AISC per segment 1Q'16 versus 1Q'15.

Mr. Gary J. Goldberg, CEO, said in the 1Q'16 conference call:
We expect steady gold production of between 4.8 million ounces and 5.3 million ounces in 2016, rising to between 5.2 million ounces and 5.7 million ounces in 2017, as new projects come online.
The guidance for 2016 is:
Production 4.825 M Oz-5.295 M Oz
AISC $880-$940/Oz
CapEx $1.135 billion-$1.355 billion.
The guidance will be certainly revised in 2Q'16.
With the proceeds from the Batu Hijau sale, Newmont will eventually pay part of its debt, strengthening further its solid balance sheet.
However, the slight problem is that most of Newmont debt is trading at a premium, and I do not expect NEM to act in this market condition. The company will probably wait a little bit.
In fact, another potential should be to invest a significant part of the proceeds from the Batu Hijau sale to finance the company strong project pipeline. The financing of the "execution" segment of the project pipeline would represent about $1 billion, and may provide an immediate contribution to NEM's gold production.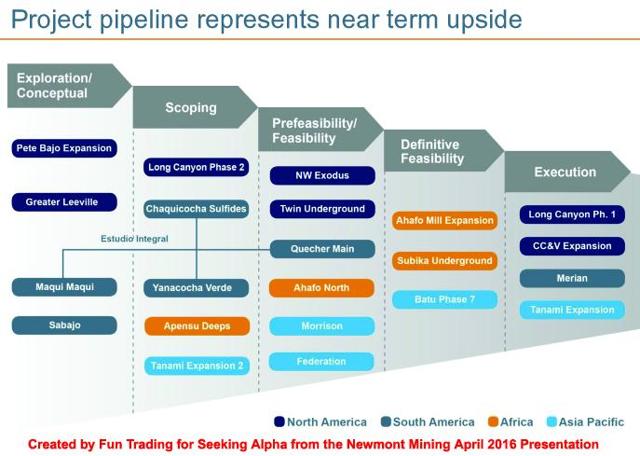 Conclusion:
Newmont Mining is one of the most substantial and reliable gold miners of its peers. I have been a long-term NEM shareholder, and I have always been struck by the company's ability to always make the best out of this volatile market.
Investing in a gold miner is not an easy task, and presents often many risks. One important prerequisite is the long-term production visibility and of course, the debt load.
Recently, gold price started to rally and trades now well over $1,350/ Oz, which was totally unexpected early this year. Brexit surprised many and help the precious metal to rally again.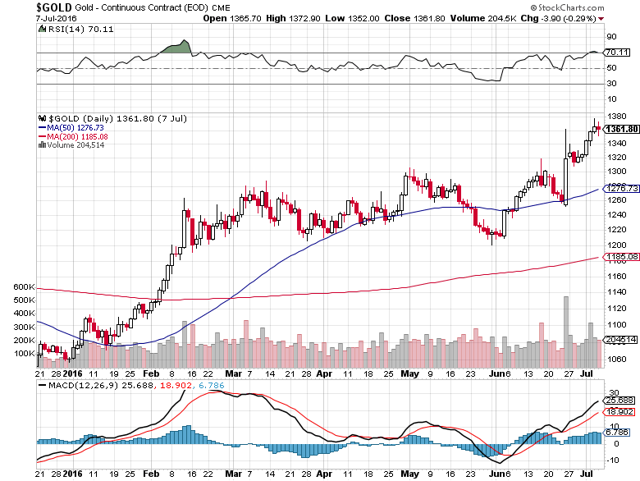 Many analysts are looking at this trend as a long-term positive, but I am really cautious on this issue. It is hard to conclude anything logical on the spur of the moment and we need a few weeks or even a few months to conclude anything about the long-term gold trend.
However, shareholders such as myself are delighted with the stock performance.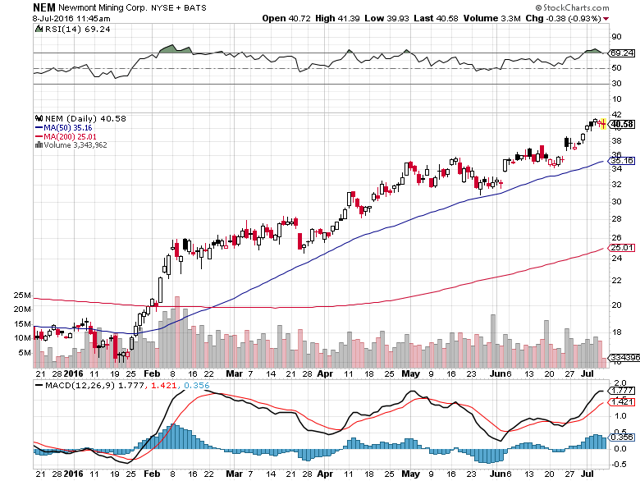 The chart above indicates that NEM has been overbought recently when RSI was >70. I took again some profit off the table (~25%) at $41.25. I always consider RSI >70 as a partial sell signal and RSI <30 as a strong buy signal.
I firmly believe the gold miners in general have reached a high valuation, now, and in order for the trend to continue strongly, we will need gold above $1,425/ Oz, which is possible but not likely in my opinion. NEM is most likely to retrace and re-test the mid 30's before resuming any positive trend.
Important note: Do not forget to be one of my followers on NEM and other gold miners. Thank you
Disclosure: I am/we are long NEM.
I wrote this article myself, and it expresses my own opinions. I am not receiving compensation for it (other than from Seeking Alpha). I have no business relationship with any company whose stock is mentioned in this article.