Intel (NASDAQ:INTC) will announce earnings for second quarter and guidance for third quarter on July 20 after the markets close. I expect Q2 earnings will disappoint the market and that Intel will talk optimistically about the future but will not be able to support strong guidance for Q3 although guidance may be slightly higher than 2015 Q3 because sales that quarter were low.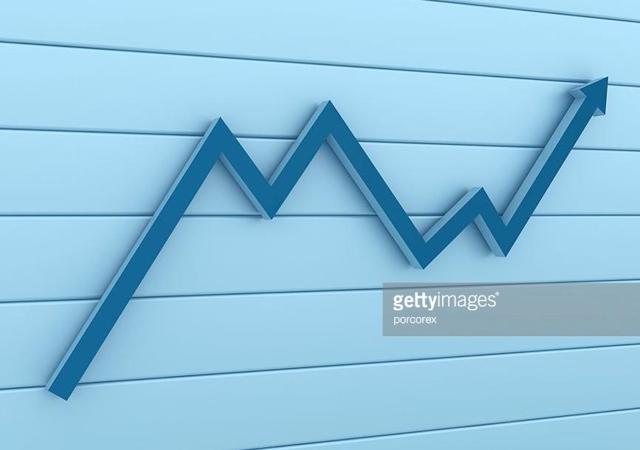 Recent Upgrades Provide Short Term Bump
The recent upgrades to Intel made by Bernstein and RBC appear to be based on long-term factors such as increasing PC sales and modem sales into some iPhones.
PC sales volumes may be increasing but the mix also is changing. There are strong PC sales in the gaming area and the more portable PC area. Unit costs in the gaming area are high but the quantities are not high enough to offset the lower unit prices and higher sales quantities in more portable PCs. I expect PC revenues to continue to drop in the high single digits or low double digits during Q2 and Q3.
The sale of modems into iPhones is critical for the future of Intel in the IoT and in the increasingly larger and all encompassing mobile arena (even if they do not sell much into mobile phones). Every computing device now is becoming more mobile or is connected to more mobile devices (e.g., desktop PCs and data centers connected to mobile devices). Intel modem success is critical to its success in being a major player in the 5G movement. Intel must have tech in mobile devices and hubs and data centers that deals effectively with communication among all devices. However, in Q2 and Q3, Intel modem sales into iPhones will have a negligible impact on overall Intel earnings.
The recent upgrades by Bernstein and RBC provide a short-term boost in market optimism and Intel stock price. Earnings for Q2 and guidance for Q3 will not be benefited by the items cited in the upgrades. The market will likely be disappointed with the stock price will likely fall after earnings are reported. Intel seems to have an endless supply of one-time accounting strategies that help to moderate drops in revenues. For example, one-time reductions in income tax often coincide with drops in sales revenues. I would not be surprised to see some sales of venture capital or Intel operations units to help moderate continuing drops in revenue.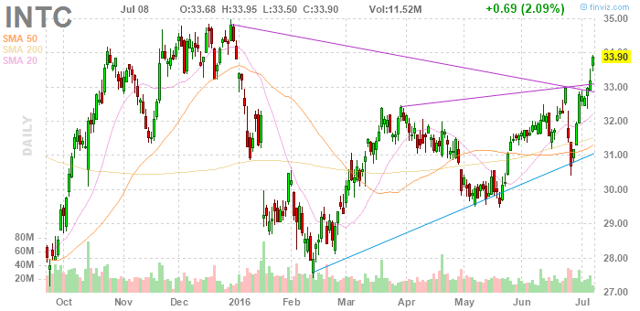 Intel Investments In Its Future
Investments in the future of Intel are huge and create a drag on margins. It is impossible for us investors to understand the full extent of Intel's investments in new tech. The new tech list is long including:
Telcom (e.g., Network Function Virtualization)
FPGA (e.g., replacing ASIC and supporting Telcom and IoT)
IoT (e.g., end to end functionality and security)
5G (e.g., developing and implementing new communications systems)
Autonomous vehicle tech (e.g., drones, cars, trucks)
Memory (e.g., 3D NAND, 3D XPoint)
10nm and 7nm
Some investment dollars show up in R&D, some in capital investments, some in employee stock options (and offsetting stock buybacks). The total of these three items routinely add up to more than $30 billion a year. In addition, transitions from one tech to another reduce output. Further, market anticipation of new tech reduces demand for older tech. These are all extremely hard to quantify. Yet they are all currently dragging on Intel margins.
Intel has embarked on a significant staff reduction effort to reduce company costs and to better prepare it for the products that will support Intel growth going forward. This staff reduction effort also is a huge investment that reduces margins in the near term with the hope of longer term benefits.
Pulling off this type of a transformational set of investments (spending on new tech and cutting costs related to old tech) while maintaining margins is an extremely difficult task that would require lots of hard work, creative accounting and luck.
I expect margins to continue to drop during this transformation at least for Q2 and Q3.
Conclusion
Intel stock price may rise going into earnings and then will likely drop after disappointing earnings and guidance associated with Q3. Longer term optimism may buoy Intel stock so shorting Intel is risky. The safest approach may be to sell now before earnings and be ready to buy after earnings.
Recent articles by me related to Intel that may be of interest:
Disclosure: I am/we are long INTC.
I wrote this article myself, and it expresses my own opinions. I am not receiving compensation for it (other than from Seeking Alpha). I have no business relationship with any company whose stock is mentioned in this article.
Additional disclosure: Right now I have a very small position (a few shares) in Intel and am looking for an opportunity to invest further.