Source: Enterprise Products Partners
Oil prices have rallied an astonishing 78% since their $26 per barrel low in early February. Not surprisingly this has meant massive rallies in energy stocks such as midstream MLPs such as Enterprise Products Partners (NYSE:EPD), and Magellan Midstream Partners (NYSE:MMP).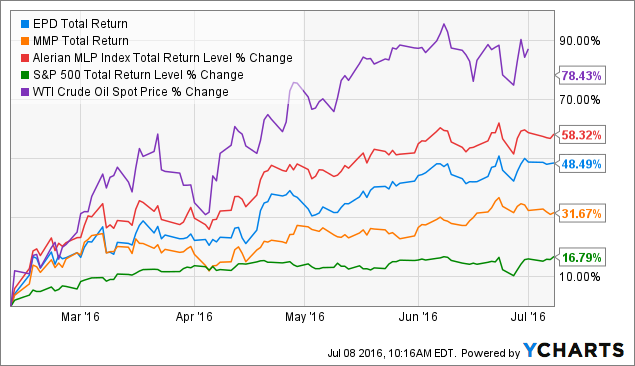 Yet, despite the nearly 50% run up in Enterprise's unit price, long-term income investors shouldn't fear buying at today's price. Read on to find out why Enterprise remains one of today's best sleep well at night high-yield investments. One that's trading at a 30% discount to its long-term fair value.
Enterprise's steady cash flow machine continues firing on all cylinders
Despite the ongoing oil crash Enterprise Products Partners reported solid Q1 2016 results, thanks to its diversified portfolio of high-quality cash flow generating assets. In fact, despite revenues plunging almost $2.5 billion, or 33% compared to Q1 of 2015, the MLP managed to increase distributable cash flow, or DCF, by 2.3%.
This allowed Enterprise to increase its distribution for the 47th consecutive quarter (by 5.3%), while still maintaining a rock solid 1.30 coverage ratio. The high distribution coverage ratio means Enterprise was able to retain $229 million in DCF last quarter. This means it continues to be less dependent on external debt and equity markets to fund its future growth than most midstream MLPs.
How was Enterprise able to accomplish this despite natural gas and oil prices averaging 22%, and 32% lower in Q1 then their respective 2015 averages? The answer lies in Enterprise's long-term, fixed-fee business model, whose contracts are written in such a way as to lock in guaranteed EBITDA margins.
With $2.2 billion in additional projects coming online by the end of 2016, and energy prices now higher than they were in the last few months, Enterprise should have no trouble achieving its targeted 5.3% 2016 payout growth target.
Payout profile points to market beating long-term total returns
| | | | | |
| --- | --- | --- | --- | --- |
| MLP | Yield | Q1 2016 Distribution Coverage Ratio | 10 Year Projected Distribution Growth | 10 Year Projected Total Return |
| Enterprise Products Partners | 5.6% | 1.30 | 4.8% | 10.5% |
| Magellan Midstream Partners | 4.3% | 1.12 | 8.0% | 12.3% |
| S&P 500 | 2.1% | 2.64 | 5.8% | 9.1% |
Over the long-term studies show that a good rule of thumb for estimating total returns is yield + dividend growth. While analysts don't expect Enterprise Products Partners to match the faster growth rate or total return of smaller Magellan Midstream Partners, none the less given the MLP's generous current yield and realistic growth prospects, it should still manage to beat the S&P 500's historic 9.1% CAGR since 1871.
Which is why I am confident in declaring Enterprise a buy at today's price, despite the near 50% rally over the past few months. Because the fact is, for a midstream MLP of Enterprise's caliber, it remains highly undervalued with respect to its long-term future cash flows and tangible book value.
Top notch management means high profitability
| | | | | |
| --- | --- | --- | --- | --- |
| MLP | Operating Margin | Return on Assets | Return on Equity | Return on Invested Capital |
| Enterprise Products Partners | 14.5% | 5.3% | 12.4% | 8.34% |
| Magellan Midstream Partners | 44.1% | 14.1% | 43.1% | 15.55% |
| Industry Average | 7.4% | 0.1% | 0.3% | NA |
As you can see, Enterprise's excellent management team is far better at generating strong profitability that grows shareholder wealth than the average midstream MLP. The reason for that is two fold. First, Enterprise is one of the few midstream MLPs, (along with Magellan Midstream), that bought out its general partner. That means it doesn't have to pay incentive distribution rights, thus lowering its cost of capital, and boosting profitability. In addition, Enterprise is very picky about where it invests investor capital. Rather than reach for growth at any price, the MLP only goes after the most profitable opportunities.
While true that Magellan Midstream manages to generate higher margins than Enterprise, keep in mind that Magellan is a much smaller MLP and thus management is able to be far more selective with which growth projects it invests in. For an older, and far larger MLP such as Enterprise to continue to generate such strong returns on investor capital, assets, and equity is indeed a testament to its long-term focused, conservative management team.
| | | | | | | | |
| --- | --- | --- | --- | --- | --- | --- | --- |
| MLP | Yield | 5 Year Average Yield | Price/Operating Earnings | Historic P/OE | Price/Operating Cash Flow | Historic P/OCF | Average Historic Discount |
| Enterprise Products Partners | 5.6% | 4.8% | 21.6 | 22.7 | 14.6 | 12.3 | 1.6% |
| Magellan Midstream Partners | 4.3% | 3.9% | 21.5 | 18.0% | 16.5 | 12.5 | -7.3% |
Also keep in mind that Magellan's stellar profitability, as well as faster growth prospects, is largely the reason it's currently trading at a premium to its historic valuation. Meanwhile Enterprise Products Partners appears to be fairly priced relative to its historic norms. However, as I'll now explain, looks can be deceiving.
Enterprise is trading at a 30% discount to its 20 year fair value
| | | | | | |
| --- | --- | --- | --- | --- | --- |
| MLP | TTM DCF/Unit | Projected 10 Year DCF Growth | DCF Estimated Fair Value | Reverse DCF Implied Growth | Margin of Safety |
| Enterprise Products Partners | $2.63 | 5.3% | $41.61 | -1.2% | 30% |
| Magellan Midstream Partners | $4.01 | 9.0% | $79.24 | 7.9% | 6% |
When it comes to determining the long-term fair value and margin of safety of a stock a discounted cash flow analysis can be very useful. While far from perfect due to its reliance on long-term growth projections that might prove inaccurate, as well as an arbitrary discount rate, a DCF analysis can still give a good general idea of what an MLP's current value of future cash flow and intrinsic value.
In this case, I used analyst estimates of Enterprise's projected 10 year DCF growth rate, a 4% terminal growth rate for years 11-20, and a discount rate of 9.1%. That allows one to estimate at what current price Enterprise Products Partners is likely to generate market beating returns over the next 20 years.
While Magellan Midstream's DCF estimated fair value is close to its current unit price, thus agreeing with its relative historic valuation comparison, Enterprise remains highly undervalued. In fact, based on its current unit price, the market appears to be pricing in negative growth for Enterprise, which is unlikely given America's still massive shale energy potential.
For example, according to energy consulting firm Rystad Energy at 264 billion barrels of oil the US holds the world's largest oil reserves. That's greater than even Russia and Saudi Arabia. Given the incredible recent breakthroughs in horizontal drilling and gains in fracking efficiency, much of those reserves are likely to prove economically recoverable over the coming decade or two.
Risks to keep in mind
Two risk factors current and potential Enterprise Products Partners need to keep in mind are the Enterprise's large debt load, and the ongoing threat of long-term low energy prices.
| | | | | | |
| --- | --- | --- | --- | --- | --- |
| MLP | Debt/EBITDA | EBITDA/Interest | Debt/Capital | S&P Credit Rating | Average Debt Cost |
| Enterprise Products Partners | 4.49 | 5.27 | 49% | BBB+ | 4.23% |
| Magellan Midstream Partners | 3.27 | 7.87 | 60% | BBB+ | 3.87% |
| Industry Average | 8.73 | NA | 61% | NA | NA |
Enterprise's balance sheet is far better than the average midstream MLP's and it has no trouble servicing its debt. None the less investors need to keep a close eye on its debt ratios going forward. That's because credit rating agencies usually want to see Debt/EBITDA ratios at 4.5 or less and Enterprise is right at that level.
Should the MLP's debt ratios rise much higher it could be at risk of losing its investment grade credit rating. That would likely mean higher debt service, refinancing, and cost of capital in the future. This would likely lower its profitability and make DCF growth more challenging going forward; resulting in potentially slower distribution growth.
Investors also need to remember that, while oil has rallied strongly over the past few months, it's still too early to declare the oil crash over. That's because plunging crude prices forced oil producers to cut costs to the bone, resulting in rapidly falling break even costs. Thus, while oil prices remain 57% lower than their mid 2014 high, some oil producers have started to resume drilling.
With around 3,900 drilled but uncompleted wells waiting to come online, and the US rig count rising for four of the past five weeks, it's possible that US oil production might soon halt its slide and even reverse itself. Combined with the end of supply disruptions in Canada and Nigeria, (which is largely responsible for the recent recovery in crude prices), oil prices may end up stalling at relatively low levels for several quarters or even years.
Which in turn would be a major blow to America's shale energy potential and could result in Enterprise Products Partners running out of profitable, needle moving projects to grow its DCF and distribution.
Bottom line: Enterprise Products Partners remains heavily undervalued and one of the best long-term income investments you can make today
Don't get me wrong, I'm not saying that Enterprise Products Partners' long-term undervaluation means that investors are guaranteed strong returns over the next year or two. After all the stock market is highly volatile and it's impossible to predict what oil prices will do in the short-term.
However, given the quality of Enterprise Products Partners' management team, it's consistent track record of distribution growth that's impervious to commodity prices, and strong profitability, I am confident that long-term income investors will do very well buying at today's long-term undervalued price.
Disclosure: I/we have no positions in any stocks mentioned, and no plans to initiate any positions within the next 72 hours.
I wrote this article myself, and it expresses my own opinions. I am not receiving compensation for it (other than from Seeking Alpha). I have no business relationship with any company whose stock is mentioned in this article.