Apple Pay (NASDAQ:AAPL) got off to a highly publicized slower than expected start. The media has dedicated considerable time writing about the service's shortfalls and implying that it is doomed to failure, which we believe is premature. In fact, we believe there are many reasons to remain optimistic about Apple Pay's prospects. We discuss 11 in this article.
Still Early in the Development of e-Payments - We believe there's room at this early stage for multiple players to benefit from the anticipated growth of electronic and mobile payments. Although not a first mover, Apple Pay has early mover advantage in the space, in our view. Electronic payments are growing as transactions shift to online and mobile, driven in part by expanding access to the internet. Mckinsey forecasts that total electronic payments volume will grow by about 7% per annum over the next five years.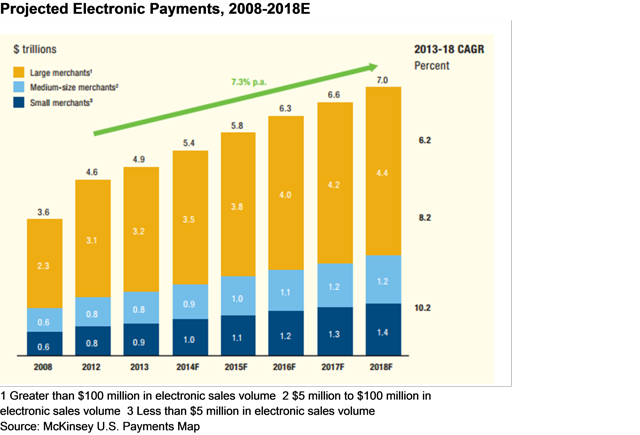 e-Commerce Continues to Expand - Digital commerce, which is growing rapidly, will drive electronic payments. In fact, McKinsey's forecast is predicated on continued expansion of digital commerce and rising electronic payments acceptance at small merchants. Globally, e-commerce is projected to reach 12.8% of total retail expenditures by 2019, up from an estimated 7.4% in 2015, according to eMarketer. Reflecting rising consumption among younger, internet savvy users, eMarketer expects e-commerce to continue to grow, which implies expansion of the e-payment sector, as well, and opportunities for Apple Pay to benefit from its anticipated expansion.
Mobile Growing Rapidly - As e-commerce expands, mobile payments are increasing at a faster pace than desktop payments. Mobile accounted for 34% of total global e-commerce transactions at the end of 2015, up from 30% at September 2015, according to global payments technology company Adyen. In some markets, mobile represented an even higher percentage. For example, 49% of online transactions were made using mobile devices in the U.K., 35% in The Netherlands and 32% in Sweden. The U.S. lagged, at 29%.
Mobile In-Store Positioned For Growth - Older payment infrastructure has been a roadblock for in-store mobile transactions, but that is changing. POS (point of sale) terminals equipped with NFC (near-field communication) technology account for less than an estimated 10% of all terminals in the U.S. NFC allows two devices placed within close proximity to exchange data, as long as both devices are equipped with an NFC chip. At the same time, a relatively small percentage of U.S. smartphones support NFC contactless mobile payments. However, as retailers upgrade POS infrastructure and as people upgrade their smartphones - U.S. consumers average an upgrade every 1.7 years - NFC penetration is expected to rise. This is good news for mobile payment providers such as Apple Pay, which has streamlined and improved the security of the checkout process.
Apple Pay Has Expanded to Desktop - Apple Pay launched as a mobile first service. However, online transactions using a laptop or desktop computer still outpace those made using mobile devices, despite the rapid expansion of mobile. Apple Pay needs to operate in both niches, in our view, as more than 70% of online retail purchases are still made on computers, according to Marketing Land. Apple recently announced a web-based initiative for the service, putting Apple Pay into what's currently the more heavily used area of e-payments.
Enhanced Security Will Drive Usage - Convenience, consumer confidence and retail acceptance will drive electronic payment usage. This is where Apple Pay can leverage its installed device base and technology, we believe. Apple Pay uses biometrics to protect the security of the transaction. Users confirm purchases with the fingerprint sensor, in turn enhancing consumer confidence. Apple intends to integrate its fingerprint sensor to make desktop-based Apple Pay transactions more secure, as well.
Apple Pay Continues to Expand Geographically - Apple Pay debuted domestically in October of 2014 and expanded into the UK in July of 2015 and into China and Singapore more recently. Apple has indicated that it will soon expand Apple Pay to France, Hong Kong and Switzerland and a limited version of the service is already available in Australia and Canada. It goes without saying that Apple Pay will do better in certain markets than others. For instance, in China, Alibaba (NYSE:BABA) was already a major competitor in the digital payments space before Apple Pay entered the market. Other markets may be easier for Apple Pay to gain traction.
Slow Start, But Accelerating Growth - In terms of growth, Apple Pay got off to a slower than expected start. Consulting firm First Annapolis conducted a survey of 1,300 people and found that awareness and usage of Apple Pay declined slightly from spring 2015 to December 2015. However, more recently, Apple management has noted that "Apple Pay is growing... with more than five times the transaction volume of a year ago." Services revenue, the category in which Apple Pay is recorded, grew 23% in the first half of fiscal 2016 to 10% of total revenue from 7%. (Apple Pay is just one component of Service revenue.)
Control of the Apple Ecosystem - Apple Pay is available through the Apple ecosystem. This means that Mac users, iPhone users and people who wear Apple watches can use it fairly easily. Apple can continue to leverage this ecosystem to promote the use of Apple Pay to drive adoption.
Continued Retail Integration - Retail integration thus far has been disappointing. In September 2014, Apple was available in only 220,000 locations. The number of sites accepting Apple Pay has grown to over 2.5 million in the U.S., with the number of U.S. retailers that accepted Apple Pay at year-end 2015 up seven-fold since the service was launched, according to 9to5Mac. We believe Apple Pay can continue to grow as it adds new retailers. Apple also indicated that Target (NYSE:TGT), Expedia (NASDAQ:EXPE), Etsy (NASDAQ:ETSY) and United (NYSE:UAL), among others, will integrate Apple Pay to their websites for desktop transactions.
Incentives - Kohl's (NYSE:KSS) is the first retailer to link rewards to Apple Pay, enabling consumers to use Apple Pay and earn Kohl's reward points. We view this positively for Apple Pay and would even like to see Apple Pay offer its own rewards to incentivize consumers to use the service. Starbucks (NASDAQ:SBUX), for example, offers rewards such as free drinks to people who use the cashless Starbucks card. Starbucks is often cited as one of the most successful companies driving electronic payments.
Disclosure: I/we have no positions in any stocks mentioned, and no plans to initiate any positions within the next 72 hours.
I wrote this article myself, and it expresses my own opinions. I am not receiving compensation for it (other than from Seeking Alpha). I have no business relationship with any company whose stock is mentioned in this article.