MannKind (NASDAQ:MNKD) investors have had a tough 6 months where many have tried to divide up the blame pie for what has thus far transpired with the diabetes drug Afrezza. From this point forward, MannKind has 100% control over its drug, its marketing, and essentially whether or not MannKind can make a go at recovering.
The script sales this past week came in a bit shy of 270. This represents a starting point for Q3 that slightly ahead of what I had anticipated, but still leaving an uphill challenge in place for some 60 to 70 sales reps. These sales reps were actually hitting the street this past week, but for the purpose of tracking, it makes sense to call Q3 the beginning of the MannKind sales era.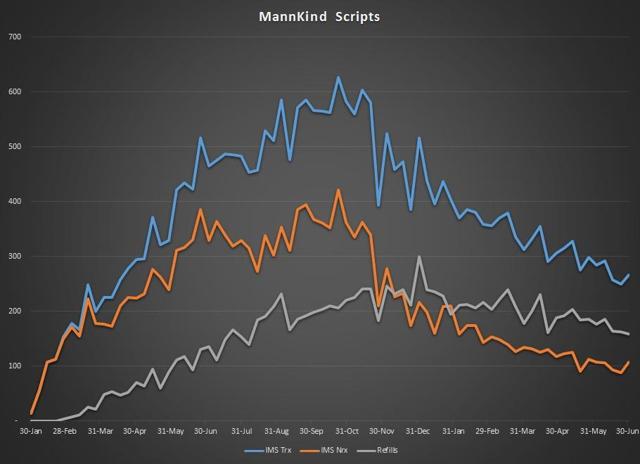 Chart Source - Spencer Osborne
On a quarter over quarter basis the numbers are not pretty. Sales in Q1 of 2016 totaled 4,923. Sales in Q2 dropped by almost 22% to just 3,849. This was the weakest quarterly sales of the drug since the first quarter in which the drug was launched.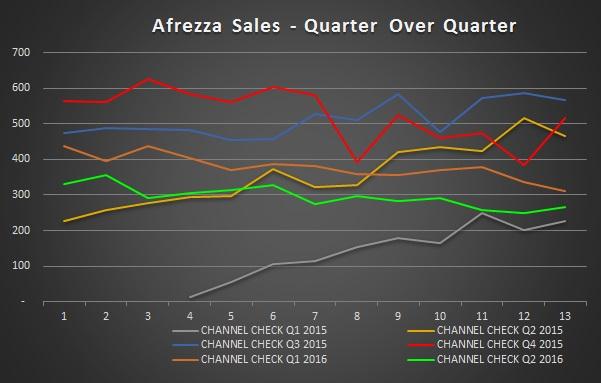 Chart Source - Spencer Osborne
On a year over year basis we can see that Afrezza's Q2 of 2016 was 17% lower than the performance that was turned in for Q2 of 2015. The overall chart showing a year over year comparison illustrates the challenges that are ahead for the MannKind sales team.
Chart Source - Spencer Osborne
MannKind now has a dedicated team of between 60 and 70 sales reps that are located in targeted areas and will be solely focused on educating doctors about the attributes of the drug. Having solely dedicated reps is a positive. Having to pay for those reps is a negative. MannKind investors need to quickly understand that the company financials will look very different as we move forward. This is not about whether the MannKind sales force can do better than the former Sanofi (NYSE:SNY) as if it is a competition. This is about whether the MannKind sales force can drive enough sales to make an appreciable difference in the equity.
What MannKind has indicated is that it anticipates spending between $10 million and $12 million per month. No reasonable person would expect that the sales would cover such costs immediately. That being said, the sales do need to demonstrate an ability to get to that point sooner rather than later. The cash position of MannKind is such that cash burn is a luxury that this company can ill afford.
I have encouraged investors to model out their expectations. I developed and published my expectations long ago, and some readers seemed to feel that my expectations were very low. I had readers make statements about what they thought was realistic, but it was clear that they likely did not model those expectations. One reader felt that the MannKind sales force would deliver a weekly average of 3,000 scripts per week in the second half of the year. That model looks like this: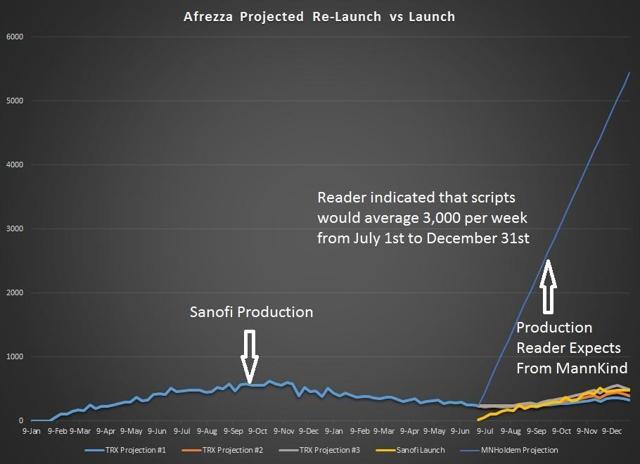 Chart Source - Spencer Osborne
I took the opportunity to model the expectations of that reader. Once he saw what the model looked like, he shifted his expectations to getting to 3,000 scripts by December 31st. That model is below: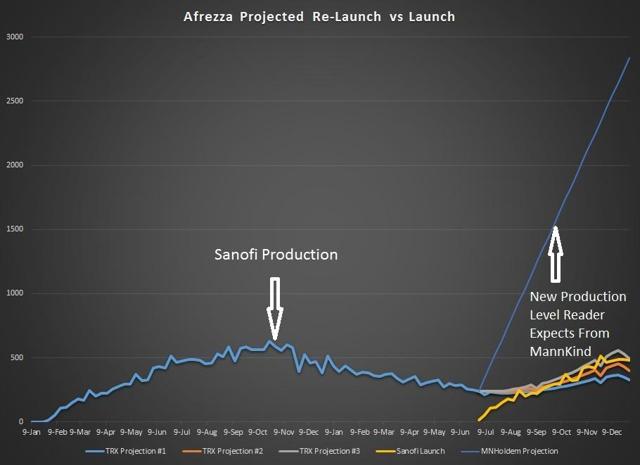 Chart Source - Spencer Osborne
The reason I encourage people to model expectations is simple. It actually forces you to be more realistic. When I developed my models, I took an approach to being realistic about a smaller sales force, a sales force that is regional instead of national, and a sales force that is trying to sell a drug that many doctors have already had exposure to. I even went so far as to present a tiered model with three trajectories. Now that I have the starting point of 266 scripts, I have cast my models in stone to see how they will compare to actual sales. The starting point of may models, and the actual starting point of 266 are all the same. The first chart below outlines my expectations, and will begin to reflect the actual performance of the MannKind team as the weeks progress. The second chart below overlays the initial launch of Sanofi back in 2015.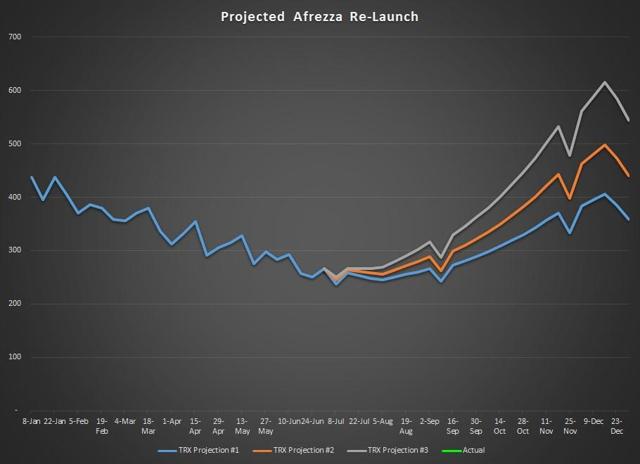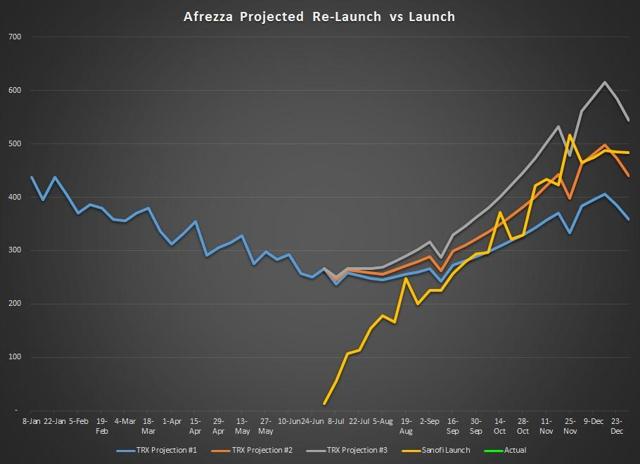 Source of Charts - Spencer Osborne
As you can see from the charts above, my most bullish model has a higher trajectory than what was delivered by Sanofi last year. My most bearish model is slightly lower. In my opinion, my models would be considered realistic by most reasonable people. To be clear, even my most bullish model is not actually being bullish on the prospects of the equity.
My most bullish model delivers just 10,625 scripts in the second half of the year. Using a gross average revenue per script of $300 would only bring in about $3.2 million. With conservative cash burn of just $10 million per month, the loss is $57 million. For clarity, modeling what I expect does not equate to the equity being a good investment if my expectations are met. If we wanted to see $10 million in revenue per month, then weekly scripts would need to be over 8,000. My most bullish model has peak scripts at just above 600 between now and the end of the year.
This begs the question of what scripts need to be in order to impress the street, and demonstrate a path to profitability. In my opinion, MannKind needs to show a trajectory that will get to 8,000 scripts within 18 months or so in order to remove the nay-sayers from the mix. As I have long stated, this is a very, very, very challenging task.
My challenge to readers is this. Have the courage to model your expectations. Have the courage to assess your investment if those expectations are not being met. Have the courage to discuss what is probable, not what is possible. Anything is possible, but we need to be able to look at what is actually probable. Investing in what is possible is investing with a lot of hope. Investing in what is probable is investing on data and realities.
Investors also need to understand that there will be pressures that impact this equity in different ways. Investors that bought at a buck can sell at $2 and have a 100% profit. Not a bad play. Meanwhile, investors that bought in at $10 are still facing an 80% loss at that same $2 price point. Savvy speculators that bought the bottom will apply selling pressure as the equity moves up. Understanding how speculative this play is is paramount.
I have had readers lament that MannKind is undervalued. That may be the case, but outline why you feel that it is undervalued with numbers, models, and projections. Break this company down into its parts and put current values on those components. The readers that feel that MannKind is well undervalued may be right, but I have yet to see many people really spell out compelling reason as to why, and when they feel it will get to the values that they feel the company is worth.
My opinion that this company has many challenges ahead is not going to win me any popularity contest. I do not care about being popular. I care about what is probable, and what that means to the equity. I am not invested in MannKind. I have no intent to invest in the near future. There may be a time when I consider making a play. What it would take for that to happen is the sales of Afrezza demonstrating that they can get this company on a financial path that is compelling. Even if the company were to exceed my most bullish sales projection by a wide margin, it would likely not be enough for me to get bullish on the prospects that are currently in front of me. If MannKind was about half of its current price right now, I would see it as a speculative risk that might be something to take a flyer on. In no circumstance would i go heavy until I saw compelling evidence that the sales can carry this company through. Stay Tuned!
Disclosure: I/we have no positions in any stocks mentioned, and no plans to initiate any positions within the next 72 hours.
I wrote this article myself, and it expresses my own opinions. I am not receiving compensation for it (other than from Seeking Alpha). I have no business relationship with any company whose stock is mentioned in this article.