Are you an investor who wants to know more about the directors and board candidates who represent you, particularly at Facebook (NASDAQ:FB)? Although activist and institutional investors have had the benefit of increasing their face-to-face interactions with corporate directors, it is extremely challenging as a retail investor to really analyze the directors who represent us in the boardroom.
When looking at Facebook compared to other global companies, their board of directors is certainly unique. Some of the most impressive names in Silicon Valley and beyond are guiding and overseeing the direction of the company on behalf of shareholders. But, how does this board stack up to other technology companies in their peer group such as Apple (NASDAQ:AAPL), Adobe (NASDAQ:ADBE), Salesforce.com (NYSE:CRM), EBay (NASDAQ:EBAY), LinkedIn (NYSE: LNKD), Netflix (NASDAQ:NFLX), Twitter (NYSE:TWTR), and Yahoo (YHOO)?
At Enlight, we developed a proprietary model to help shareholders map board skills across a broad spectrum of companies and investments. Here's how Facebook compares: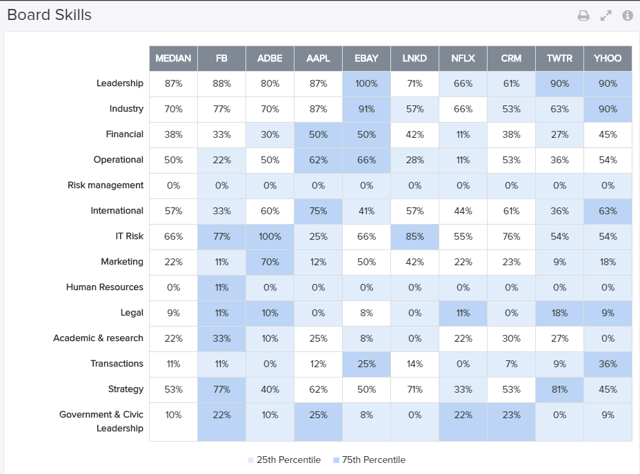 Source: Enlight Research, LLC
As you can see from the table above, Facebook's directors are in the 75th percentile in terms of directors with IT / Risk Oversight, Human Resources, Legal, Academic, Strategy and Government & Civic Expertise. The team falls in line with the median peer group in Leadership skills, Operations and Financial expertise. Based on their global strategy, which I outlined in a previous Seeking Alpha Post Lean in or out of Facebook?, it might be prudent for Facebook to consider whether adding a board member with more international skills (or perhaps more clearly disclosing the international experience of their current board of directors). It is also interesting to note that enterprise risk management is not a skill referenced by the directors of any company in this peer group. At a minimum, you would think technology companies with payment processing applications, such as ApplePay would want to have risk oversight expertise on their board.
It is very rare for a company to disclose their board skills matrix-and when they do disclose it, it is often in response to an activist slate of nominees. Yet, the right skills (and diversity) mix is critical to the long-term success of a company and an investment. While it is difficult to qualify the effectiveness of a board based on individual directors' skills, without this information, investors will draw their own conclusions about the board composition. That's why, as investors, it's our obligation to understand who is representing our interests and have a perspective about how well the board is serving shareholders.
What do you think? It is important to understand the board who is representing shareholders? Is this a critical component in your decision making process before investing in a stock?
Disclosure: I/we have no positions in any stocks mentioned, and no plans to initiate any positions within the next 72 hours.
I wrote this article myself, and it expresses my own opinions. I am not receiving compensation for it (other than from Seeking Alpha). I have no business relationship with any company whose stock is mentioned in this article.