WingStop (NASDAQ:WING) is a high-growth, largely franchised restaurant chain. It is among one of the most popular upstart restaurant chains in the United States and consistently positive comps coupled with a long runway for unit growth equips the company with a strong long-term growth story.
Yesterday, the stock got a bump from a bullish Wedbush research note which slapped a $35 price target on the stock. Today, despite a broader market rally from a surprisingly good jobs report, shares are off more than 8.5%. It looks like a bearish Canaccord report on US restaurant comps is partially at fault for the decline, but we think the story is more so one of an overextended valuation which has priced in more growth than is appropriate.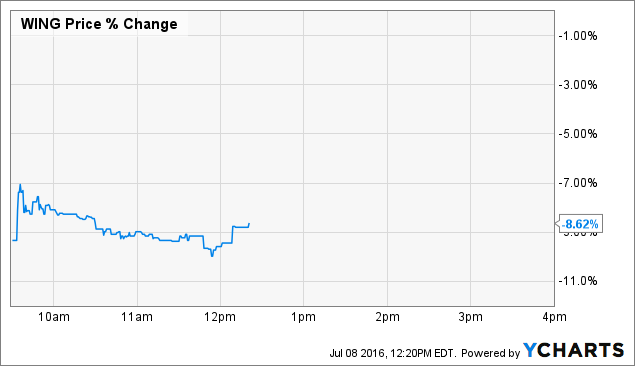 WING Price data by YCharts
Revenues grew 16% MRQ on unit growth of 17.2% and domestic comps of 4.6%. The FY16 guide calls for 14-15% growth on 15% unit growth and LSD comps. Adjusted EBITDA is guided to grow 16% and adjusted EPS is guided up LSD.
Undoubtedly, these are strong growth figures, but they are a marked discount to the stock's multiples. The stock is trading at 8.2x FY16 sales, and that's a steep multiple for mid-teens sales growth and LSD comps. Moreover, the LTM PSR is 10.5x, dramatically higher than fellow upstart restaurant chain Shake Shack's (NYSE:SHAK) 2.9x LTM PSR. This doesn't add up to us, considering SHAK is guiding for 30% revenue growth this year (versus mid-teens for WING) on MSD comps (versus LSD for WING). WING shouldn't be trading at this significant premium to SHAK on a PSR basis.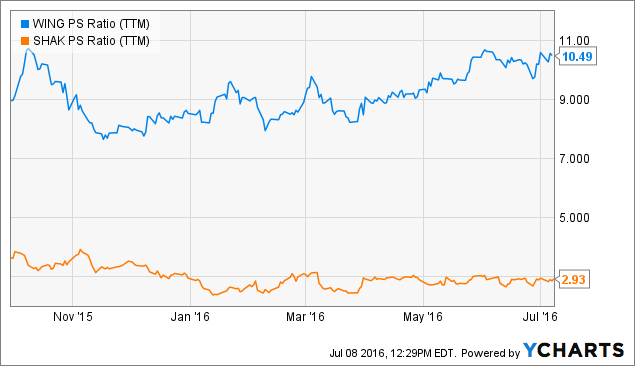 WING PS Ratio (TTM) data by YCharts
The story is similar across several multiples. The stock is trading at 22x FY16 adjusted EBITDA on adjusted EBITDA that's likely positioned to grow at a mid-to-high teens rate over the next five years (unit growth will persist and margin expansion could potentially drive YoY growth higher than this year's 16% guide). That isn't attractive pairing, and investors should remember that this an adjusted EBITDA number, not actual EBITDA.
The stock is actually trading at 47x trailing EBITDA, again a premium to SHAK's 39x EBITDA multiple.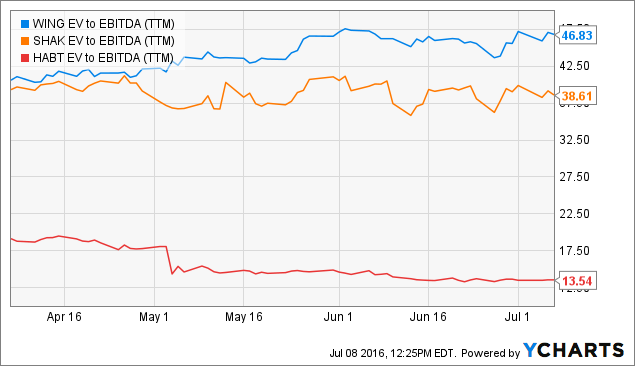 WING EV to EBITDA (TTM) data by YCharts
It should be noted that there are certainly several tailwinds one could argue justify the premium valuation. Unit growth potential is significant, with the company targetting 2,500 locations in the long term versus 845 last year. A largely franchise restaurant base will allow for significant SG&A leverage through revenue scale, and margins should expand consistently long term if comps can continue to grow. A social ordering platform shows the company is appropriately leveraged to target the all-important Millennial generation.
But it should also be noted that this is a greasy wing restaurant in a growingly health-conscious society. This makes us question the likelihood of the 2,500 long-term location target. We are not convinced the market is that big. This also makes us question the likelihood of long-term positive comps. We are equally unconvinced growingly health-conscious consumers will continue spending more at WING. It also doesn't help that this health trend is more prevalent among young consumers and that negates some of the leverage the social ordering platform delivers.
Nonetheless, we model for more than 100 net new store openings per year and LSD comps into 2025. We aggressively model for consistent margin expansion every year and contain capex projections to be a minimal percent of sales.

Even under these aggressive modeling assumptions, we still can't get to a $25 share price. In our DCF, we use a hyper-growth 4% perpetuity rate and still only get to a $17 fair value. That implies the current price is more than 30% higher than fair value.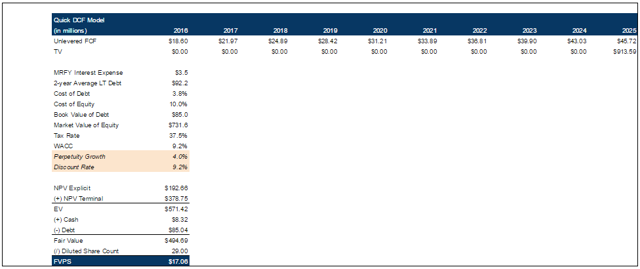 There's no doubt that WING is a strong growth company, but the stock is priced for more growth than is appropriate. Investors also should consider that WING is a rather unhealthy chain in a growing health-conscious society, and that concern is not at all baked into the price. We think WING is actually a good short candidate here.
Disclosure: I/we have no positions in any stocks mentioned, but may initiate a short position in WING over the next 72 hours.
I wrote this article myself, and it expresses my own opinions. I am not receiving compensation for it (other than from Seeking Alpha). I have no business relationship with any company whose stock is mentioned in this article.