Weekly Real Estate Recap: Homebuilders Surge, REITs Hold Serve
The "goldilocks" economic environment for Real Estate Investment Trusts continues, as strong job growth, low sovereign yields, and tight construction lending continue to put upward pressure on rents and downward pressure on vacancy. While REITs are seen by many generalist investors as "defensive" names that depend on low rates, the reality is more nuanced, as long-term growth in cash flow is dependent upon strong economic conditions, coupled with moderate net growth in supply. Risk free yields may dictate short-term price moves as investors "search for yield," but long-term holders should remain focused on underlying fundamentals.
Last week, we published our mid-year update (REITs Outperform by 8%), which discussed how real estate equity continue to perform well amid moderating new supply, which had appeared to be heating up in 2014 and 2015. Analysts estimate that commercial properties have appreciated roughly 2.5% YTD as cap rates have remained steady.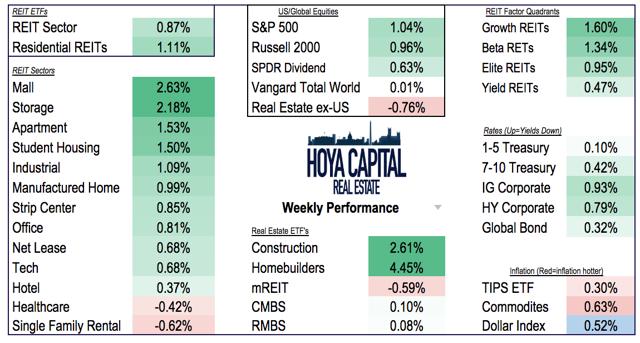 Boosted by the stronger than expected NFP jobs report on Friday morning, the REIT sector (NYSEARCA:VNQ) finished the week higher by about 1%, in-line with the S&P 500 (NYSEARCA:SPY) return of 1%. The parity in weekly performance hides the risk-on/risk-off trading during the week in which REITs typically outperform on the risk-off days and underperform during the risk-on trading days. Residential REITs (NYSEARCA:REZ) outperformed the broader index as storage and apartments finished higher, but remain underperformers YTD.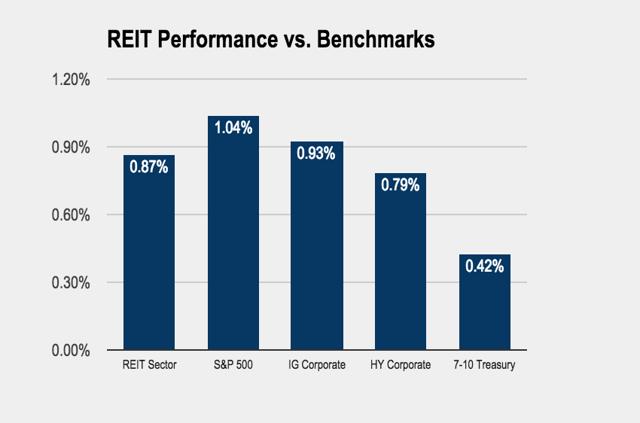 Homebuilders (NYSEARCA:ITB) surged on the strong economic data, finishing the week up roughly 4.5%. Mortgage REITs (NYSEARCA:REM) finished slightly lower, while global real estate (NASDAQ:VNQI) finished lower as well continuing a negative trend since the Brexit vote.
Investment grade corporate bonds (NYSEARCA:LQD) and high yield bonds (NYSEARCA:JNK) finished higher as spreads continued to tighten and global sovereign bond yields continued their decline. Spreads on the BBB-10 Year Treasury ticked down from 211 to 209 basis points. We view BBB spreads as a critical metric for evaluating commercial real estate, particularly the lower growth, higher yield names.

Sector Performance
Mall, Storage, and Student Housing were the top performers on the week, while Single Family Rentals and Healthcare were the sole negative sectors.
Malls were led by strong outperformance in the lower quality malls, particularly WPG, which surged over 5% on the week.
Single Family Rentals were dragged lower by Altisource Residential (NYSE:RESI) which finished the week down about 3% despite a 5% surge on Friday.
In the Tech space, the leader for the year, Coresite (NYSE:COR) continues its relentless march higher, finishing the week up 4.5%. The data center REIT is up over 90% over the past 52 weeks.
Apartment REITs are up near 8% over the past month, recovering much of the YTD losses sparked by Equity Residential's (NYSE:EQR) warning last month discussing weakness in costal markets due to new high-end supply coming online.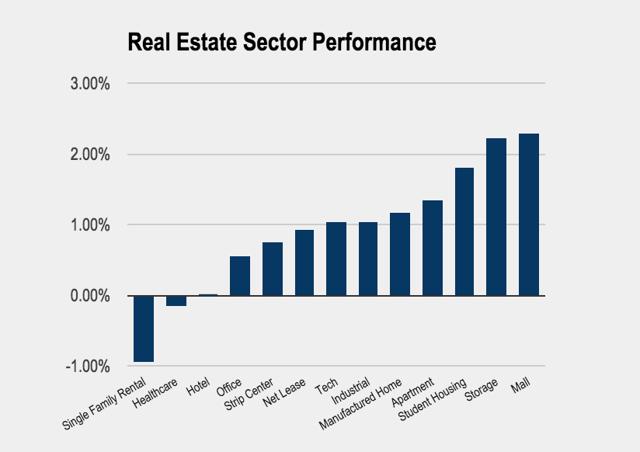 Growth REITs, an index of high growth and low payout names, led the charge higher by 1.6%, followed by a bounce back in Beta REITs, an index of the most highly leveraged REITs, but are still underperforming for the year. Elite REITs, those REITs included in the S&P 500 index, performed in line with the broader REIT index. Yield REITs, a proprietary index of the most yield-sensitive REIT names, lagged on the week, but show strong outperformance on the year.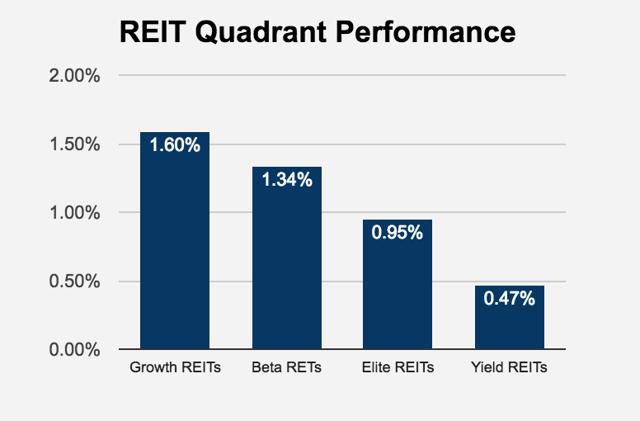 Deeper Dive
We continue to monitor Bluerock Residential Growth REIT (NYSEMKT:BRG) from afar. We published an article analyzing some of the aggressive accounting practices and conflicts of interest that are apparent at the externally managed REIT. (The Numbers Don't Add Up At Bluerock Growth REIT). We maintain that these practices are unquestionably unethical, and the company's significant underperformance since inception raises questions about the sustainability of their model. The company has not addressed any of the concerns raised.
DA Davidson, interestingly, raised the price target following the publication of the article amid a sharp early morning 5% decline in share price. DA Davidson serves as one of the primary underwriters for their frequent equity offerings. BRG's share count has exploded from 3.5 million in April 2014 to over 20 million today, despite persistently trading at a significant discount to Net Asset Value.
To recap, our concerns center around nearly 40 pages of "Discussion of Risks" in the 10-K that reveal some of the most egregious instances of conflicts of interests we've ever seen in a REIT. While externally managed REITs are notorious for questionable corporate governance procedures, we view Bluerock as several deviations below that already low standard.
Another concern is the company's highly unusual calculation of Adjusted Funds from Operation (AFFO), coupled with Bluerock's heavy use of that metric in press releases, investor presentations, and performance-based compensation.
Bottom Line
As we continue to emphasize, a "choppy" economic environment is a good scenario for REIT outperformance. Yields remain low, construction remains muted, and demand and rental pressure is moderately positive.
Wage growth is important for the continued growth in rental income, and REIT investors shouldn't expect the 4%+ growth in apartment rents to continue. 2%-3% growth, slightly outpacing inflation, is certainly achievable if supply remains tight.
In August, GICS will separate REITs from the Financials sector, a long-overdue separation given the low correlation between REITs and their financial peers. We plan to outline several theses for how the separation will impact the sector in a forthcoming article.
Finally, we urge investors to be wary of externally managed REITs, a rather archaic corporate governance structure that has given way to internal management for the vast majority of companies in the sector. Investors should hold executives of externally managed REITs accountable for underperformance resulting from poor corporate governance and conflicts of interest.
Disclosure: I am/we are long EQR.
I wrote this article myself, and it expresses my own opinions. I am not receiving compensation for it (other than from Seeking Alpha). I have no business relationship with any company whose stock is mentioned in this article.