Paramount Gold Nevada (NYSEMKT:PZG) has had an amazing +75% pop in the last five trading days. Apparently some investors only just now discovered the stock when the news of the company's acquisition of Calico Resources Corp. (OTCPK:CVXHF on the US OTC market, CKB on the TSX Venture Exchange) was made final this week. But Paramount announced the agreement to make this deal back in March, so it wasn't a surprising development at all.
When the stock was trading around $1.60/share, it was an excellent value. Now above $2.50/share, it's not such an outstanding value. Gold mining investors can find better value elsewhere, such as in International Tower Hill Mines (NYSEMKT:THM), which I wrote about earlier this week.
The company owns the Sleeper Gold Project in Nevada, and with the acquisition of Calico it now owns the Grassy Mountain Gold Project in Oregon. They claim an impressive total of 5 million ounces of Measured and Indicated Mineral Resources of gold. My concern is about how much of that gold they will ever be able to bring out of the ground.
A gold mine project in Oregon is a big gamble. Many people in the state are pro-mining, but many people in the state also are anti-mining due to environmental concerns. This article in The Oregonian newspaper in 2012 explained the concerns and obstacles that are holding back gold mining in Oregon. This situation could change, but it's a gamble, not a guarantee.
Nevada on the other hand is of course the best state in America for gold mining. Paramount's Sleeper project boasts 3.4 million ounces of Measured and Indicated gold mineral resources as stated in the December 2015 Preliminary Economic Assessment.
That sounds great, but the problem is that the same document gives a projection for the actual gold production over the life of the mine, and it only amounts to 92,400 ounces per year for eight years, for a total of only about 750,000 ounces: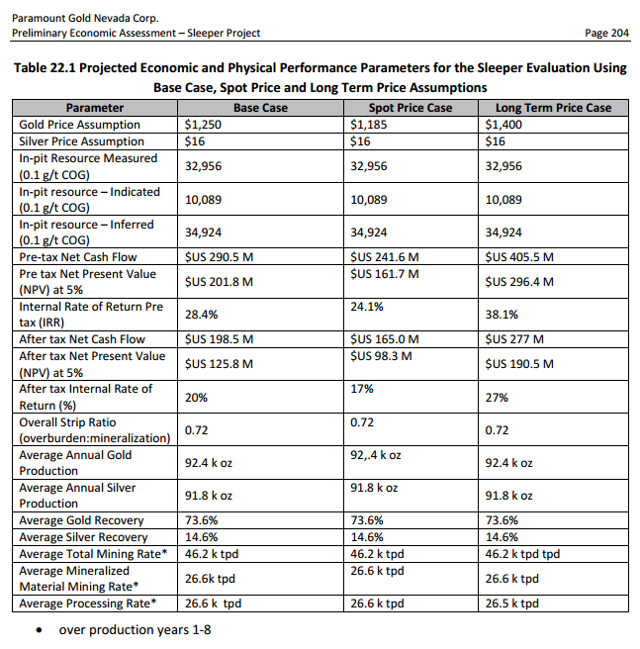 Now it's true that many of us investors are betting on higher gold prices in the years ahead, which will improve the economics of the mine and allow Paramount to produce more gold for more years. But it's concerning that we can't see a formal table with projected data of what such a best case scenario might look like. The document does briefly mention such a possibility, but not with anything like the detail of the above table: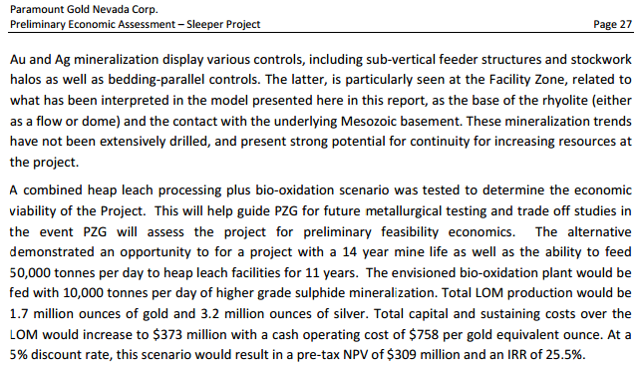 So Paramount mentions one scenario where they might be able to produce 1.7 million ounces of gold. That's a lot more than their formal life of mine projection of 750,000 ounces, but still only half of the 3.4 million Measured and Indicated ounces that they declare in their report. And this paragraph of text does not offer the details that a formal projection like Table 22.1 above would provide.
It's tough to put a proper valuation on a company when you don't know if they're going to produce 5 million ounces, 3.4 million ounces, 1.7 million ounces, or only 750,000 ounces of gold. I think it made sense to take a chance on Paramount Gold Nevada's stock when it was down at $1.60/share, and even 750,000 ounces of gold offered some value.
But after this week's run-up in the stock price, I can't tell if it's a good value or not anymore. I have plenty of other options in the gold mining sector where I'm much more confident I'm getting excellent value. So I recommend you take profits on Paramount Gold Nevada at the current price and invest it in better opportunities elsewhere.
Disclosure: I am/we are long THM.
I wrote this article myself, and it expresses my own opinions. I am not receiving compensation for it (other than from Seeking Alpha). I have no business relationship with any company whose stock is mentioned in this article.
Editor's Note: This article covers one or more stocks trading at less than $1 per share and/or with less than a $100 million market cap. Please be aware of the risks associated with these stocks.