"To me, the "tape" is the final arbiter of any investment decision. I have a cardinal rule: Never fight the tape!" …. Martin Zweig
The last two months haven't worked out too well for those predicting it was time to leave the stock market. There were plenty of market pundits offering their advice to do just that and more back in April.
"Sell in May" didn't materialize, and the "June Swoon" selloff that was predicted didn't work out too well for the naysayers. The S&P held steadfast on strong internals despite the British deciding to upset the investing apple cart late last month.
I didn't buy into the "Sell in May" story and said so back then. The market action and strong internals were my clues not to go along with the June swoon talk, despite the warnings of the dangers that were around us.
In my view there was no reason to be selling or perhaps shorting and hedging. The actual results confirmed the conviction to remain focused with that mindset. The S&P started the month of May at 2065, and ended the month at 2097. Despite Brexit, investors saw the index close out June at 2103.
I was, and still remain on a totally different page than many when it comes to a stock market outlook.
Bespoke Investment Group tells us that July has been a bright spot for investors who share a positive stance on U.S. equities.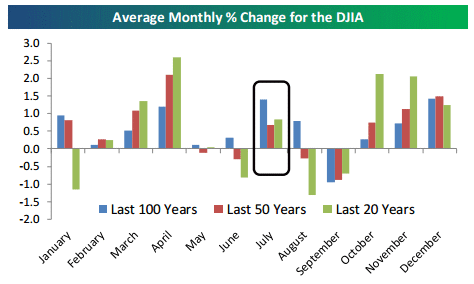 Source: Bespoke
History indicates that for the entire second half of the year, equity market performance tends to be a bit of a momentum story. In years where the S&P 500 has been up 10%+ in the first half, it has gained an average of an additional 9% in the second half with positive returns nearly three quarters of the time.
When the S&P 500 is up but less than 10% (the situation now), the S&P 500 has been just as consistent to the upside, but the average gain has been just a little more than half as much. Finally, when the S&P 500 was down in the first half, the average second half returns were mixed, but the frequency of gains has not been nearly as consistent.
While all of that is an interesting backdrop, the simple fact is investors continue to be inundated with negatives. No matter what financial website or research note you look at, it is difficult to escape someone telling you why you can't invest in certain asset classes or employ certain strategies.
I have been a proponent of the idea that loading up on cash and sitting on the sidelines is nothing more than a very short term solution to a long term problem. If one truly wishes to build wealth over the long term they have to take some risk with their capital.
There will come a time when an individual has to set out with a plan to do something or they will find their assets being eaten away by inflation. After all one can't expect to satisfy their retirement needs without a plan that will contain some uncertainty. There are inherent risks in the stock market and that is why it is one of the best vehicles to fund that retirement and build true wealth. The chart below illustrates this perfectly, and of course includes the huge drawdowns that occurred during this time frame.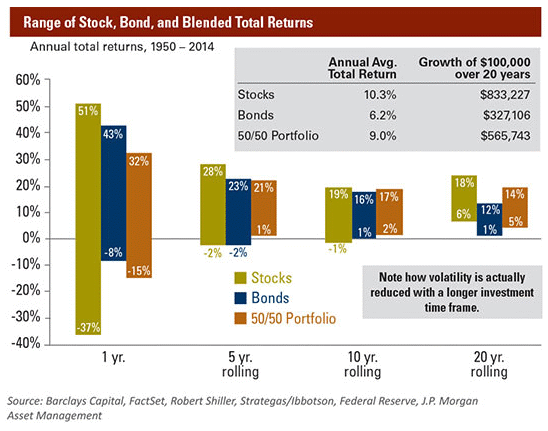 For those that can look out a number of years, it may be wise to ignore those that say the market hasn't done anything this year, or it has gone nowhere since early 2015. I have, and will continue to debate those clinging to the idea of non performance as a negative by citing two words, dividend returns.
Be that as it may, forget about any short term period and concentrate on the long term approach to investing. While this graphic is dated, you will get the idea of how powerful stock market returns have been over time, when dividends are included.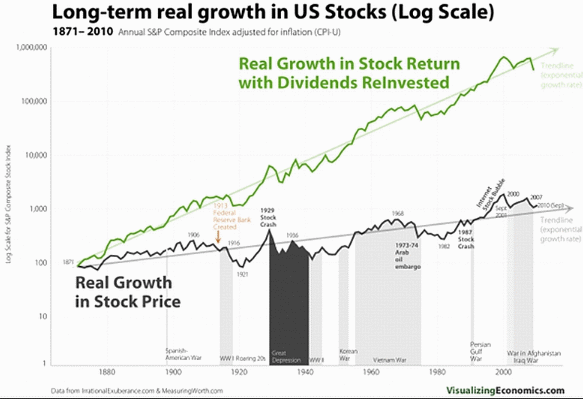 Source: Irrationalexuberance.com & MearuringWorth.com
Fellow SA author Mike Nadel recently wrote a great missive on the power of dividends. The skeptics that run around dismissing this fact are misleading anyone that listens to them. One can then conclude that recent posts like this suggesting a weak stock market;
"Additionally the S&P 500 is significantly behind its average annual gain."
is a statement that spins a story and defies reality. For those that can't get over the market being flat for this extended period of time, perhaps this logic will help.
The stock market as measured by the S&P rallied 30% in 2013, and followed that up by posting a gain of 12% in 2014. Outsized gains for sure. A period of consolidation was due, and that is exactly what the major averages have done.
After all, if the market kept going up on an unabated ride to the moon, the cries would suggest a wild overvalued bubble. In their way of thinking the stock market would not be a place to be if it continued higher, nor is it a place to be because it has consolidated. It's quite easy to then conclude that skeptics just don't trust the stock market and they simply can't be satisfied. However, I have found that they are very quick to come up with arguments to counter those that have been correct on the direction of the S&P.
Those statistics are great, they represent a factual argument for owning equities over time. With all of the negativity out there, the average sexagenarian investor has been scared into what may turn out to be a premature decision. Each individual situation is different but what I hear lately from those that are retired or near retirement in this group, is that they wish to jump into the capital preservation mode.
That is born from the incessant stories of global demise, which at times seemingly lacks all common sense. Generally speaking, if one is in reasonable health, they could easily and hopefully live another 20 - 25 years or more. Folks, that will take some growth, not just preservation, to finance that.
Preserving capital doesn't always mean giving up on growth completely, an investor needs to come up with a middle ground solution between equities and some cash. There is no set percentage that I or anyone else can apply when setting that cash level. However, one can say based on the historical statistics, loading up on cash in that time period of life would not appear to be prudent.
An investor also has to factor in the effects of inflation. The further eroding of savings is explained in this article, which states;
"For instance, $100 that you have today, in 15 years given a three percent inflation rate, would be worth only $64.19. Inflation over time does erode the value of money."
Finally, anyone believing that they will beat the odds and the system by attempting to move their cash hoards in and out of the equity market over perhaps the most critical period in their investment lives, has a fool for a portfolio manager.

Economy
Truck tonnage was up 6% year over year in May, and closing in on a new all time high.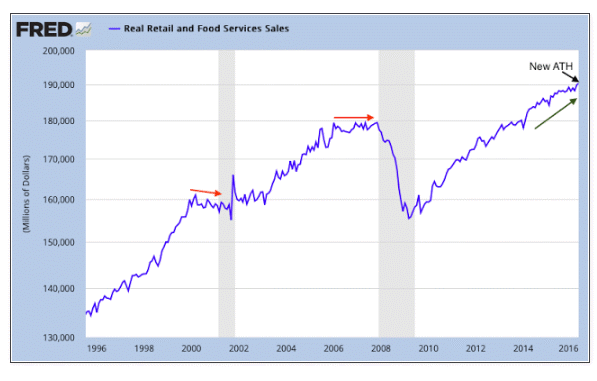 Source: Federal Reserve Economic Data - Graphics added courtesy of Urban Carmel
May retail sales recently reached a new all time high.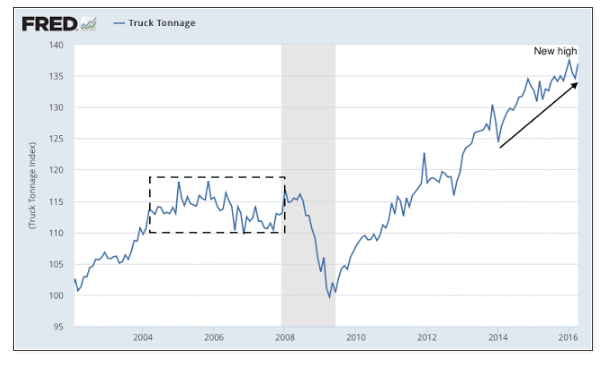 Source: Federal Reserve Economic Data - Graphics added courtesy of Urban Carmel
June ISM Non-Manufacturing Index rolled in at 56.5 vs. 53.3 expected and 52.9 prior. That is a new high for the year, and the largest month over month increase in the combined reading since April 2009.
Another positive came from the Market U.S. Services PMI report. The June number came in at 51.4 vs 51.3 expected.
Recent data on Personal Income and Spending was broadly positive. Quarter over quarter real consumption grew over 4% annualized on the back of 6.3% real personal income growth for the three months ending May. Following the release of the data for May, the Atlanta Fed GDPNow tracker is estimating 4.3% quarter over quarter annualized real PCE. That's a pretty healthy situation.
Last week's Chicago PMI reading was uplifting for those looking for positive economic signs. Liz Ann Sonders takes a recent chart from Bespoke and adds her analysis to indicate this surge in Chicago PMI looks like what happens coming OUT of past recessions.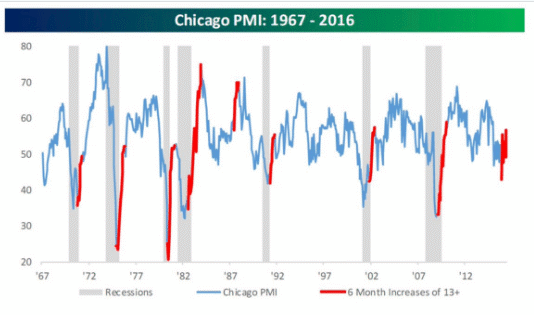 Source: Bespoke - Analysis courtesy of

Nonfarm payroll increased by 287,000 in June. A nice rebound from the dismal May report. One month is not a trend. The 3 month average comes in at 146,000.
While we continue to get mixed signals, it is best to take in all of the data before concluding that the economy is in trouble. None of the data that was just reported is suggestive of an oncoming recession.
Scott Grannis adds to those facts with his recent article on some of the economic positives that have been reported.

Global Economy
There is an absolute dearth of leadership in the U.K., and the vote last week appears to have done irreparable harm to the political capital of literally everyone with an ounce of it. No one has any idea what happens next, but the continued mess is a cloud of uncertainty that is concerning in terms of business investment, hiring, and consumer spending.
It never pays to overreact to a situation, but the events in Britain are the poster child for doing just that. There is talk from one of the candidates for Prime Minister, that there may not be any action regarding the first step, enacting Article 50 until 2017.
A majority of economists, almost three quarters of respondents to a Bloomberg survey, believe Britain leaving the EU will push the U.K. into a recession. I'm no expert on their economy, but my view is that they will suffer a severe crisis of confidence with all of the uncertainty that exists there now.
In a bit of irony to all of this, we got economic news out of Europe that manufacturing activity grew faster than expected. The Eurozone PMI index hit its highest levels of the year. Even in the UK, that PMI index rose to 52.1 from 50.4. Keep in mind, though, that this data was all collected prior to the referendum vote. Brexit may turn into Regrexit.
I'm not so sure this will ever materialize, but for those that believe anything can happen, TIME reports that U.S. Secretary of State John Kerry, after meeting with David Cameron said;
"The UK might not ever leave the E.U., despite the outcome of last week's referendum."
An excellent overview of Brexit economic impact and the overall damage done to the U.K.'s position following the last week or so of events.
Empirical Research says Brexit and this fall's presidential election become truly significant if they represent the death knell for the globalization era. This protectionist threat has been building for years, and it would be unrealistic to expect people who have little faith in their representatives serving in their own capitals to be more trusting of their representation in Brussels or Washington, D.C. The real fear has to do with the contagion of protectionism through political processes. That disease could prove dysfunctional for the global economy.

Earnings
Investors need to be reminded how we got into the 2015 profits recession, before they take the stance they we will never get out of it.
The US dollar appreciated 25% from mid 2014 to late 2015, and that appreciation hurt the U.S. dollar earnings of many U.S. companies. So far in 2016 the USD has stabilized and is flat in the last 12 months. Earnings comparisons for these companies will then get easier as the year progresses.
Let's not forget the enormous impact the decline in crude oil prices had on the earnings picture for the S&P. While this was happening, it was important to watch the other sectors of the market regarding earnings. What we saw was that ex-energy, there was indeed growth. A clue that the remainder of the U.S. Corporate world was not in a profits recession.
We have already seen improvement in the price of crude oil and a stable USD. If this plays out in a positive way in the coming months, earnings will follow that same trajectory.
Thomson Reuters data:
Forward 4-quarter estimate: $122.96 vs. last week's $123.24

PE ratio: 16.6(x)

S&P 500 earnings yield: 6.04% as of Friday, June 24th, versus 5.95%

Year over year growth of the forward 4 quarter estimate: +0.97% versus last week's +0.99%.

The Political Scene
A recent NBC News/Wall Street Journal poll shows that Trump now has a 30% lead over Clinton among independent voters, who now account for 40% of the total voter demographic, compared with 30% for Democrats and 27% for Republicans. This suggests that independents may determine the results of the election.
Despite where one stands on the latest Clinton e -mail issue suffice to say the bizarre findings that were announced will ratchet up the uncertainty surrounding the campaign trail.

The Fed
With the Brexit vote out, the market has priced out any realistic risk of hikes in 2016 and is now showing some risks of cuts. In my view, this talk of cuts is speculation and noise that need not be acknowledged.
With the present backdrop in place it seems needlessly aggressive. The financial market turmoil has not reached a level that would come close to justifying a cut, and the economic data is unlikely to either.

Crude Oil
After the events in the U.K, the price of crude oil has held fairly well given the uptick in the USD. The fact that crude oil didn't fall further is somewhat impressive. If crude can hold in the high $40s or even rally in the face of the geopolitical events, it signals healthy underlying strength.
The analysts at Raymond James put forth their view on the intermediate term outlook on the direction of WTI, and it's a bullish story. One caveat, their analysts were among the first to call the downturn in oil, however it was 6- 9 months too early.
The U.S. Energy Information Administration reported that inventories declined 2.22 million barrels for the week ending July 1, 2016 vs. estimates looking for a decline of 2.5 million barrels.
WTI closed the week at $45.32 down $3.70.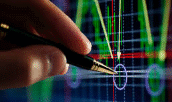 The Technical Picture
The strong internals of this market continue. New highs were achieved on the advance/decline line on Friday July 1st. These levels were last seen 18 months ago, suggesting across the board participation. The NYSE new High/Low index remains strong with Friday's action showing 329 new highs versus 9 new lows. That isn't suggestive of a weak market. More importantly, look at the stocks that are making those new highs.
This latest rally not only eclipsed the Brexit high, it also has kept the status of higher highs within the uptrend channel in place.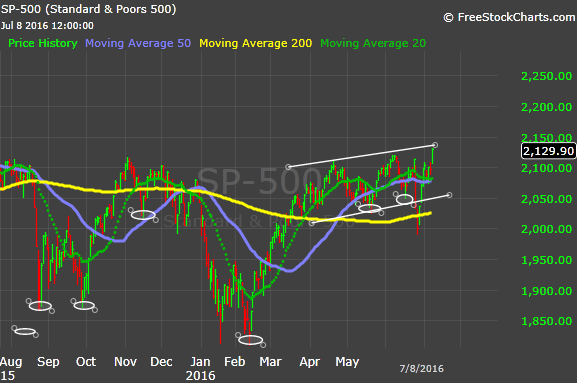 S&P Daily chart courtesy of FreeStockCharts.com
There just may be enough upside momentum left to make a new high. IF that does indeed happen, what develops after that will be important. Let's see if the S&P gets there first.
Increased volatility tends to take out both support and resistance levels rather quickly. This week served as a perfect example. The only resistance left now is the May closing high of 2131. On the downside, the Bulls would be satisfied if the index remained in that upward trending channel.

Individual Stocks & Sectors
The chart below tells the story of where investors have put their money in the first half of the year. The safety net of Utilities and Telecom.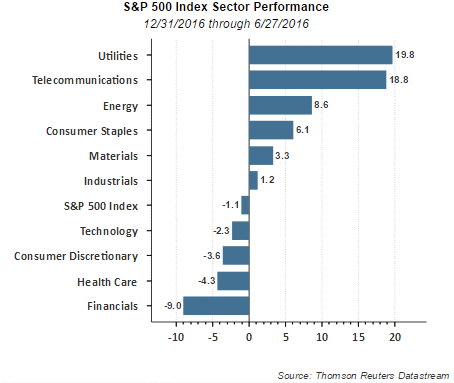 So it won't come as a surprise to followers that I look to Healthcare Technology and Consumer Discretionary for opportunities going forward.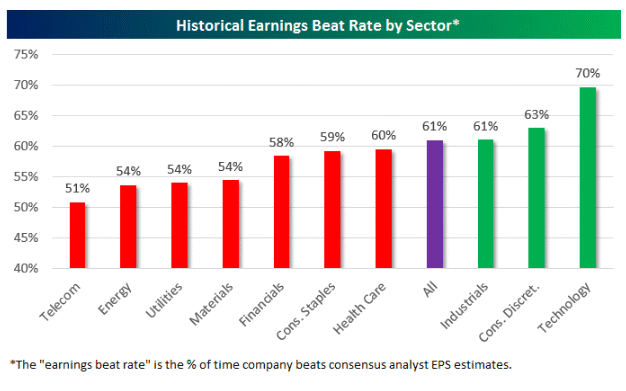 Source: Bespoke
I come to my conclusions based on factors represented in the graphic shown above. Tech continues to have the best "beat" rate in the last 15 years. Consumer Discretionary follows and the growth laden Healthcare sector has fared well also.
The Energy sector also remains towards the top of my list because I see the turnaround in WTI continuing. I do not believe the rebound off of the lows in that sector are over.
The other side of the coin shows that the utility sector given its slow growth is overpriced, and this graph illustrates that situation. My guess is that these defensive sectors will get hit hard IF, and that is a big If, we get back to a "risk on" backdrop.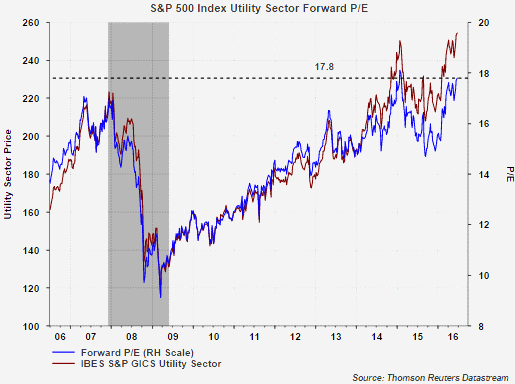 This phenomenon could be around for a while, as the search for yield and the safety of the domestic scene continues post Brexit. The so called defensive positions stop being defensive when one pays an extraordinary multiple. Reversion to the mean will play out at some point.
Ray Merola, a fellow author here on SA, assembled a very helpful missive to assist investors in their research. Highly recommended reading.
As a side note, I did add to my Alexion (NASDAQ:ALXN) and Celgene (NASDAQ:CELG) positions as disclosed in last week's update.

The initial shock over the U.K decision has come and gone. The dire forecasts for of the dismemberment of the Eurozone have been shelved for now. All three of the major indices have recovered all of their Brexit losses.
What is conveniently forgotten by the skeptics, is that staying "long" has not cost an investor anything. While they continue to try, the fear mongering advocates can't make the same claims.
The difference with my view and the negative outcomes being spun, are far apart to say the least. So while we may not see the dire, and we might not see the rose colored view, somewhere in between may transpire. At this stage of the Bull market, anyone who has been and remains invested will surely accept the latter outcome.
Headline risk was one of the issues that Brexit threw at investors, and that played out earlier in the week. It is one reason that we may not see a breakaway happening for the S&P 500. Earnings season now steps into the spotlight and the outcome here will tell the tale. A positive season trumps the near term worries over the U.K., a continuation of the earnings recession is a totally different story.
As always there will be far different outcomes for investors' portfolios. Anyone that has been looking to the worst case is hardly positioned to take advantage of the "middle". Over and over pundits have made their collective cases that it's time to leave this market, and that has been their suggestion since last August. For the hardened skeptics, it's been much longer than that. However, for those that have "followed the tape", listened to what the market was telling them, find themselves on solid ground.
Long term investors need to look around at the opportunities being presented. With bond yields heading yet lower, large dividend paying stocks with globally stable businesses and dividend yields in the 3 to 5 percent range should continue to attract investors. Approximately 65% of the companies in the S&P 500 have dividend yields higher than the 10 year T-note.
In addition, one shouldn't abandon the search for growth opportunities. Unfortunately a short term mentality exists now showing that growth is being ignored as too risky. Growth stories are the makings of wealth.

When it comes to discussing the stock market these days, skepticism is often the main topic. What I am witnessing now is healthy skepticism turning into paranoia cynicism. From there, giant conspiracies are born with final chapters being reported that takes money away from all investors.
One reason why myths and outlandish notions hang around so long seems to be that all of us like simple explanations. The yearning for simple explanations also helps to account for the popularity of bizarre conspiracy theories that paint a picture of all the world's evils as being attributable to a host of super villains. Perhaps there is a secret society running the show.
In the case of the stock market, the super villain that is conjured up is of course none other than the Fed, and their merry band of Central Bank villains around the globe.
My analogy to this way of thinking is as follows. Someone has given you a boxcar full of chocolate bars, a room full of cash, and the island of your dreams.
The skeptical boys and girls think the chocolate is laced with cyanide, are convinced the room filled with money is rigged with explosives upon entry, and surely believe the island is full of poisonous snakes and plants. It's no wonder they believe the stock market is a mirage, the gains aren't real, and it is all about the super villains that are in charge.
In contrast there are those that simply view the market and watch what really is important. Let's all guess which group is being logical here. Hint, it's the same group that has profited handsomely.
Best of luck to all!
Disclosure: I am/we are long ALXN,CELG.
I wrote this article myself, and it expresses my own opinions. I am not receiving compensation for it (other than from Seeking Alpha). I have no business relationship with any company whose stock is mentioned in this article.