Cedar Fair LP (NYSE:FUN), an amusement park company, reported preliminary net revenue
through July 4, 2016 of approximately $517 million, an increase of $20 million, or 4%, when compared with the same period a year ago. This period traditionally represents approximately 40% of the Company's full-year net revenues.
The press release also noted that the increase was driven by a 3% increase in attendance, a 1% increase for in-park per capita spending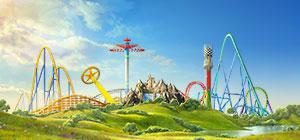 and a 7% increase in out of park spending (including its resort hotels). This is a good start to the company's Summer season, but at first glance appears to be a disappointment following blowout Q1 results.
The timing of holidays and their impact on operating days plays a role in year over year comparisons, but consider some of these numbers from Q1:
Revenue of $58 million
Increased $12 million over prior year
Percentage increase was 25%
Do you see the issue? The Q1 numbers contributed $12 million (or 60%) of the $20 million YTD revenue growth. And it did that while generating just 11% of the YTD revenue. Last year, Q1 came in $6 million ahead of the previous year, and the YTD July 4th weekend was $24 million ahead. Are there potential issues for investors to consider ahead of the Q2 earnings to be discussed on a conference call on August 3rd?
The titles of the press releases that report these interim results were nearly identical for 2015 and 2016. 2015 was Cedar Fair Reports 5% Increase In Net Revenues Through July 4th Holiday Weekend while 2016 was Cedar Fair Reports 4% Increase In Net Revenues Through July 4th Holiday Weekend.
Holidays tend to affect the attendance at the company's parks, with Labor Day marking the closing of most of the company's regular season operations. Since that can fall as early as September 1st or as late as the 7th, days of operation will vary. When the company states "July 4th Holiday Weekend" it can also cover different dates. Potentially skewing the data in the press release is that July 4, 2015 fell on a Saturday, and the period covered included Sunday, July 5th. For 2016, although the nation considered July 5th part of the holiday weekend, the press release clearly states the revenue was through July 4th. Both press releases state that the period typically represents 40% of the company's annual revenue.
Could a single operating day make much of a difference? Yes. The company had 24.4 million "guests" last year, spread across 11 parks, with attendance at the parks ranging up to 5 million at Knott's Berry Farm (the only park open all year). It's important to note that Summer is the peak season for Cedar Fair parks, which typically have 130-140 day operating seasons. That comes to well over 125,000 visitors per day, and at a per capita spend of about $47, that would mean that the extra day was worth an extra $6 million of revenue.
Instead of the $517 million of revenue, the extra day - July 5th - could bring the revenue figure up to $523 million. That would be more than 6% ahead of the $491 million generated in 2015.
While that would still be a substantial decline from the early season pace, it is more than enough to indicate that Q2 YTD revenue through the end of June is likely to come in 6% ahead of 2015, rather than the 4% headline figure in the latest press release.
Income Strategy
Note the name of the company is Cedar Fair, LP, meaning that it is a limited partnership, and as such trades units rather than shares and pays a distribution rather than a dividend. (For more detail, see With Unofficial Start To Summer, Should You Invest In A Seasonal Business?) That distribution is currently $3.30 per unit, and on a unit price of less than $60, the yield is currently ~5.6%.
I still expect that the distribution will grow another 10% within the year, but prefer to also sell out of the money call options to increase the current income from this investment. I suggested this strategy in my prior article, and recently bought the units at $57.97 and sold the December $65 call for $1.25. That trade should still be available as the options are currently trading at $0.95 Bid/$1.40 Ask.
Disclosure: I am/we are long FUN.
I wrote this article myself, and it expresses my own opinions. I am not receiving compensation for it (other than from Seeking Alpha). I have no business relationship with any company whose stock is mentioned in this article.
Additional disclosure: I have December 2016 covered calls sold against part of my long position and continue to DRIP the distributions.