As a PepsiCo (NYSE:PEP) shareholder, I'm concerned about the prolonged decline in soda consumption in the United States. According to Beverage Digest, soda sales in the U.S. fell last year for the 11th year in a row and are now at a 30-year low. While this is more of an issue for The Coca-Cola Company (NYSE:KO) due to its greater reliance on sparkling beverages as a percentage of its total revenue, it's a concern for PepsiCo as well. PepsiCo's flagship Pepsi, Diet Pepsi, and host of other soda brands are all in danger from a clear shift in consumer preferences.
In the U.S., consumers are scrutinizing their diets like never before, particularly among younger generations like millennials. Shoppers are increasingly turning away from soda for its high sugar and calorie content and are now wary of diet sodas as well due to their artificial sweeteners. This is all bad news for PepsiCo, but not all hope is lost. In fact, I still believe PepsiCo has a long runway of growth ahead of it; the only caveat is it won't be because of a turnaround in soda consumption.
I believe the health and wellness trends that have cast soda in negative light are here to stay. But this does not have to conflict with owning PepsiCo as a long-term investment. The two key areas that will fuel PepsiCo's future growth are its snacks business and growth in the emerging markets.
Steady as She Goes
PepsiCo's stock has performed remarkably well over the past year, despite the continued erosion of soda consumption among U.S. consumers. Its total return, based on share price appreciation and dividends, has far outpaced the S&P 500 over the past one year.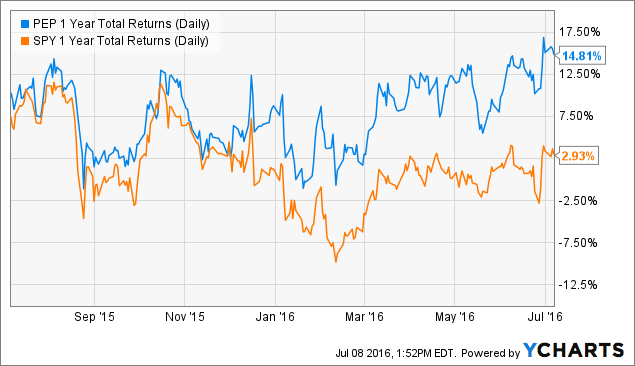 The reason why the stock has returned such strong gains, even while U.S. soda consumption is declining, is because of PepsiCo's two core strategic imperatives. These are its snacks business and its focus on international growth. In addition to its beverage portfolio, PepsiCo operates a large portfolio of food and snacks brands under the Frito-Lay and Quaker brands. PepsiCo has been one of the stealth beneficiaries of falling gas prices. The company has seen particularly strong growth from sales of its snacks at gas stations and convenience stores. Consumers are using some of the savings at the pump to buy more snacks inside gas stations, which is helping PepsiCo's results in the U.S. stay firm even under pressure from falling soda sales.
Consider that in PepsiCo's recently released quarterly earnings report, the company notched 3.4% organic revenue growth, which excludes the effects of foreign exchange, along with 8% organic earnings growth over the first half of 2016. PepsiCo beat analyst estimates last quarter, and the major drivers of its growth were 4% organic revenue growth in Frito-Lay North America as well as 9% growth in Latin America and 4% growth in Asia, the Middle East, and North Africa. This trend was noticeable last year as well. In 2015, PepsiCo's organic earnings per share rose 10%, thanks to 8% international revenue growth and 7% growth for Frito-Lay North America. PepsiCo generated a 19% return on invested capital last year.
A separate advantage of maintaining a near even split in annual revenue between food and beverages is that the two businesses complement each other well. Having both food and beverages gives PepsiCo valuable leverage with retailers, and it allows PepsiCo's products to command optimal shelf space in both categories.
These tailwinds are the reason why PepsiCo raised its full-year forecast. The company now expects 9% organic earnings growth this year, up from 8% expected growth previously. Overall, PepsiCo forecasts $4.71 in core earnings per share in 2016.
PepsiCo: Fully Valued, But Still Worth Owning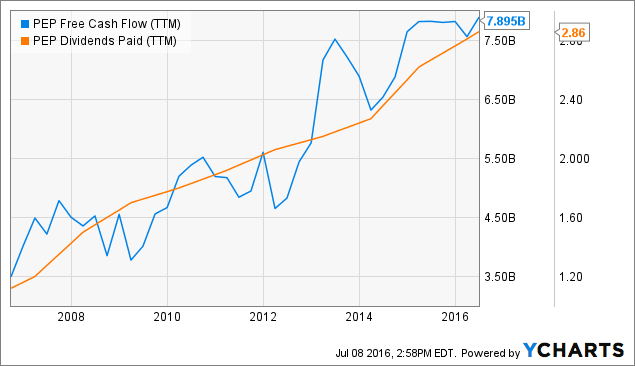 After such an impressive rally over the past year, it is reasonable to quibble with PepsiCo's valuation. The stock trades for a trailing P/E near 30, and although the company expects continued growth this year, its 2016 P/E multiple is 23, which is still lofty.
But as the saying goes, premium companies command premium valuations. PepsiCo relies on soda, but it has a large and diversified business, with 22 brands that each generate at least $1 billion or more in annual sales. I don't have any problem owning PepsiCo at 23 times this year's earnings because I believe the underlying growth more than justifies its valuation. And, the 3% dividend yield, which is significantly above the S&P 500 average yield, should only grow from here. PepsiCo generated more than $8 billion of free cash flow last year and has done a great job of rewarding shareholders. The company has increased its dividend for 44 years in a row.
Declining soda sales are a headwind, but PepsiCo should be able to offset this and still grow overall due to its snacks business and growth provided by new markets. The company has managed to continue growing free cash flow and dividends for many years even while soda is in decline. Thanks to its food business and international expansion, I expect this to continue for many years.
Disclaimer: This article represents the opinion of the author, who is not a licensed financial advisor. This article is intended for informational and educational purposes only, and should not be construed as investment advice to any particular individual. Readers should perform their own due diligence before making any investment decisions.
Disclosure: I am/we are long PEP.
I wrote this article myself, and it expresses my own opinions. I am not receiving compensation for it (other than from Seeking Alpha). I have no business relationship with any company whose stock is mentioned in this article.