An even larger increase in the horizontal rig count than last week, with new rigs concentrated in the Permian and in shale producing regions. Of the 10 new oil rigs added this week, 11 are horizontal (yes, we can count), meaning that producers are positioning themselves for maximum yield. Combined with the existing inventory of drilled but uncompleted wells (DUCs), we could see a material increase during the summer in oil produced from new wells.
Crude oil prices (NYSEARCA: USO) remained unchanged for the day, after dropping on Thursday following very disappointing EIA inventory data.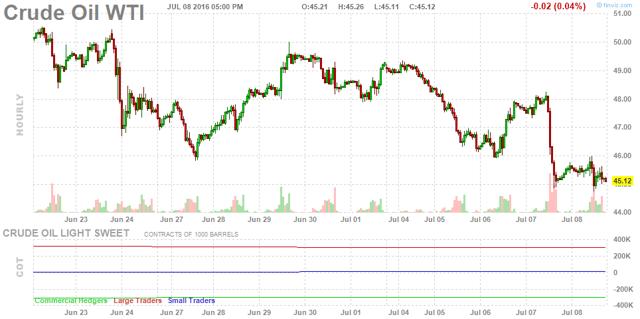 Source: Finviz.com
Data: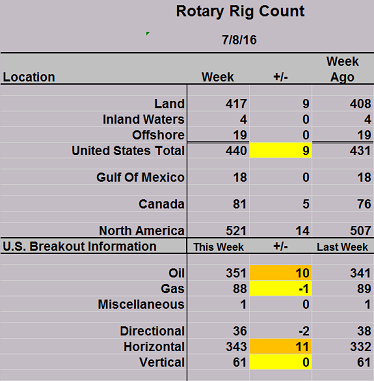 Source: Baker Hughes
Total U.S. oil rig count increased by ten. Combined with last week's eleven rig increase, this is a twenty one rig increase in two weeks; a very large number. Most of these rigs are very high quality, being either horizontal or located in highly productive fields.
Horizontal rigs increased by eleven, all of them being oil rigs. Along with the seven horizontal rig increase posted last week, this is the largest one and two week increase in horizontal rigs since August of 2014, just before crude oil prices dropped off a cliff.
No new vertical rigs.
Natural rigs decreased by one, although one of the new rigs is located in a very gassy field.

Source: Baker Hughes, Orangutan Capital
Four new rigs in the Permian, the most established oil-producing basin in the country. The rig count in the Permian is now back to late February/early March levels (still low by historical standards). This week's four rig increase follows a twelve rig increase over the last three weeks.
One new oil rig in the Barnett Basin, which is primarily a natural gas basin.
Five new rigs in three shale basins: Cana Woodford, the Niobrara and the Williston basin.
Conclusion:
As we had pointed out several weeks ago, an acceleration in the pace of new rigs was in the works. The last two weeks have brought us a very large number of horizontal rigs being added in very productive fields. Combined with a rather large number of DUCs, we are concerned we could be seeing production levels temporarily flattening out towards the end of the summer. Regardless of the resulting production curve, we believe we are at the dawn of the summer of drilling.
Disclosure: I/we have no positions in any stocks mentioned, and no plans to initiate any positions within the next 72 hours.
I wrote this article myself, and it expresses my own opinions. I am not receiving compensation for it (other than from Seeking Alpha). I have no business relationship with any company whose stock is mentioned in this article.