PepsiCo (NYSE:PEP) has advanced more than 6% since its post-Brexit lows. The prospect of interest rates staying lower for longer has attracted investors to PEP, who offers a dividend yield of 2.66%. On Thursday the company reported better than expected results for the second quarter and raised guidance, pushing shares up an additional 1.5%. While the latest results suggest that PepsiCo's strategic objectives are paying off, the stock has become too expensive to initiate a position.
The big challenge with Pepsi has been figuring out how to maintain growth as customers shift away from carbonated beverages and demand healthier foods. This is mainly an issue in developed markets, where consumers exhibit a higher degree of health consciousness compared to their emerging market peers. But Pepsi continues to grow revenues in both the US and its developing markets, as the firm has tilted its portfolio away from soft drinks to teas, waters juices and sports drinks, and from snack foods to healthier "good-for-you" options such as those marketed under the Quaker Oats brand. In the latest quarter organic revenues increased 3.3%. All operating segments were positive on an organic basis. Global snacks and beverage volumes both increased 2%, emerging market businesses grew 7%, and developed markets increased 2%.
We are optimistic that PEP can continue to execute its strategy to drive growth in spite of challenging secular headwinds. The company is better insulated than its main rival, Coca-Cola (NYSE:KO) thanks to its massive snack food business, which can more easily be modified to meet healthier standards. Whereas KO must innovate within beverages, PEP has introduced Quaker breakfast Flats, Simply Tostitos, and Sunchips in addition to its renovated beverage line. And, by operating both a beverage and a snack portfolio, PEP "generates synergies from overlapping in-store displays, cross-selling, and centralized purchasing", according to Morningstar. This dynamic makes it easier for PEP to introduce new products, and has been a crucial factor in the firm's ability to expand into healthier foods. For 2016, we expect price increases and strength in snack food businesses to offset volume declines in soft drinks. Organic revenues should increase between 3-4%.
Pepsi can meet its modest targets for top-line growth. The issue is that PEP's valuation has fallen out of touch with economic reality. With a forward P/E of 23, PEP trades like a growth stock, not a defensive company that grows revenues in the low single digits. Management has spent an average of almost $5 billion on buybacks in each of the past three years (Figure 1), keeping prices artificially high. Operating income has declined 14% since 2013, but the stock continues to ascend (Figure 2). When thinking about stocks with high interest rate risk, consumer staples don't usually spring to mind. But PEP is an exception, and the firm's dependence on low interest rates to fund buybacks leaves the company exposed to a rise in interest rates. The debt-to-equity of 2.53 is 153% higher than it was during 2013.
Figure 1: Borrowing and Buybacks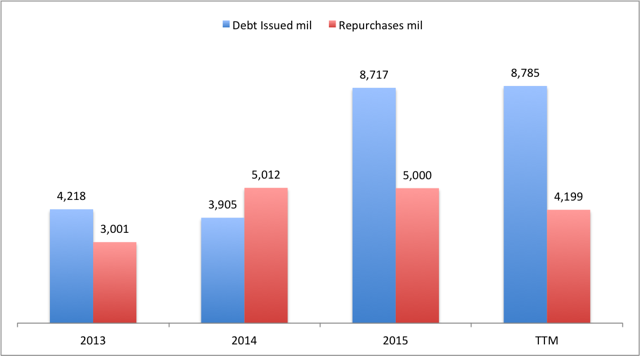 Source: Morningstar
Figure 2: 3-Year Price Graph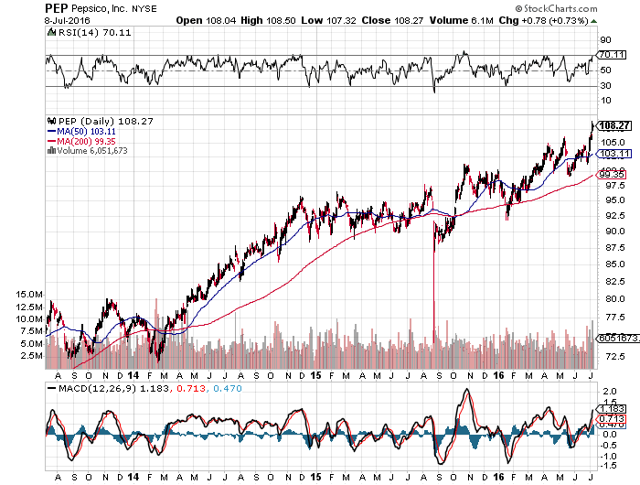 Source: StockCharts.com
Granted, interest rates won't rise for a while, and when they do it will happen gradually. Thus, despite being overvalued, we don't think shares will decline much, if at all, in the next year. But we don't like how the stock's valuation has become more dependent on low interest rates (either by making the dividend more attractive or by lowering borrowing costs) than economic fundamentals. Investors may interpret PEP's strong Q2 results as a sign that it's time to buy. PepsiCo has the potential to be a good investment, but not at these levels.
Disclosure: I/we have no positions in any stocks mentioned, and no plans to initiate any positions within the next 72 hours.
I wrote this article myself, and it expresses my own opinions. I am not receiving compensation for it (other than from Seeking Alpha). I have no business relationship with any company whose stock is mentioned in this article.