The resulting uncertainty and panic as a result of Brexit has resulted in the pound plunging to 31-year lows. While the nature of the Brexit uncertainty is firmly rooted in the United Kingdom, this does not mitigate the fact that a Brexit remains an EU-wide problem.
In the days after the referendum, there were calls by the leader of France's far right national front Marine Le Pen and far-right politician Geert Wilders of the Netherlands for a similar referendum. Indeed, over 40 percent of the French population would like to see a referendum called.
I do not see the pound's rapid descent ending anytime soon. Indeed, until a new Prime Minister is elected in September and a firm deal with the EU negotiating the terms of Britain's exit (which is speculated could not take until January of next year) contagion against the pound will continue.
However, the euro has not exactly been a safe haven either. Indeed, in the aftermath of Brexit, the euro has also plunged by over 4 percent against the dollar. As a matter of fact, I expect that the euro may potentially have further to fall from here. While Britain's exit from the EU still needs to be negotiated, the future of the union itself is highly uncertain. Will other countries elect to leave? Can Germany make replacement contributions to the EU budget and still remain fiscally sound? These are just two of many questions that contributes to uncertainty of exactly what a future union will look like, and of course markets do not like uncertainty.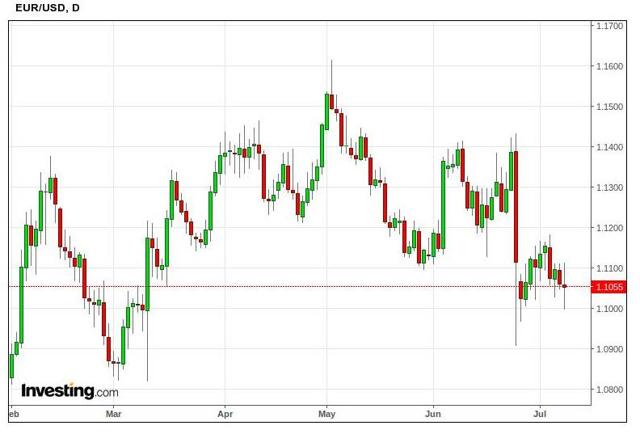 Additionally, it is important to remember that the euro has been declining against the US dollar in any case, and with comparatively strong economic data from the United States, we could well see parity in the EURUSD going forward. I am looking for break below the 1.08 level to confirm the same, which would mark a seven-month low for the currency. In the short-term, an upturn in non-farm payroll data is expected to place downward pressure on the EUR/USD.
To conclude, while it is the GBP that is taking a hammering at this point in time, there could be further trouble ahead for the EUR/USD and in this regard I take a bearish view on this currency.
Disclosure: I/we have no positions in any stocks mentioned, and no plans to initiate any positions within the next 72 hours.
I wrote this article myself, and it expresses my own opinions. I am not receiving compensation for it (other than from Seeking Alpha). I have no business relationship with any company whose stock is mentioned in this article.