Energy companies were the worst performers in early 2016. With crude oil prices in free-fall, energy companies quickly became the most detested investments in the entire stock market. Big oil companies including Exxon Mobil (NYSE:XOM) and BP (NYSE:BP) expectedly reported weak 1st quarter earnings on the back of lower price realizations. More levered energy companies such as Chesapeake Energy (NYSE:CHK) were also under attack, crashing even more than the big, diversified multinationals. Other levered upstream companies didn't make it at all: Linn Energy (LINE), for instance, filed for bankruptcy, brought to its knees by its formidable debt burden.
As part of my strategy to deal with the correction in the energy sector, I moved into bigger oil names that have a much better chance of riding the downturn out, but that also pay a nice dividend to shareholders, which makes waiting for higher share prices so much sweeter. In particular, I gobbled up a few more shares of energy behemoth Exxon Mobil at the beginning of the year. In fact, I called Exxon Mobil a 3% yielding no-brainer in my last article due to the mountain of Free Cash Flow the company continues to pull in.
Investors that like to move up the risk-curve a little, however, and that also want a juicy dividend attached to the shares, may want to look at BP at this point.
BP has recovered nicely from the market crash earlier this year, and the company's shares have now advanced ~15 percent year-to-date. BP also rebounded strongly from the ugly ~$27 low in February thanks to negativity coming out of energy names. The recovery is real, and largely driven by a rebound in energy prices. WTI crude oil, for instance, has traded up to $46/barrel...a huge difference to the $20-ish prices we have seen at the beginning of the year.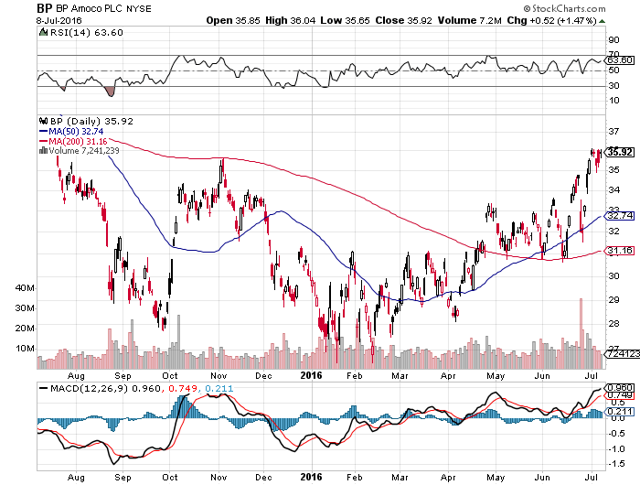 An investment in BP comes with a ~7 percent dividend, which is great, but the dividend is not the only reason (though a really good one) to give BP a shot.
Given the recovery in crude oil prices in the 2nd quarter, energy companies are likely going to report much better earnings for the last quarter on the back of higher price realizations compared to the 1st quarter. As a result, the reversal of crude oil prices paired with a stronger earnings picture may lure more investors into big energy companies. As far as I am concerned, the reward-to-risk ratio for BP at this point continues to be rather compelling since oil prices have already bottomed out earlier this year, and investors' risk appetite is clearly growing.
Your Takeaway
Energy companies were kicked to the curb at the start of the year thanks to the energy price rout and oil prices that fell to their lowest level in more than a decade. However, crude oil prices have rebounded quite significantly from their lows in the 1st quarter, which in turn implies stronger upstream earnings for energy companies including BP in the 2nd quarter. Further, investor sentiment with respect to BP has improved a lot in the last three to four month. Buy for income and capital appreciation.
Disclosure: I am/we are long BP, XOM.
I wrote this article myself, and it expresses my own opinions. I am not receiving compensation for it (other than from Seeking Alpha). I have no business relationship with any company whose stock is mentioned in this article.