Philip Morris (NYSE:PM) lost a lawsuit filed against Uruguay seeking compensation for economic damages caused by the government's anti-smoking regulations. Uruguay banned smoking in public spaces in 2006, raised taxes on tobacco products, and demanded that cigarette packages include warning labels and graphic images depicting rotting teeth and diseased lungs (Figure 1). Legislators also prohibited sub brands, and banned the use of the words "light" and "mild" to prevent the perception that such varieties were safer for consumers. The laws have had a major impact on cigarette consumption in Uruguay: Between 2005 and 2014, the percentage of smokers out of the total population declined from 35% to 22%, and from 23% to 8% for young smokers. Since 2006, PM has withdrawn seven out of its twelve brands from the country. We worry that Uruguay's victory will embolden other counties to take action, and compromise one of the key advantages that PM enjoys over domestic-based peers: exposure to emerging markets with easier regulatory environments.
Figure 1: Cigarette Packaging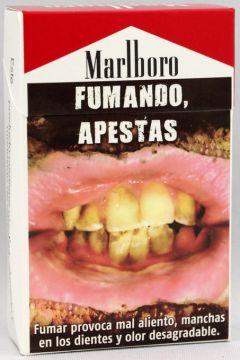 Source: Merco Press
Philip Morris had an ulterior motive when it launched the lawsuit. By initiating a protracted legal battle, PM aimed to discourage other countries from following in Uruguay's footsteps. Representatives from the Action on Smoking and Health believes that, despite losing the case, PM accomplished what it originally set out to do: intimidate other countries from imposing regulations by carrying out a long and expensive legal process. According to the ASH,
"their main goal in launching the suit has been realized…six years and millions of have been spent, and this has already resulted in regulatory chill in other countries, preventing tobacco legislation that could have saved lives".
But Uruguay's victory is a big deal, as it could trigger a wave of legislation in other countries. As New York City Mayor Michael Bloomberg explains, "this case will help embolden more nations to take action that will save lives."
The ability of Big Tobacco firms to leverage vast financial resources to lobby regulators and shape laws in their favor is arguably the biggest reason why these firms have been able to sustain enormous returns on capital despite declining levels of cigarette consumption in developing markets. If the Uruguay verdict inspires countries around the world to become more aggressive in their stances and display stronger resolve, it would have a material impact on PM. Philip Morris has been able to outperform its domestic peer Altria (NYSE:MO), whom it spun off of in 2008, thanks to its exposure to emerging markets where anti-smoking laws are less stringent. According to Business Insider, "Tobacco regulation is generally less restrictive in developing and transitional economies…given that poorer countries have fewer resources to find the huge range of strategies tobacco companies use to prevent, delay, and dilute public health measures". Whereas Altria generates all of its revenue in the US, PM has no US exposure and generates roughly 65% of its revenue in developing countries. Over the last five years, Philip Morris has grown revenues at a 5.9% CAGR compared to a 2.2% CAGR for Altria.
Given how big tobacco has leaned on government regulations to keep entry barriers high and sustain huge profit margins, we see regulatory risk as the biggest threat to PM's business model, even more so than the secular decline in cigarette consumption. Things could now get more challenging for PM, and if more countries adopt packaging requirements the company will not be able to raise prices as easily as it has done in the past. Thanks to its iconic Marlboro label, PM has considerable bargaining leverage over consumers, but new packaging laws would severely erode this brand advantage. PM would have to write-down the value of its intangible assets and profit margins would be materially lower than in the past.
This was a landmark case, as it marked the first time a tobacco company had taken on a country in international court. PM may have dissuaded many countries from cracking down on big tobacco over the years, but Uruguay's victory could bring about a wave of change. And, if weakness in emerging markets continues to persist and budget pressures build, governments may feel compelled to impose excise taxes on tobacco products. The transition to a stricter regulatory environment will take time, and PM shouldn't be too concerned about the near-term. But a secular shift in policy stances in international markets would be a big blow to PM's business model.
Disclosure: I/we have no positions in any stocks mentioned, and no plans to initiate any positions within the next 72 hours.
I wrote this article myself, and it expresses my own opinions. I am not receiving compensation for it (other than from Seeking Alpha). I have no business relationship with any company whose stock is mentioned in this article.