August crude futures prices fell by 2.6% in the week ending July 5th (to correspond to the data below), closing at $46.60. While the drop was not large, it adds to other declines over the past 4 weeks, which together total a 7.5% drop from above $50 in early June.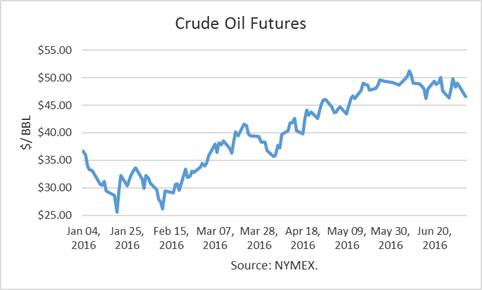 But this is in stark contrast to the 95% climb in prices from mid-February to early June. Last week reports were that traders were disappointed that crude stocks were not dropping as rapidly as hoped.
But I disagree that the crude stock builds or draws had much to do with either the rise in crude futures prices nor their decline. For example, crude stocks were building from mid-February through the end of April, when crude futures prices were rebounding, reaching their highest level on record. And crude futures prices declined over the past 4 weeks when crude inventories had dropped by about 10 million barrels.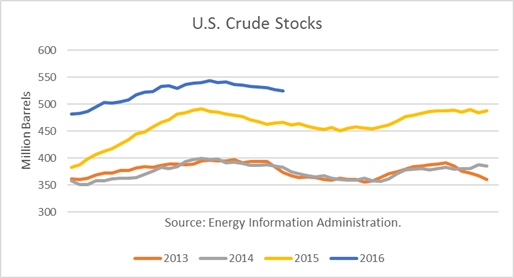 The real reason for both the rise and fall, I believe, was the change in risk premium short traders in particular assigned to prices. As I have explained many times before, when OPEC and Russia began discussing the "freeze" concept in mid-February, crude futures shot up. The reason was short-covering. The random nature of announcements and interviews altered the risk-reward ratio of holding short positions.
As proof, I continue to update the graph below, which shows a remarkable 70% negative correlation in weekly price changes to weekly changes in short speculators positions. I have not read any article since mid-February that offer such a high level of quantitative explanation for the rise in crude prices.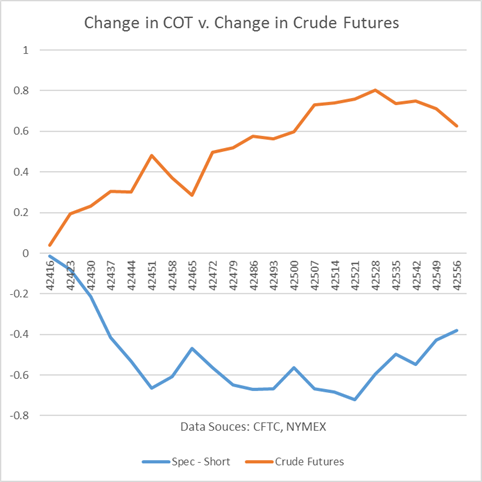 Once the "freeze" concept was put to rest by Saudi prince Mohammed bin Salman, a different kind of "headline risk" emerged by coincidence. There were a series of outages worldwide, beginning with a strike in Kuwait, disruptions in Nigeria, and the wildfire in Canada.
Since early June, the "headline risk" premium has begun to deflate. Consequently, as noted specifically below, short speculators began increasing their short positions, causing prices to drop. Changes in U.S. crude stocks simply fail to provide credible, hard evidence to correspond to price changes.
Commitments of Traders
Utilizing the Commodity Futures Trading Commission's (CFTC) Commitments of Traders (COT) reports for crude oil, I was able to dissect how traders were re-positioning last week.
The four groups I follow - Hedgers (Producer/Merchant/Processor/User) Longs and Shorts, and Speculators (Money Managers) Longs and Shorts - are defined below:
Hedgers: A "producer/merchant/processor/user" is an entity that predominantly engages in the production, processing, packing or handling of a physical commodity and uses the futures markets to manage or hedge risks associated with those activities.
Speculators: A "money manager," for the purpose of this report, is a registered commodity trading advisor (CTA), a registered commodity pool operator (CPO) or an unregistered fund identified by CFTC. These traders are engaged in managing and conducting organized futures trading on behalf of clients.
The latest data are for the week ending July 5th and include data for both options and futures combined for the New York Mercantile Exchange (NYMEX). All comments below pertain to each group as a whole, on balance, noting there are exceptions among individuals.
Findings
Short speculators added another 9,190 futures and options contracts last week, bringing the total to 118,721 lots. Since the low point at the end of May, this group has added about 65,000 short contracts. This is by far the largest change of position of any of the four groups mentioned above.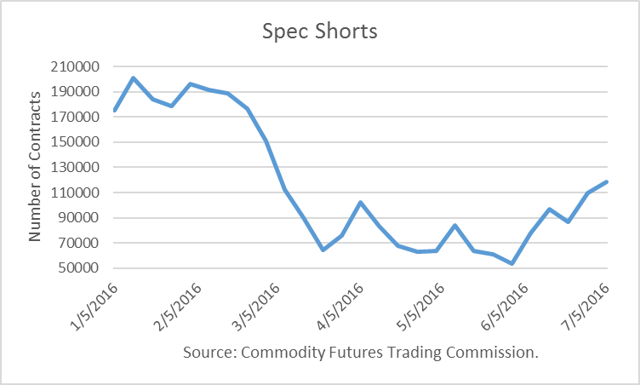 Before the "freeze" discussions began, this group had about 73,000 more short contracts in place. I expect speculators will continue to add short contracts as a result of being rewarded by gains in their brokerage accounts.
Long hedgers bought 7,053 more contracts last week, upping their total to 254,284 lots. This group would include refiners who hedge crude purchases for processing, as well as large end-users, such as airlines. Although the airlines buy jet fuel, they sometimes hedge their market risk by purchasing crude futures, due to the relatively high correlation between crude and jet fuel prices over large price moves. Their buying behavior has been more reactive than predictive, seeing how they increased hedges after much of the price move took place and have been hedging over the past four weeks.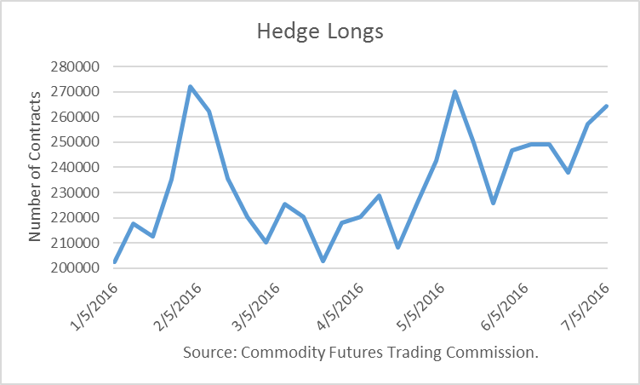 Hedge sellers, primarily oil producers, increased their short position by 6,628 contracts last week to 525,161 lots. This is by far the largest single position of the four groups mentioned here.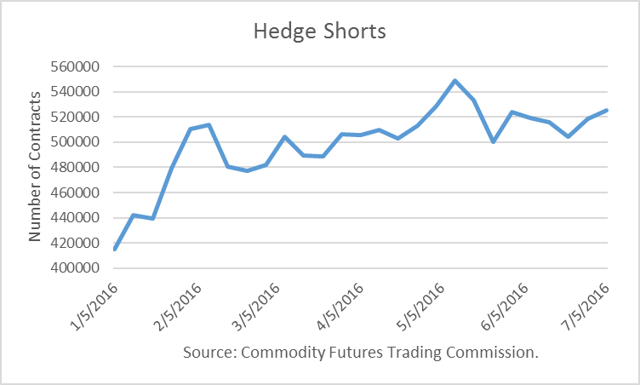 Short hedges are a very important market factor to consider since the larger these hedges become, the more crude production becomes "immune" to falling prices. When production is hedged, it will not matter how far prices fall because the operator realizes the hedged price (plus or minus any basis difference). Short hedges are about 15,000 contracts away from their peak levels this year. If prices do slide further, this group may become even more worried about future prices, prompting them to hedge (sell) even more.
Finally, long speculators sold 741 contracts, keeping their total at just over 288,000 contracts. This group has not altered their positions much since prices started rebounding in mid-February. Surprisingly, their trading behavior has not contributed much to price changes.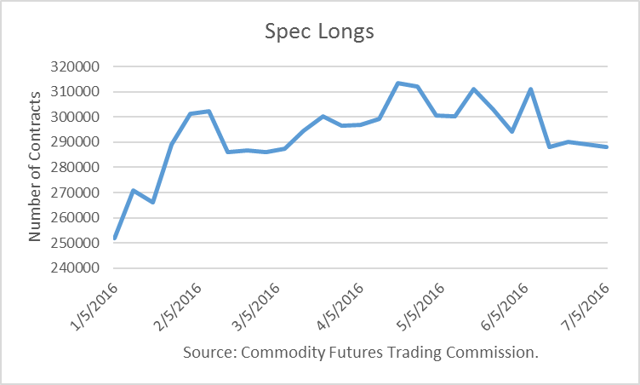 Conclusions
It is incontrovertible that the buying and selling activities of short speculators have driven prices up and has recently caused prices to drop. Their trading behavior cannot be explained by changes in crude oil stocks. I conclude that the reason is the change in the risk-reward of being short.
A key factor for crude prices longer-term is how large hedge short positions become. The larger they become, the more protection they provide against lower prices, enabling production to be higher than it otherwise would be. At an extreme, that could cause prices to be forced lower with little impact on U.S. production.
Disclosure: I/we have no positions in any stocks mentioned, and no plans to initiate any positions within the next 72 hours.
I wrote this article myself, and it expresses my own opinions. I am not receiving compensation for it (other than from Seeking Alpha). I have no business relationship with any company whose stock is mentioned in this article.