Gun stocks have rallied strongly over the last few weeks. A rally was long overdue as stocks like Smith & Wesson (SWHC) sold off recently due to a series of misunderstood events like May background checks and a couple of valuation-driven downgrades.
However, since these events were blown out of proportions, it is not a surprise that Smith & Wesson has regained almost all the lost value over the last few weeks. In fact, the stock has rallied over 30% in just a month and now trades near its 52-week high.
With more upside in store, I think investors can still buy Smith & Wesson at current levels. The stock can continue moving higher on account of several tailwinds as discussed in the article.
Factors that will drive gun sales
Mass shootings in the U.S. are becoming more frequent, and these are usually accompanied by a rally in gun stocks. According to the Mass Shooting Tracker, there were approximately 372 mass shootings in the United States in 2015, killing 475 people and wounding approximately 1,870, up significantly from 2014 levels.
The critical thing is that mass shootings are continuing to grow. As insensitive as it may sound, mass shootings act as a tailwind for firearms companies. For instance, mass shootings have killed approximately 250 people and injured 695 so far this year. The largest incident was in the month of June in Orlando, Florida, that left more than 50 people dead. The chart below illustrates deadly mass shootings from 1984-2016.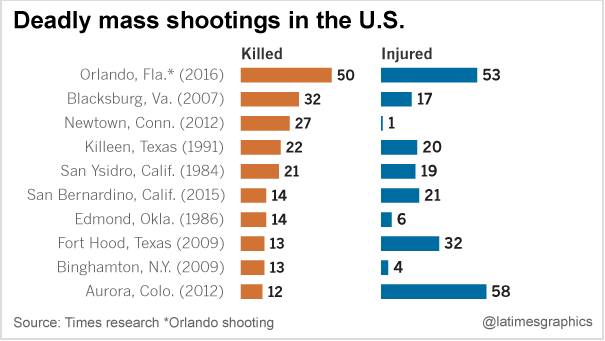 Source: Los Angeles Times
Roughly, a third of these incidents were identified as gun-related death. As per UNODC, the number of gun murders is growing at a higher clip as compared to other countries such as the U.K. and Canada. For instance, gun murders per capita in the United States in 2012 were nearly 30 times of that in the U.K., at 2.9 per 100,000 compared with 0.1. In fact, in 2012, gun-related deaths were close to 60% as compared with 31% in Canada, 18.2% in Australia, and 10% in the United Kingdom. This is shown in the following chart.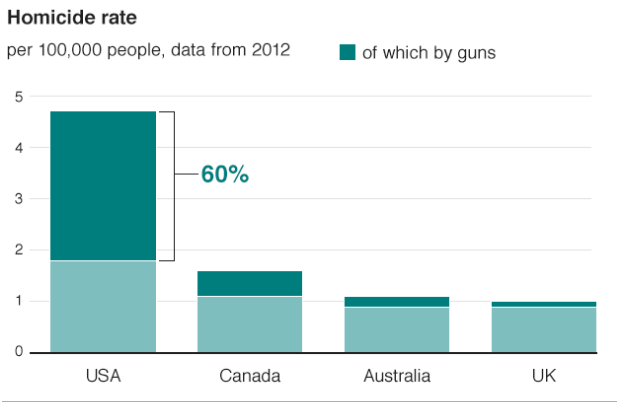 Source: UNODC
The number of gun-related deaths and gun sales are correlated as an increase in one leads to a boost in the other. As a result of this, background checks are growing at a terrific rate as people fear for their safety and attempt to ensure their security by purchasing firearms.
For instance, the background checks for the month of June grew 39% year-over-year and about 14% as compared to May 2016. This trend points toward better gun sales momentum going forward, which in turn is beneficial for companies such as Smith & Wesson.
How Smith & Wesson will benefit
Smith & Wesson, for the fourth quarter of fiscal 2016, reported 40% growth in its gun sales. In addition to the record sales, the company experienced a 90 basis point improvement in the gross margin for the full year. The increase in the gross margin was due to lower operating expenses and a higher margin from handguns such as SDVE, M&P Shield, and M&P Bodyguard that are designed for personal protection. These guns witnessed gross margins of 41.3% in 2016, which was higher than the overall gross margins of 37.3% in 2015.
Therefore, as more people look for handguns in a bid to feel personally secure in light of the recent incidents in the U.S., Smith & Wesson will continue to see an increase in demand for its products.
At the same time, Smith & Wesson has been able to minimize its expenses as a percentage of revenue, which has improved its earnings drastically. For instance, its operating expenses last quarter came in at $35.2 million, or 15.9% of revenue, as compared to operating expenses of $29.8 million, or 16.5% of revenue, in the same quarter last year.
As a result of the reduced operating expenses, its earnings for the quarter came in at $0.66 per share, up 47% as compared to earnings of $0.45 per share in the same quarter a year earlier. In my opinion, Smith & Wesson will be able to boost earnings by on the back of the positive gun sales trend.
Conclusion
Despite the recent rally, Smith & Wesson remains an attractive buy at current levels. The company is reducing its operating expenditure along with an increase in the sales, and this should drive its bottom line performance going forward. Moreover, the positive gun sales momentum will add as another catalyst for Smith & Wesson. Thus, despite the recent rally and trading near its 52-week highs, Smith & Wesson remains a good investment.
Disclosure: I/we have no positions in any stocks mentioned, and no plans to initiate any positions within the next 72 hours.
I wrote this article myself, and it expresses my own opinions. I am not receiving compensation for it (other than from Seeking Alpha). I have no business relationship with any company whose stock is mentioned in this article.