On a week when the S&P-500 SPY gained 1.28% to close within 0.2% of an all-high and the U.S. Dollar also gained 0.67%, one would expect a lackluster week for gold GLD. Instead the precious metal climbed higher for a 6th straight week, posting a 1.67% gain. This 1.67% gain for the week is even more remarkable as it followed an 11% rally over the past 5 weeks. Many bloggers and talking heads expected gold to give up its post Brexit gains as investor hysteria became subdued following the initial Brexit aftershock. This call couldn't have been more wrong as gold has moved up over 3% since its post-Brexit close. I was in the complete opposite camp of most gold skeptics and stated that I believed gold would continue higher in my most recent article on the precious metal. While I have been right thus far on my call for higher prices, we are still a few percent from my short-term target of $1400 / oz for this summer.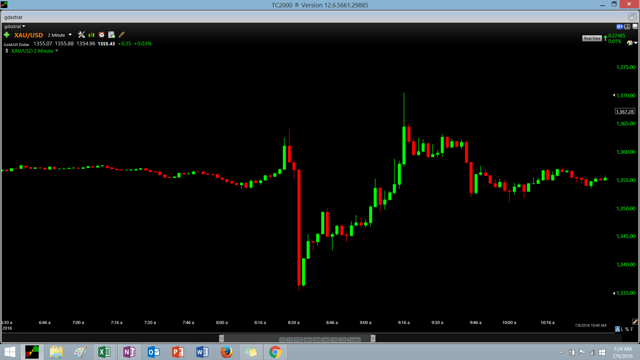 This morning the bears attempted to stage an attack on gold with a strong jobs number as their ammunition, but their endeavor proved utterly useless. After knocking 2% off the metal in a 5 minute period and beginning to dust off their pompoms, gold rallied sharply higher erasing all of its losses within 40 minutes. To add insult to injury for the bears, gold finished 0.5% higher than the price at which the bears began their desperate attack. The move inflicted zero damage on gold's daily chart and most likely helped to shake some weak hands out of the metal who were late to the rally.
I have heard countless reasons for why gold will go down from the bear camp, from U.S. dollar strength to market strength, which were supposedly going to put pressure on the metal. The gold bears are right and the U.S. dollar has strengthened the past two weeks, unfortunately for them this did absolutely nothing to derail gold's recent rally. Those stating that gold was purely a fear trade that would unwind as the market got a bid were also proven completely wrong. While the market has certainly been bid up from post Brexit levels at 1990 on the S&P-500, this has not phased the price of gold in the slightest. If I was a gold bear I would be extremely worried, as gold seems to be trading in its own world entirely. Gold continues to shrug off U.S. dollar strength and rally against the currency, all while shrugging off market strength and inching its way higher as fear leaves the market. I do not believe gold is rising due to a fear trade or due to U.S. dollar weakness, I believe gold is rising because it is only in the teenage years of its current bull market.
Rare Signal Flashes For First Time In 14 Years
This week an extremely rare signal flashed for the gold market, which recorded its last signal over a decade ago. The signal is the gold spot price rallying 30% from its lows and shows up as we exit bear markets and move into new bull markets in the metal. The signal has only occurred 5 times in the past 40 years and shows positive returns over a short and long term basis. The average 1 month return after this signal occurs is 5.56%, and it is positive 100% of the time using the past 5 signals. Moving out further and looking at a 6 month basis, the returns are once again impressive with a 8.15% average return, with 80% accuracy. These statistics do not bode well for gold bears, as they continue to call this bull market overbought. Most bears are looking for a correction to cover their shorts and to conform to their overbought logic, but this chart shows that short term this signal tends to be the strongest. Even if gold were to perform at the same metric as the weakest occurrence for this signal (1976), gold would be sitting at the same level as it is now, providing no mercy to shorts. If gold performs at the average metric for this signal, gold will be trading at $1443 / oz a month from today. Moving out to the 6 month return, if gold performs at the average metric for this signal we will be at $1479 / oz in December, based on the median return we'll be slightly higher at $1486 / oz. Based on this signal, it does not pay to be a gold bear over the next 20 trading days. Even at the 20% chance that gold performs at it's worst metric for the past 5 signals, we will still be higher than current prices and starting August above $1360 / oz.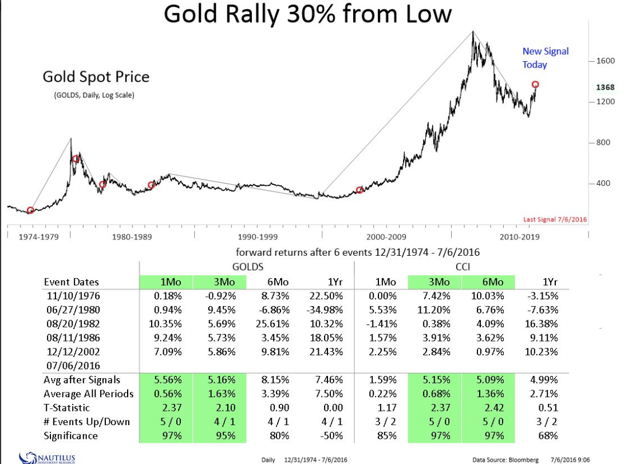 GLD Inflows Hit Daily and Yearly Record Highs
Holdings of gold exchange traded funds are soaring this year as countries continue to slash interest rates. On Tuesday of last week ETFs posted their largest single day inflow since November of 2009, with a daily inflow of over 38 tons. The largest accumulation on Tuesday was into the GLD with the fund itself adding 29 tons in a single day, moving the total holdings to 982 tons. In addition to daily record inflows, the SPDR GLD fund flows has seen the largest annual inflows since its inception in 2004. 2016 has seen $12.2 billion move into the GLD, which has surpassed the record in 2009 only 7 months into this current year. While some people will point to record inflows being a negative as there is lots of speculative money entering the market, this couldn't be further from the truth. Despite 2009 seeing massive inflows for GLD, it was a massive year for the metal with it gaining over 24% for the year. In addition to massive inflows, a trader placed a $15 million dollar bet on GLD Thursday when he purchased 46,000 of the 144/172 call spreads expiring in June of 2017. The bet requires a rally to $147 on GLD by June 2017 expiration to break even, which equates to a gold price of $1545 / oz.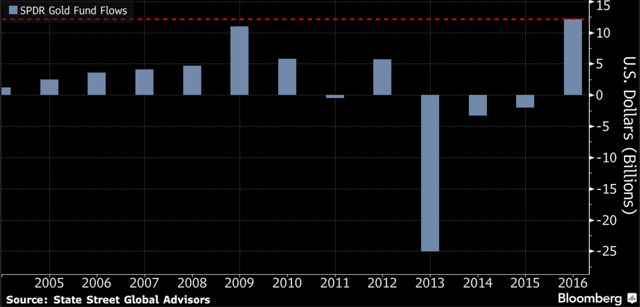 Commercial Hedgers Double Down On Gold Shorts
Despite gold bears getting caught completely off guard prior to Brexit with short positions at 10 year highs, they have done the unthinkable. Instead of covering their short positions or lightening up as the metal went violently against them, they have instead doubled down on their bets and added to their shorts. The first chart below shows the commercial hedgers short positions immediately following Brexit and shows their short positions at just over 300,000 contracts. The second chart below is the updated commercial hedgers short positions showing an addition of 40,000 contracts short, or just over 13% added to their short position. Looking at the third chart below we can see that this is now the largest short position in history for commercial hedgers. The last time short positions were this high for commercial hedgers was in December of 2009, and it proved to be a very risky move. While gold did drop 7% in December of 2009 after a 13% rally in November, the gold shorts only covered 100,000 contracts and were forced to cover the majority of their contracts into much higher prices. Based on past commercial short hedging positions, the short term outlook is considerably less bullish than the above 30% off low gold signal shows. Commercial hedgers have been quite successful in timing their short positions and while they may go underwater long term, their short term timing tends to be quite accurate. Given this outlook I am open to the possibility of a 3-4% decline in gold, but I believe it would represent a great buying opportunity for new longs.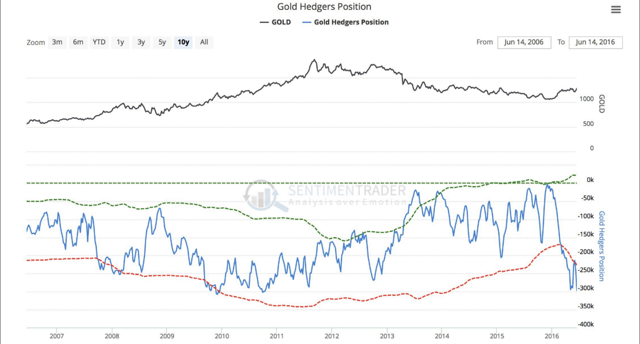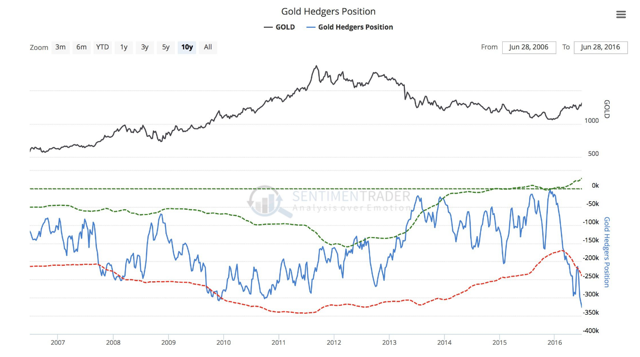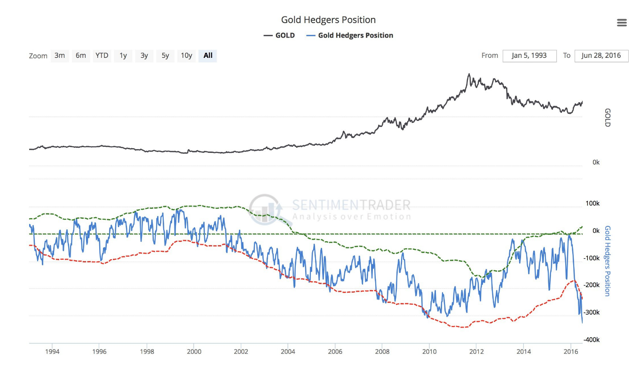 Technical Outlook & Summary
I have been a gold bull this entire year and believe we should continue to see much higher prices in the metal going forward. While I have stated in the past paragraph that I am open to a 3-4% decline in the metal, that does not mean I am betting on one. I am currently 35% long gold miners and not selling any of my positions despite holding significant gains in both of my personal accounts.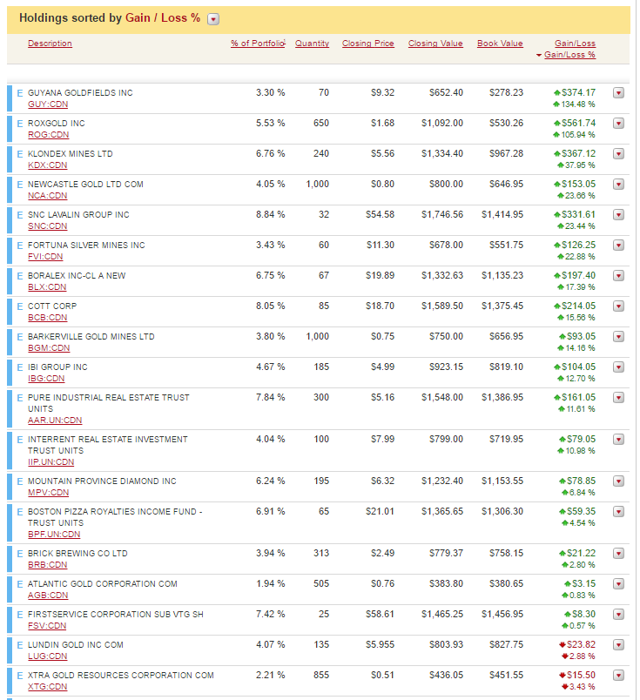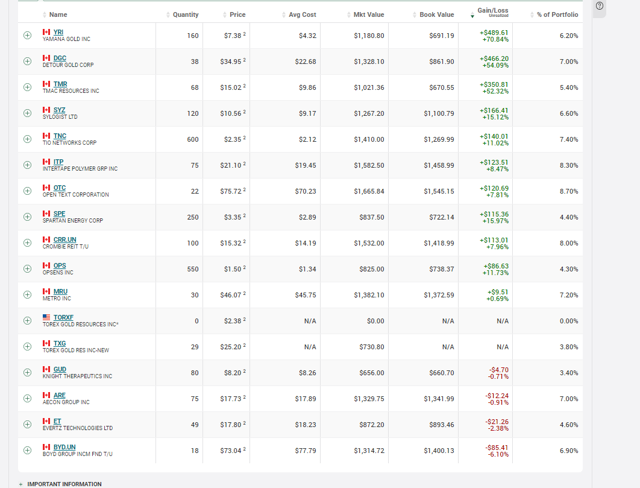 The only thing that has me worried here about the gold price is the success of commercial hedgers short term when they have record short positions in gold. Having said that, I believe it is possible that the commercial hedgers may have bit off more than they can chew this time and the Brexit outcome caught them off guard. The fact that the commercial hedgers have added to short positions tells me that they are either extremely confident that a decline is on its way, or they are getting desperate and trying to claw their way out of an already deep hole. I do not believe we will see a 3-4% decline in the metal, but if we do see one I would add to my long position in gold which currently has an average price of $1228 / oz. My gold position was recommended from this article in May when I stated that gold should bounce at roughly $1215 / oz. I was early by just over 1% as it sank to $1200 / oz, but since have been right on the past $150 / oz move.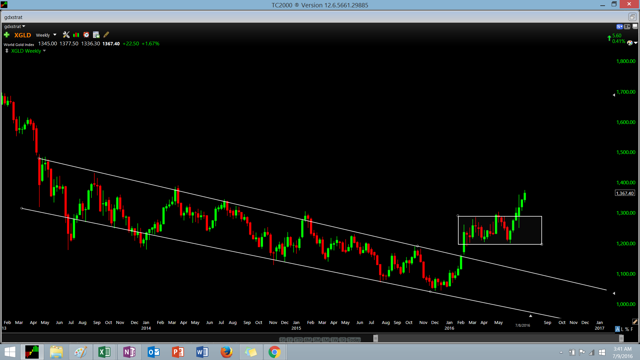 From a trend following perspective, gold is bullish on every single time frame and the weekly continues to show a breakout from it's 4-year descending channel. Prior to breaking out of this channel, price traded in a bull flag for 4 months between $1200 / oz and $1300 / oz, before breaking out higher after the Brexit vote. The bull flag breakout was an extremely bullish development as it showed conviction to a continuation of the current up-trend.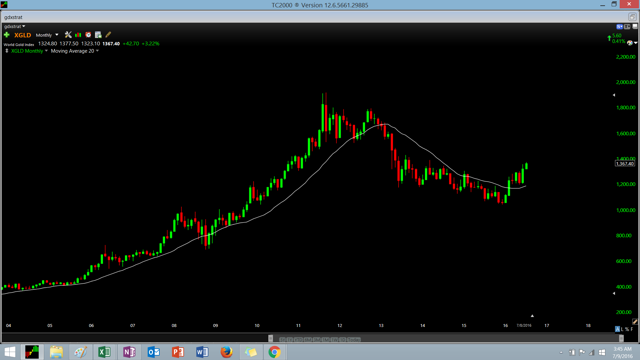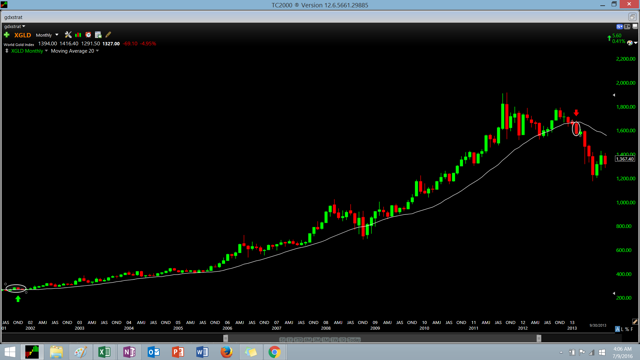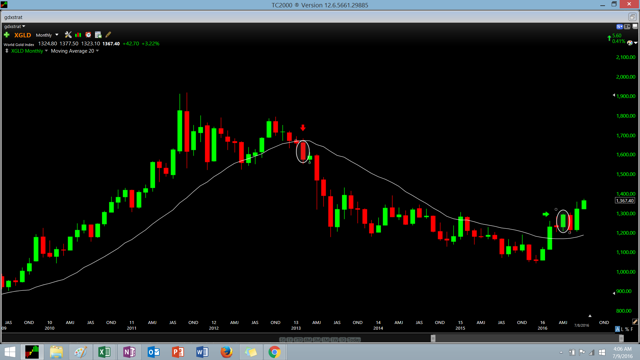 On a monthly basis, gold continues to make new highs and higher lows while trending above its 20-month moving average. The 20-month moving average was strong support during its past bull market as price bounced off this level several times before the eventual collapse in 2011. Once price closed below the 20-month moving average for 2 consecutive months in 2011 it was a clear signal to get out. Listening to this signal and exiting gold after 2 consecutive monthly closes below the 20-month moving average, one would have locked in most of the bull market's gains and stayed out between 2012 and 2016. The exit price on this signal would have been $1579 / oz, after entering on a close above this level at $292 / oz in 2001. The current signal gave a long opportunity when it closed above the 20-month moving average for the second consecutive month at $1294 / oz. The current stop on this position is a close below the 20-month moving average for 2 consecutive months, which currently sits at $1190 / oz (risking 8% from the entry).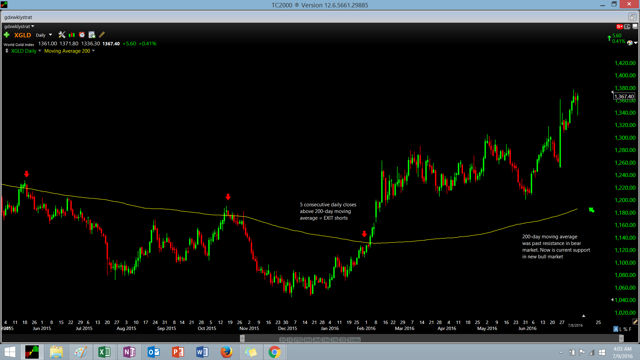 Looking at gold's daily chart, there are several reasons to be extremely bullish. The first reason is that the 200-day moving average continues to slope positively and is currently gaining over $1.10 / oz per day. The 200-day moving average represents excellent buying opportunities when price touches these levels in bull markets, and excellent shorting opportunities in bear markets. Based on the current trajectory of the 200-day moving average, if gold stays at this price and just goes sideways, the 200-day moving average will be at $1260 / oz by October of this year. This means that the new floor on the gold price by October of this year should be $1260 / oz, which is very encouraging for bulls as any dips should be aggressively bought. Currently the 200-day moving average sits at $1190 / oz and on the very unlikely chance we get a dip to this level, it would present a massive buying opportunity. I do not see a dip to $1190 / oz playing out and believe we are going much higher, but I am just giving levels of support on the very rare chance it occurs.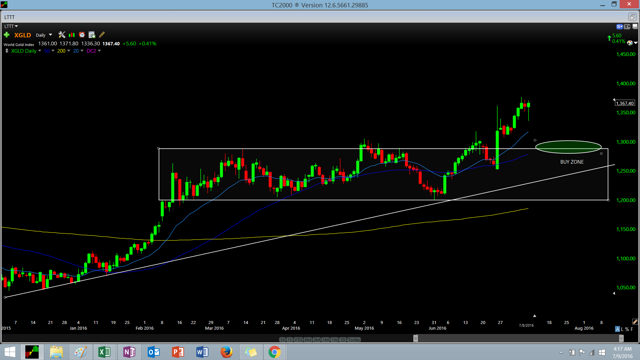 Taking a look at gold's moving averages, the 20-day, 50-day and 200-day moving average are all sloping higher and the 50-day should provide support on any dips. The 50-day moving average is currently at $1290 / oz and about to meet up with support at $1300 / oz, where old resistance was the past 3 months. When resistance is broken to the upside on a break-out to new highs, the previous resistance then becomes support going forward. Given the $1300 / oz level capped the price of gold for the majority of this year, we can now expect $1300 / oz to provide strong support going forward. I believe any dips to $1300 / oz should be bought as they would provide low risk entry points, before we move to my eventual $1420 / oz short term target. To reiterate I am not saying we are going to $1300 / oz, I am simply saying if we do get a dip here before going higher, this is a level I expect to act as strong support.
There is a massive line-up of skeptics calling the current gold bull market overbought and I believe their biggest mistake is not studying past gold bull markets. Gold has just exited a violent 4 year bear market that shaved 45% off of its value from peak to trough. The past bear market of this size and length occurred between 1996 and 2001, and was followed by a behemothic bull market that gained 650% over the following 10 years. The current bull market in gold is 31% off its lows and a teenager at most during its current life cycle. It is never wise to fight the dominant trend as fighting price is a battle fought by amateurs and very rarely pays off. It is especially foolish to fight the dominant trend in one of the most volatile asset classes in the world, as it is akin to trying to stop a moving train. Those currently short gold or betting against this bull market may be right over the next 1-2% move but I believe they are attempting to pick up pennies in front of a steamroller. The dominant trend in gold is higher with every time frame currently bullish, and if they continue trying to fight this trend, it may be the last bull market they ever short.
Disclosure: I am/we are long GDXJ, GDX, GLD.
I wrote this article myself, and it expresses my own opinions. I am not receiving compensation for it (other than from Seeking Alpha). I have no business relationship with any company whose stock is mentioned in this article.
Additional disclosure: If you liked this article and found it useful, please feel free to follow me by clicking on my name next to my name at the top of this article. I also invite you to check my performance at TipRanks.com, where my average return on equities this year is 65% on new long positions. My current performance ranking on TipRanks is in the top 2% of financial bloggers writing from all finance websites currently.