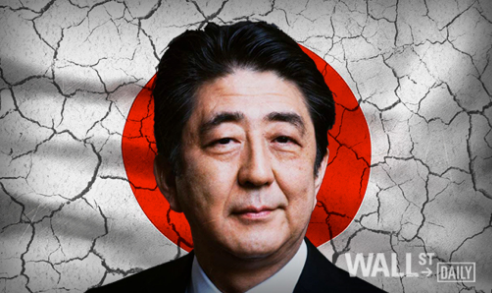 source: Wallstreetdaily.com
Japan's 7 year equity bull market came to an abrupt end in August 2015. The actions of the BoJ could only push it so far. Since then there has very little to cheer about. Japan is in crisis. Again.
I say 'again' as Japan took a major beating during the last Asian crisis in the late 1990s. This can guide expectations in the current market, and even serve as a template to base trades around. A crisis can create great trading opportunities, if you have an edge.
Crisis....what crisis?
They say a picture says a thousand words, and the below chart tells us much of what we need to know about Japan's problems.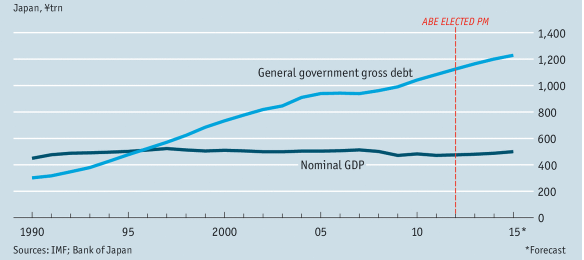 source: The Economist
Japan has the highest sovereign debt in the world at more than 240% of GDP. Prime minister Shinzo Abe's attempts to stimulate the economy and deal with this rising debt have so far failed. Despite ¥80 trillion per year of asset purchases in government bonds, and the negative interest rates introduced in January, inflation has actually fallen. April's CPI showed an annual decline of -0.3%, compared to the BoJ's target of +2% by 2018. Deflation and crippling debt persist after Abe has fired two rather large bullets at the problem.
The failure of Abenomics hasn't dampened the markets expectation for more BoJ intervention. If the Yen keeps rising it seems less a question of 'if' there will be added stimulus, and rather a speculation on what it could be. If QQE didn't work, then is Helicopter Money or JGB re-structuring next? Adam Whitehead's excellent article explores the BoJ's options in more detail here.
Brexit is also a driver of policy and Reuters reported, 'Japan signals readiness to intervene as Brexit boosts yen'. The July meetings on the 28th and 29th will be very interesting.
Japanese Equities
The Nikkei 225 rallied exactly 199% from the 2008 lows to last year's high of 20,952. As impressive as this sounds, the bigger picture view shows this was just a bounce against the long term down trend.. While the S&P 500 made new all time highs, the Nikkei could not even retrace 50% of the previous decline.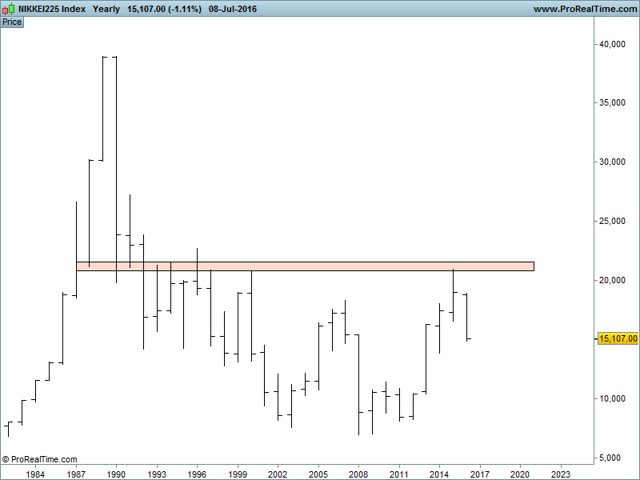 The 2015 high was the 7th time a yearly high or low was made in the 20,850-21,650 zone. Crisis or not, it was reasonable to expect a reaction there after such a large move up.
The question now is, how much more could prices decline?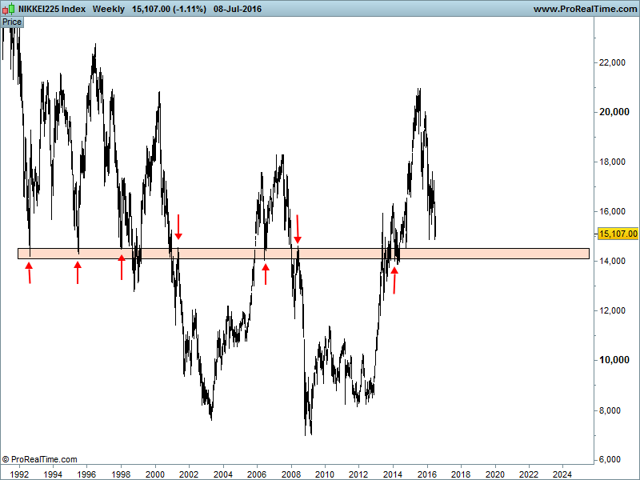 In a similar vein, the weekly chart has an area of 14,100 -14,500 where price very often reverses. We cannot realistically say these reversals were caused by changes in fundamentals. It would be too much of a coincidence for them all to occur in the same area. More likely these were technical turns. They may have been accompanied by news, or an event, but the longer term macro was not drastically altered at these price points.
We could expect a similar reaction in this area again. Not a month goes by without speculation about the next BoJ intervention, and recent events such as Brexit and the appreciation of the Yen make it more likely than ever.
Whatever the BoJ does, it is unlikely to completely reverse Japan's economic woes. It seems like an act out of desperation rather than a magical fix they have been withholding until now. There will no doubt be a short term boost to the markets, but it is likely to be part of the larger decline. It has happened before -
Asia in crisis
There is always a crisis somewhere, but the 1990s Asian crisis was particularly severe and memorable. By 1998 'The Asian miracle' had reversed into recession, with 3 countries requiring IMF support.
Although the underlying causes of the current crisis are unique, the risks to investors are much the same. This can cause market participants to behave in the same way. If we compare the charts of both crisis periods, are there any similarities?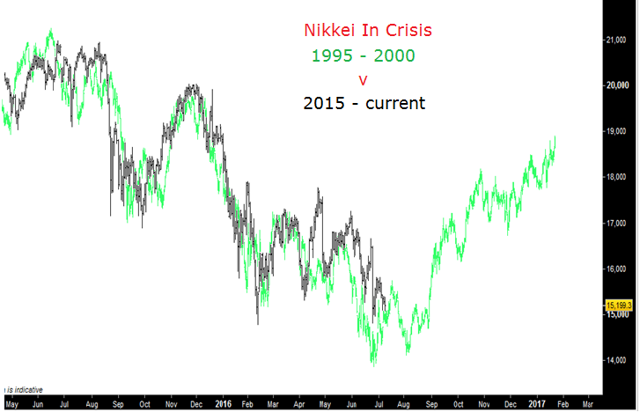 The resemblance is quite amazing. In times of crisis, traders in the Nikkei react almost in an exact repeat. If this were to continue, it projects a reversal right where we expect one from the earlier chart, in the 14,100 - 14,500 zone.
Also worth noting, the recovery rally shown in green did not go on to make new highs. It reached the 78.6% Fibonacci retrace of the previous decline and carried on the trend lower. This projects a target of 19,500 for any rally in today's market. It also suggests this should be reached in H1 2017.
Fractal projections for prices and timing have a decent level of accuracy. The main take away, however, is that even during times of crisis, we can expect support levels to hold and produce substantial rallies. We don't want to be buying just when the crisis deepens and the down trend accelerates. Given the evidence, this doesn't look likely.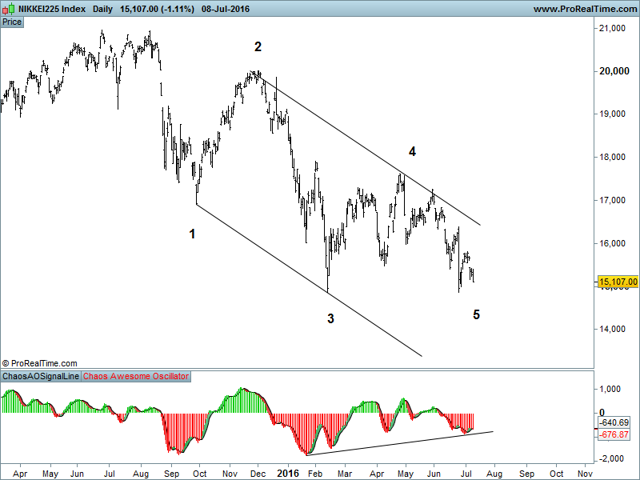 Momentum is actually slowing and there is oscillator divergence on the most recent lows. This looks like a very clear 5 wave trend sequence (see here for an explanation), perfectly contained in a channel.
This tells us a number of things:
the initial trend from the 2015 highs is coming to an end
a retrace of the initial trend should break the channel. A 61.8% Fibonacci retrace is normal (around 18,500), and it could go as far as the 2015 highs, but not beyond
another trend cycle down should eventually form, taking prices much lower
This fits perfectly with the fractal projections.
Trading the Nikkei
I am looking for a long position on the Nikkei. I will enter half a position at 14,500, half at 14,100, and stagger my stops at 13,900 and 13,800. This will effectively give me an average entry of 14,300, with 450 points risk.
There are 2 targets so I will split my exits; half at the 61.8% Fibonacci target at 18,500 (estimated), and half at the 19,500 fractal target. This will give an average exit of 19,000, a reward of 4,700 points.
Given the clarity of the technical set-up, the fractal, and the potential near-term catalysts from the BoJ, risking 450 to make 4,700 seems a great trade.
Readers can construct a similar trade using the iShares MSCI Japan ETF (EWJ), although I prefer to trade the index.
There is always a risk a trade gets stopped out, but slippage should not be a major issue. With a potential 4,700 points (>30%) reward, position size does not need to be large.
Conclusions
Crises create opportunities. Just look at the U.S. equity rally after Brexit.
The crisis in Japan is creating an opportunity to go long and catch a substantial bear market rally. It is a dangerous trade, but with an edge and a plan, we can construct a trade with a 10:1 reward to risk ratio and a good chance of success.
No matter your view on Abenomics, and its long term prospects, a trade like that is too good to miss.
Disclosure: I/we have no positions in any stocks mentioned, and no plans to initiate any positions within the next 72 hours.
I wrote this article myself, and it expresses my own opinions. I am not receiving compensation for it (other than from Seeking Alpha). I have no business relationship with any company whose stock is mentioned in this article.