Intro
Note to readers: Unlike many who trade or write about single name stocks, I approach the issue from a somewhat broader angle, one that is consistent with how I would approach the question of making sense of broader market forces. Namely, I believe one must apply a fundamental, top down approach to break down and understand each driver of value in order to get an informed view of a risk/reward profile. The drivers of value for a single stock's performance (beyond that of the market) can be broken down into three core components: a) an ability to generate sales and a profit from those sales, b) an ability to safely and efficiently scale that profitability without incurring excessive leverage, and c) the current market valuations of the company. All three criteria must be solidly met for a company to be what might be considered a wise investment.
Company Background
Micron Technology (NASDAQ:MU) is a semiconductor manufacturer which produces various types of memory technologies and other semiconductor systems used in both industrial and consumer grade computing products. Micron is organized into four key business units: Compute and Networking, Mobile, Storage, and Embedded.
Micron's recent third quarter results were received as disappointing on a number of front: YoY revenues declined 25%, sales estimates were missed, the company issued conservative forward guidance, and management announced a reorganization and downsizing initiative, leading to a 10% drop in the stock price.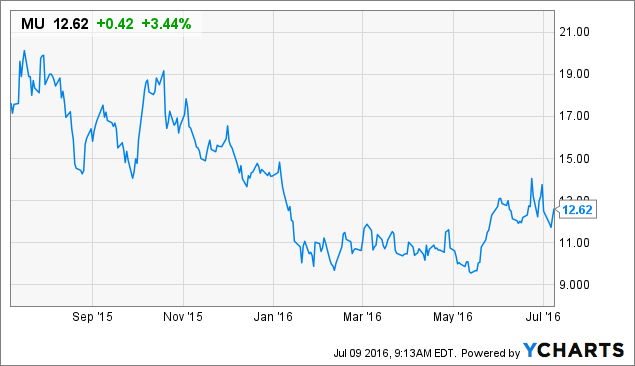 The price has since bounced back some, but shares are still 57% off the 52 week high and seem to be mired in a range around $11-12. Just this past week, volume in MU reached 50 million shares a day, making it the most actively traded stock on the NASDAQ. With all this trading activity, news, and recent earnings report, many investors are wondering if MU has seen the bottom and can bounce back, or if more pain is on the horizon.
Sales and Profitability
As mentioned, MU's recent quarterly reports showed that sales have fallen by over 25% when comparing the night months ending June 2016 with 2015. For the same period, gross margins also declined by over 50%!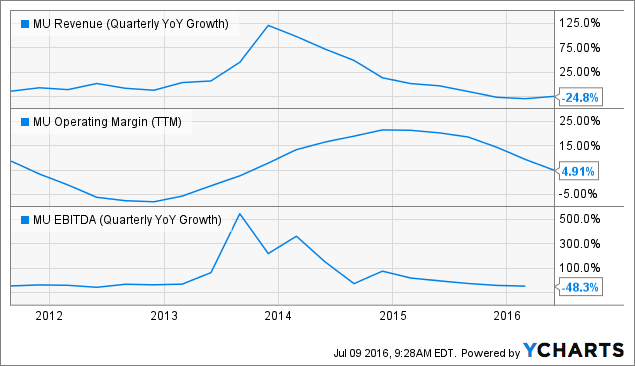 MU Revenue (Quarterly YoY Growth) data by YCharts
The broader, longer term picture- as seen above on the five year chart- presents an extremely worrisome image. For a tech sector company an investor should expect a quality company to not only demonstrate growth, but consistent and steep growth, the exact opposite of what MU has achieved in the last several years.
The growth rates of both revenue and EBITDA look to have peaked in late 2013 and have been steadily declining for several years now- even to the point where they have both gone significantly negative, indicating large contraction rather than expansion in the business's ability to generate sales. Though management has announced some measures to counter this, these drops in growth have been so steep and persisted so long that it does not seem likely that MU can easily reverse this.
Leverage and Efficiency
Sadly the current state of MU's financial situation and balance sheet doesn't so much to soothe any concerns about their ability to generate sales. Microns receivables of about $2 billion are almost half that of its payables, at $3.6 billion. Meanwhile inventory increased 12% quarter-over-quarter to nearly $3 billion a level that is comparable to the company's entire sales for the quarter. This is yet another worrying sign as the current trend points to the rise in inventory getting even worse before it gets better, and in a fast moving semiconductor market as inventories go stale Micron could see further write-offs to its finances or be forced to slash prices and undermine its own future revenues.
While Micron's leverage and liquidity ratios do not raise any red flags, and the company does have some security in its cash reserves, debt levels have been on the rise. Investors should keep an eye on as these trends as total debt to equity rose to nearly .8 up from just above .6 as recently as last quarter, and even Micron's cash reserves can do nothing to benefit investors if Micron can not create organic growth.
Valuation
At first glance MU appears to be a good value- until one considers the broader context about why MU is currently steeply discounted vs its peers. Given the trouble the company is going through such discounts make sense, so taking MU against industry peers for an idea of whether MU is under or overvalued may not be the most apt comparison.
What I find more worrisome is that on a P/E basis MU is still trading richly to its long-term average, something is definitely not indicative of a high-quality company that happens to be at a discount. That gives me cause for concern, especially with the recent problems MU has had, and leads me to believe that the company is not significantly undervalued, despite its appearance as "cheap" vs its peers.
Conclusion
Micron is clearly not a high growth company at the moment, so the questions become: 1) can management revitalize the company and create growth and 2) will investors in the meantime be in for more pain, or will they be rewarded for getting in now rather than waiting until management can demonstrate some ability to right the ship.
In their defense, management has said it would lower costs by cutting jobs and taking a more targeted focus on fewer programs. Micron said these cost-cutting steps should save the company roughly $300 million in the 2017 fiscal year. This past week Micron also announced a new product launch optimized for the next generation of applications. Furthermore the company has stated that its plans to buy the remaining 67% stake of Inotera Memories Inc is being delayed, all else equal freeing up some additional capital for Micron (though one has to wonder if there isn't something more sinister yet to be revealed at play).
The major problem however is that none of these steps adequately address the fundamental problem of declining sales and MU losing business share to competitors such as Samsung. Micron can cut costs and hoard cash all it wants, if the current multi-year trend in revenue growth continues, it won't make any difference to its shareholders.
For that reason, as well as everything previously discussed, I would sell shares of MU if I owned them, or stay away from the company for now, and reevaluate if it is able to show a reversal to the trend in revenue growth. Remember, the question for investors should not be whether MU can eventually right the ship, but whether you will be rewarded between right now and whenever the signs of righting the ship begin. I see a lot more pain, volatility, and struggling share prices until that day comes- if it comes at all- so for now there are safer and more promising places to park my money.
Thank you for reading. Please remember to comment and click 'Follow' at the top of this article for more stock and alternative asset analysis as well as macroeconomic and asset allocation commentary.
Disclosure: I/we have no positions in any stocks mentioned, and no plans to initiate any positions within the next 72 hours.
I wrote this article myself, and it expresses my own opinions. I am not receiving compensation for it (other than from Seeking Alpha). I have no business relationship with any company whose stock is mentioned in this article.